November is American Diabetes Month
Orlando Family Magazine Supports American Diabetes Association
Mission: To prevent and cure diabetes and to improve the lives of all people affected by diabetes. 
Vision: Life free of diabetes and all its burdens.
Stay connected at Facebook.com/adacentralfl
What is the American Diabetes Association?
Life free of diabetes and all its burdens… that single purpose drives what the American Diabetes Association (ADA) does. The need for this work is beyond question. Join us and together let's continue the fight to Stop Diabetes®.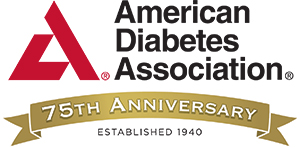 As the country's oldest and largest volunteer organization dedicated to fighting diabetes and diabetes complications that strike millions of Americans, the American Diabetes Association saves lives through innovative research and far-reaching educational programs, leading the fight against diabetes and its deadly consequences.
Imagine a world free of diabetes and its complications, such as heart disease, kidney disease, blindness, amputation, and stroke. With programs and activities that touch the lives of people all over the world ─ from the promising researcher on the verge of finding a cure, the health care professional seeking the latest standards of care for patients, to the parent of a newly diagnosed child in need of support ─ the mission (to prevent and cure diabetes and to improve the lives of all people affected by diabetes) is present in all ADA efforts. And you can help!
Local Faces of Diabetes: What a Cure Means?
"A world without diabetes would mean being a normal 12-year-old boy that can eat what I want and play without worrying I might have a low at any time. It would mean people not looking at me and wondering what I'm doing when I pull out my needle and have to give myself a shot. Not worrying all the time when my numbers are too high or when my numbers are too low. If a cure for diabetes was found, the first thing I would do is conquer all of my fears and live a life of adventure and never take anything for granted. Finding a cure is all I pray about." ~ Ethan Rey
"I was diagnosed with Type 2 diabetes in 2007. The news was hard for me to swallow. How could a slender, fit, and active person like me develop diabetes? I had to face the fact that I was simply genetically predisposed. I have vowed not to let diabetes dictate my life. I continue to exercise and, in fact, I have grown to love cycling. A healthy lifestyle is so ingrained in me now that very little would probably change if a cure was found. My prayer is for my family and friends who are afflicted with diabetes to be able to live a full life without glucose meters, lancets, and medication." ~ Melodis Ford
"Living with diabetes I have to be aware of my blood sugar at all times. Everything I do, I have to make sure I know how it affects my blood sugar. A cure for diabetes means to me that I could eat whenever and whatever I wanted. It would mean no more pump changes and counting my carbs." ~ Kelsey Grunick
"My world today living with diabetes is very different from the mid-70's when I was diagnosed in elementary school. I was the only child in the entire school with insulin dependent diabetes. Syringes were big and needles were long. Now, I am on an insulin pump that can track trends in my glucose levels. I can test my fingers on a tiny test meter and can take injections with needles that are so small that you barely feel them. Despite technology advancements, I worry about my future grandchildren. Will diabetes skip my children or will they be marked for this disease?" ~ Yvonne Marie Boots
"My world is perfect, except for diabetes. Because I am a diabetic, I have faced death twice in my twelve years of life. Once, when I was first diagnosed, and more recently when I woke up with a very low blood sugar that required a day in the emergency room. Everyone I am close to is affected by my diabetes. Some are scared that something bad will happen when they are with me. Some are angry and disappointed. Some are sad. Some just don't understand. What if there was no more diabetes? That would mean no more insulin shots, no more doctor visits every three months, no more counting carbohydrates. I would not worry about being in a coma or losing my sight. I'd be able to say "I used to have diabetes." ~ Gwendolyn Hayes
"My world with diabetes is uncertain, unpredictable, challenging, unfair, and overwhelming. Until there is a cure, I must overcome the doubts, fears, anger, and stress that come with unexplainable high blood sugars and paralyzing lows. A cure would mean a life without worrying about what's constantly in the back of my mind, 'I need to check my blood sugar before I workout, check before I eat, check before I sleep, check when I wake up, and check because I have a headache.'" ~ Delia Jervier
"I only get about 5-6 hours sleep with numerous times of waking up due to pain (neuropathy) in my arms, legs, and feet. Whenever I receive a cut, I have to be extremely careful not to get it infected, knowing it will take weeks to heal instead of days. It's a life of watching everything I put into my mouth and counting calories, carbohydrates, and sugars. A cure for diabetes would mean that no one will suffer from this dreadful disease, especially children and young adults. It means that I wouldn't have to monitor my food intake as much, prick my finger at least 3 times per day, take meds 3 times per day, or worry about major organs shutting down, pain, and interrupted sleep." ~ Bill Szemcsak
Family Link
Learning to live with diabetes doesn't happen overnight – and families don't have to do it alone. Family Link connects parents with others affected with the disease. The goal is to help connect people with children with mentors who understand how they are feeling and, through fun and social diabetes education events, offer opportunities to learn more about diabetes and engage with others.
Family Link also provides an opportunity for children with diabetes to serve as Youth Ambassadors! For more information, visit Diabetes.org/FamilyLink
Healthy Holidays
Holiday gatherings often mean plenty of time spent with family and friends, but it can include tempting foods! Empower yourself to make healthy choices by starting the day off with this simple breakfast or brunch item. Serve with greens, whole wheat toast, and fruit.
Onion, Shallot and Herb Frittata
Courtesy of The Family Classics Diabetes Cookbook by the American Diabetes Association
Ingredients | Serves 6
2 tsps. olive oil, divided
1 cup chopped onion
2 tbsps. minced shallot
2 eggs
4 egg whites
¼ cup minced fresh basil
Salt & pepper, to taste
2 tbsps. freshly grated Parmesan or Romano cheese
Instructions
Preheat oven to 350°F. Heat 1 tsp. of olive oil in a large nonstick ovenproof skillet over medium heat. Add onion and shallot; sauté about 7-8 minutes. Remove onion mixture from skillet; set aside.
Beat eggs, egg whites, basil, and salt & pepper. Fold in onion mixture.
With remaining 1 tsp. of oil, heat egg mixture on medium-low heat in the skillet. Cook without stirring for about 8 minutes.
Transfer skillet to oven; sprinkle with the cheese and bake for about 10 minutes, until top is no longer runny. Cook an additional 5 minutes if necessary. Cut into wedges to serve.
For more healthy recipes, visit Diabetes.org/mfa-recipes
Upcoming Events
Step Out: Walk to Stop Diabetes 
Saturday, November 14, 2015 
As the largest national fundraising event of the American Diabetes Association, families and organizations are encouraged to spend an active morning together at the scenic Bill Frederick Park at Turkey Lake.
Style Your Pumps
Thursday, December 3
Miss Idaho 2014, Sierra Sandison, will co-host this fashion show at Jaguar of Orlando, featuring individuals living with diabetes who will style, accessorize, and show off their pumps to empower others. Tickets are inclusive of food, drinks, valet, and show.
Tour de Cure at Lake Nona
Sunday, March 13, 2016
Celebrating its 25th anniversary in 2016, Tour de Cure engages over 55,000 participants at over 85 sites nationwide, including Lake Nona Town Center! This popular event is perfect for both avid and recreational cyclists with routes from 10 miles to 102 miles.
Alert Day
Tuesday, March 22, 2016 
On this one-day "wake-up call," take the Diabetes Risk Test to find out if you're at risk for developing Type 2 diabetes and to share helpful information with others.

Get Fit Don't Sit Day
Thursday, May 4, 2016
Embrace this call-to-action to get up and move every 90 minutes, as research shows that changing our sedentary habits is one of the most effective ways of preventing Type 2 diabetes. Introduce activity into your workplace as a step toward better health.
Diabetes Prevention / Lifestyle Change Programs
The Centers for Disease Control Diabetes Prevention Program is an evidence-based lifestyle change program for preventing Type 2 diabetes. The year-long program helps participants make real lifestyle changes focused on healthier nutrition, daily physical activity, and improved problem-solving and coping skills. At Healthy Eatonville Place in Eatonville, Florida, and at locations throughout the state, participants meet with a trained lifestyle coach and a small group of people who are committed to making lifestyle changes to prevent diabetes.
Ms. Flowers, a local attendee, claims "Knowledge is power! Learning together gave us more power; the power to say no [to unhealthy foods] and the power to say yes [to more exercise]." Another participant, Ms. Swain, said that the class embodied a family and that the dynamics led to more accountability. It is not just the group dynamics that participants rave about; course graduates are pleased to understand the importance of prevention and the big impact of small changes. For example, Ms. Swain appreciated how the coaches were able to suggest ways to increase movement through simple modifications to existing activities. "I tell people that they would be a good candidate," says Ms. Swain, as she advocates for the course.
Diabetes Myth Busters
Myth: Diabetes is not that serious of a disease.
Fact: If you manage your diabetes properly, you can prevent or delay diabetes complications. However, diabetes causes more deaths a year than breast cancer and AIDS combined. Two out of three people with diabetes die from heart disease or stroke.
Myth: If you are overweight or obese, you will eventually develop Type 2 diabetes.
Fact: Being overweight is a risk factor for developing this disease, but other risk factors such as family history, ethnicity, and age also play a role. Unfortunately, too many people disregard these factors. Most overweight people never develop Type 2 diabetes and many people with Type 2 diabetes have a normal weight or are moderately overweight.
Myth: Eating too much sugar causes diabetes.
Fact:  Type 1 diabetes is caused by genetics and unknown factors that trigger the disease onset; Type 2 diabetes is caused by genetics and lifestyle factors. Being overweight increases risk for Type 2, and a diet high in calories from any source contributes to weight gain. The American Diabetes Association recommends that people avoid intake of sugar-sweetened beverages to help prevent diabetes.
Myth: People with diabetes can't eat sweets or chocolate.
Fact: If eaten as part of a healthy meal plan or combined with exercise, sweets and desserts can be eaten by people with diabetes, and they are no more "off limits" than to those without diabetes. The key to sweets is to have a very small portion and reserve it for special occasions.
Myth: If you have Type 2 diabetes and your doctor says you need to start using insulin, it means you're failing to take care of your diabetes properly.
Fact: For most people, Type 2 diabetes is a progressive disease. When first diagnosed, many people with Type 2 can keep their blood glucose at a healthy level with oral medications. Over time, the body gradually produces less of its own insulin and, eventually, oral medications may not be enough to keep blood glucose levels normal. Using insulin to achieve healthy levels is a good thing.