A Guiding Light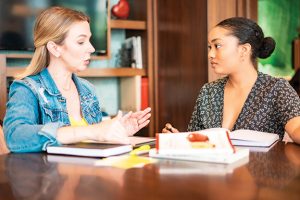 Jessica Villegas knows as well as anyone that the teen and young adult years can be a tricky time to navigate, especially with no guidance on the journey. Although she is a successful career woman now—and the mother of three daughters—her childhood was anything but ideal, and having a strong role model or mentor in place would have done wonders for her self-esteem, not to mention provided some much-needed direction.
Based on her own experiences, Villegas has always been intrigued with the idea of creating a life skills program for young people, and during her time in various leadership roles in corporate America, she had multiple discussions with her employer about the concept. It never came to fruition, but after her position was dissolved during the pandemic, she saw it as a blessing in disguise and an opportunity to devote more time to her dream project.
Thus was born Hi-Lite Coaching + Consulting, an organization based in Winter Garden that strives to empower teens and young adults by giving them the confidence to make important decisions and take control of their lives.
"This is something I've always felt super passionate about," says Villegas, the founder and a success coach at Hi-Lite. "I grew up with little to no advantages and there was a lot of turbulence and distress in my childhood. As I started to get older, I made lots of mistakes. I didn't know a lot of things and I wasn't very good at problem solving.
"So when I found myself jobless, I spent some time thinking about things I was passionate about and good at, and I found a way to create a business out of it."
Villegas took another job in transportation logistics after creating Hi-Lite and was juggling both for a while, but soon realized there was a need for this type of service on a full-time basis.
"The pandemic had a crippling effect on young people," she says. "Just right here in the Windermere/Winter Garden area, we had so many mental health crises with local kids, and there were multiple suicides and dozens and dozens of other unstable mental health situations. We're seeing such a prevalence of that at this time and I felt like I could help my community, which is what I chose to do."
Hi-Lite aims to help teens and young adults in identifying any problems they might be experiencing and creating healthy change by leveraging their strengths and building their confidence. With the right coaching, they can successfully transition through various stages of their lives, such as graduating high school and moving onto college or a career.
"While what we do isn't clinical—we're not therapists—it absolutely helps," Villegas says. "We have helped families turn themselves around because they had so much going on with their teenager that it was creating a disturbance in the home and putting everybody on edge. Then their kid comes through our program and they're like their old selves again.
"We have a whole program called Empower, Transform, Achieve, and it's a workbook that I've written. Our program helps them connect with their values and define goals that we then break down into action steps, and we show them really how easy it is for them to take control of the direction of their future."
Hi-Lite offers both private and group programs that include weekly meetings followed by on-call access with a coach to ensure that incremental changes are being implemented each day. Memberships are also available to those who have completed the private program and need to follow up regularly with their coach.
Villegas and her team of four other coaches are making a tremendous impact in the region, such as one recent success story in which a teen girl came to Hi-Lite last May with low expectations for her future, only to realize her potential.
"She wasn't even sure she wanted to go to college but through our work together, she discovered that she wanted to go into forensics, she was able to nail down a specific major and she got the ACT score that she needed," Villegas says. "Penn State was her first choice, and she literally opened her acceptance letter during one of our sessions. We were both crying—it was the most emotional moment I've had in coaching so far, although I've had a lot of exciting, emotional moments."
Hi-Lite also works with neurodivergent individuals and has clients up to age 35 who may be "late bloomers," a term Villegas uses to describe herself. The company will be branching out into family and business programs this year, and the goal is to help as many people as possible.
"This is the most fun I've ever had in my life," Villegas says. "I love young people, I love helping families feel whole again, and I love helping people feel purposeful and excited about their lives."
Hi-Lite Coaching + Consulting
(321) 236-2053