A Winning Formula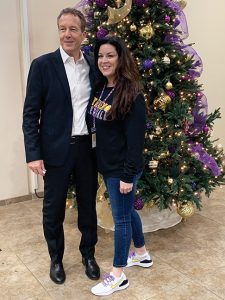 In addition to being former No. 1 overall draft picks and current NBA superstars, there is another common thread that binds Kyrie Irving, Ben Simmons and Cade Cunningham: They were all once mentored by the man who many consider to be the best high school basketball coach in the country.
First at St. Patrick's in New Jersey and for the past 12 years at Montverde Academy here in Central Florida, Kevin Boyle has established himself not only as a consistent winner but as a coach who gets the most out of his players and forms meaningful connections with them that last well past their graduation ceremony. He was selected as the Naismith Coach of the Year in 2011, 2018 and 2020, named the MaxPreps Coach of the Decade for 2010-20, and has directed Montverde to seven of the past 10 national high school championships.
Coach Boyle has helped develop more than 50 NCAA Division I athletes and once coached 14 current NBA players, a list that includes D'Angelo Russell, RJ Barrett and Scottie Barnes, the 2022 Rookie of the Year. Yet he is just as proud of the countless players he has had who have played in college and professionally overseas. He has a special place in his heart for the thousands of campers who have attended his Kevin Boyle Basketball Camp (KBBC) and teaching them the game of basketball.
That's why Coach Boyle and his wife Kelly remain fully committed to the family-operated KBBC, which will return this summer for its 33rd year.
"A lot of people have asked us if this camp is just for the elite player, and our answer has always been absolutely not," Kelly Boyle says. "It is for any player who wants to gain greater skills and learn the game better. A player may have goals of making his school team, becoming a starter or making an AAU or travel team. We serve all levels, from beginner to advanced. The summer is for learning and development, and our camp will give you the tools to continue practicing and training on your own long after camp ends."
KBBC is open to boys between the ages of 10 and 19 and will be held at Montverde for two weeks, from July 16-28. Campers may attend the day option as a commuter or choose to attend the overnight option, but either way they can expect top-notch instruction from Coach Boyle and many of his staff members from the school's Center for Basketball Development, including his sons Coach Kevin Jr. and Coach Brendan. It is also common for former players now competing professionally and playing overseas to return and offer their expertise.
"Almost every KBBC coach has played in college or is now coaching in high school or currently playing professionally," Coach Boyle says. "The camp is a well-structured day similar to my team practices, where we're always trying to develop individually as a player in all aspects of their game, which will in turn during the season help the team get better."
Families from throughout Florida, all over the country and even internationally are drawn to KBBC for that kind of top-notch instruction from Coach Boyle. With world-class gym facilities, meals in the dining hall on the beautiful campus of Montverde Academy and air-conditioned facilities, the camp sells out every year. Campers who stay overnight love that they are given chances for trips during their camp week to Universal Studios and Disney World.
While working hard on the court all day, the Boyles feel the bonding aspect of camp is just as important. At KBBC, campers get basketball training from the nation's top high school coach and staff while also always having a fun, memorable experience.
Kelly tells the story of two 10-year-olds who attended camp last year, one of whom traveled 36 hours by plane from Singapore and the other 30 minutes by car from Orlando.
"They became buddies and were hanging out in the dorms together, discussing the many Montverde players Coach Boyle coached who are now in college and the NBA, and they bonded over basketball," she says. "We love doing camp every year just for that reason alone—the campers are awesome."
No matter where families are sending their children from, the Boyles—who raised three kids of their own—understand budget realities and have strived to keep the camp affordable. They also take the responsibility of watching over young children quite seriously.
"These are our kids when they're with us, and we take care of every detail, from helping kids who forgot a towel or shampoo to attending to kids who aren't feeling well," she says. "If something happens in the dorm or during the camp day, we're on top of it, and I think being a family-run business really sets us apart."
The Boyles have been invited to take their camp all over the world, from China to Germany to Brazil, and this spring will be heading to Australia. As much as they enjoy those trips, they are just as happy to welcome children to Florida to improve their skills and build lifetime memories.
"The campers are getting top basketball training right here in Central Florida, and they're also having fun and meeting kids from all over the country and connecting with our coaches," Kelly says. "It's a special bond and I don't think you find what we do here at KBBC at any other basketball camp."
Kevin Boyle Basketball Camp
at Montverde Academy
(732) 713-1712