An Eye Opener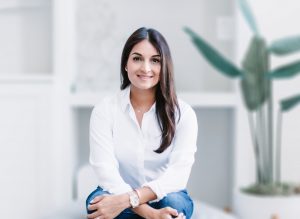 Women are often expected to wear many hats during a typical day, from wife and mother to busy professional and everything in between, all while holding themselves to impossibly high standards. Self-care and beauty regimens can sometimes take a backseat to the other demands they face, but that's where a national brand with a growing presence in Central Florida can help.
The Lash Lounge is an upscale salon specializing in expertly applied eyelash extensions, a popular trend in the fashion world that has been embraced by everyday women of all ages to help them look and feel their best with minimal time and effort. Also offering services such as permanent makeup, lash fills, eyebrow threading, eyebrow tinting and lash lifts, The Lash Lounge aims to make life easier on its guests while giving them the ability to stand out in a crowd with glamorous, natural-looking eyes.
"It's instant gratification for women and it's empowering for them," says Reena Patel, who owns four Central Florida locations of The Lash Lounge. "When our clients walk out the door, they feel more confident and that, to me, is everything a woman should feel, especially in the workforce. 
"Many of our guests notice such a transformation with lash extensions that they put makeup to the side altogether! Others still choose to take advantage of services like permanent makeup and ombre brows to give their other facial features an effortless glow."
Patel can certainly relate to the hectic schedule that many women take on. She worked in investment banking for eight years as part of a high-profile firm, a job that required her to travel  and work late hours to communicate with international clients. As the mother to two boys, now ages 10 and 7, she sought a career with more flexibility, where she could reap the rewards of her hard work while also being present for her children.
After exploring a number of options, Patel discovered The Lash Lounge, an organization she believes in wholeheartedly, from its services to its philosophy and the way it treats employees and clients.
"I always knew I wanted something more, and I wasn't sure exactly what that was, but I took a leap of faith and jumped into lashes," she says. "I had no prior knowledge, but all I did for three months was research different industries and different franchises. I learned about a few others, but this one just stood out."
With the full support of her husband, Patel opened her first franchise in Dr. Phillips in 2019. A second location came in Lake Mary the following year, and in 2021 she bought the Winter Park salon from a previous owner. This fall, she expanded once again, to Winter Garden.
"I saw a demand there, and when a space finally became available, I jumped at it," she says. "It's the one place I really wanted to be. I love the community there, people are really supportive of local businesses, and I wanted to be part of that scene. I really hope it's successful and I think it will be."
At all four locations, women can expect a warm and inviting atmosphere, as Patel spared no expense in creating a feeling of luxury for her guests. On their first visit, they will enjoy a free consultation with a stylist to discuss their options, and then receive a customized plan going forward to fit their specific wants and needs.
"It's a pain-free process. In fact, the service is so relaxing a lot of our guests fall asleep!" Patel says. "One of the things that I love is that it's not like a skincare routine that takes a few months to see results. You see the benefit as soon as you walk out the door."
After the initial lash extensions are placed, it is recommended that clients come back every two weeks for a refill. Memberships are available to receive refills at a reduced price, and to take advantage of discounts on other services, such as the always-popular lash tinting, which darkens and emboldens the lashes and brows for a fresh, natural look.
Patel has been encouraged by the response of local women, including many of her friends who have become members and loved the results. She has not ruled out further growth, but for now is content to deliver a luxurious experience for any client who walks through the door at her four locations.
"I've been very fortunate with the feedback I've received," she says. "When a new member joins I say, 'Get ready for your new addiction.' It's an instant eye opener, especially for busy moms. You look a little younger, because as we get older our lashes thin, just like our hair. So it's definitely something that people will notice."
The Lash Lounge
Locations in Dr. Phillips, Lake Mary, Winter Park and Winter Garden