Building a Community All Year Long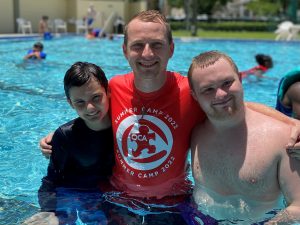 April might mark the beginning of World Autism Month but for those whose lives have been touched by autism spectrum disorder (ASD), awareness and advocacy efforts aren't limited to just one month a year.
"We have to educate every day," affirms Silvia Haas. "We have to keep educating our audience."
Haas is the chief executive officer and one of the "founding sisters" of OCA—which stands for Opportunity, Community, Ability—a multidisciplinary, ever-evolving program that began in 2009 with 19 families who wanted to not only support their children with special needs for the duration of their lifetimes but also help caregivers connect with an empathetic, proactive community filled with others who understand their unique position.
After all, since her son Matthew has autism, Haas keenly understands the unique circumstances and stressors of special-needs parents. She knows how necessary it is to find a community of empathetic, proactive caretakers who recognize the importance of dedicating some of their energy and time to their other interpersonal roles while simultaneously offering their children a chance to enjoy some fun-filled outings of their own.
"Something that really shocked all of us was to hear a lot of people say, 'Yeah, I don't go out on dates with my husband' or 'It's 24/7 with my kids.' We knew that we wanted to be able to change that opportunity for families, so we created our social skills series or Saturday events where we took the kids bowling, or we'd take them to the local theater to give them that experience and to give the parents four hours together," she explains. "One of the beauties about the founding sisters was that they gave my husband and I the opportunity to go away and have date nights or celebrate anniversaries."
While Devereux Advanced Behavioral Health Florida specializes in a range of residential services for those with developmental disabilities, Director of External Affairs Lindsey Phillips notes that both the roots of the organization and her own introduction to the field 30 years ago are intertwined with autism, which makes supporting those individuals and their families "near and dear to our hearts."
"Our services are year-round but April brings a lot of attention and opportunity to really connect with families and educate the community, including school-based professionals and healthcare professionals that might be involved in getting people the help they need," she says. "We've taken that deep knowledge of operating in a residential capacity and offering services to families. … Families who have much younger children, we know what that outcome looks like and the support that they need."
For organizations like The Arc of Florida, where Dina Justice is director of marketing and communications of the nonprofit working with approximately 40 Arc chapters and colleagues throughout The Sunshine State, outreach and education are all about "spreading the love, since there's so many people with different types of disabilities we serve that we don't want to take a hard, specific line" that might look like it's advocating more for one segment of the population than others.
But since Justice's 21-year-old daughter has autism, she concedes that, "As a parent, autism hits a little closer to home, but I really do try to support awareness for all."
Those parents, caretakers, friends, family and other autism advocates who support their loved ones with autism year-round do appreciate the increased focus that World Autism Month brings, though. That visibility is an opportunity to ramp up educational and community efforts for April, as Autism Society of Greater Orlando's (ASGO's) treasurer Angelica Taylor can attest to.
"We host a ton of events throughout the year but definitely during this time," she says. Those big events include the autism walk fundraiser and Family Fun Day slated for April 8 at the Orange County Convention Center. "It's a great time and a great way for families to come together, and since we have vendors there who specialize in autism, it's a good resource for families, as well. … We also host law-enforcement, first-responder and hospital staff training to spread awareness—we've trained over 40,000 officers in 50 different agencies in things like de-escalation techniques."
Given that autism is being recognized in greater prevalence than ever before—Haas says her son was 1 in 10,000 when he was diagnosed in 1998, compared to the latest statistics showing that 1 in every 49 children receives an ASD diagnosis in the U.S.—the need for awareness is important, but so is the need for both acceptance and creating a more inclusive world.
Though Justice and Taylor both point out that one effort can augment and amplify the impact of the others.
"Advocating for inclusion should be ongoing with awareness, whether you're talking at your own meetings, are a board member in other organizations or you're just putting yourself out there," Justice says. "If you can take your loved ones in public like you would your neurotypical children, that's what you need to do—it all depends on your child's ability, because the autism spectrum is so broad, from the high-functioning, verbal individuals to those like our daughter, who needs 24/7 hand-over-hand assistance."
"ASGO's mission is that all individuals within the spectrum are provided with a lifetime of a network and opportunities to become fully accepted, included and actively participating members of our community throughout Central Florida with support, education, advocacy and public awareness," adds Taylor. "We truly believe that we exemplify acceptance and inclusion each and every time when we host events, training and participation in the community."
And while there are numerous programs for youngsters with autism, it's crucial that adults with autism have access to the support that helps them thrive as they grow older.
"By offering family activities, we ensure that no one ever ages out of our programs," Taylor affirms. "We host social-skills groups for individuals from the ages of 5 to 35, we currently have four different groups that meet out in the community … and ASGO picks up 100% of that cost for the individual with autism so they can participate in different events. Then we have a program designed for those who have no next step after high school, where our art director helps them create art and find different shows for them to show and sell their work. It's a great way for them to just express themselves and be out in the community."
"These individuals have so much to contribute," Phillips agrees. "The outcome of these awareness efforts are great opportunities to really broaden the perspective of so many people—including employers, with the movement to hire neurodivergent individuals and understanding the strengths they can bring to certain roles, and being inclusive and embracing those strengths. It can sometimes be a challenge, but with the right support and some understanding, it can really be a powerful tool for the individual to have gainful employment, and the employer."
Establishing that extended family, a devoted support network, opportunities to engage with the community and even communal housing offers a tremendous peace of mind to aging parents and caretakers who worry about how their own declining health and inevitable mortality will impact the adult children they leave behind.
"One of the things that I love most about our programming is that we're truly looking at the child's lifespan," says Haas. "When we are looking at creating our residential program … we want to make sure that we're looking at that adult's lifespan. From traveling around the country, we've learned that 95% of families that come to a residential situation [do so] because they're in crisis. In order to help alleviate that, we want to make sure that when we're at that point of adding residential, we're able to look at that family and say, 'This is where your child will stay until the good Lord calls them up, too.' It's always very much in the back of our minds."
Promoting that multifaceted effort of awareness, acceptance, support and inclusion is one way autism advocates fight the stubbornly lingering misconceptions that influence what so many erroneously believe about individuals with autism, like their diagnoses all manifest the same or that nonverbal individuals have nothing to say—when, in fact, drawing pads, tablets and other communication tools have all proven quite the opposite.
Because, according to Justice, the goal of awareness and education is not only helping to make a more inclusive world a reality sooner, but also seeing individuals for who they are rather than their diagnoses.
"A disability does not define a person," she says. "Everyone deserves the pursuit of happiness."
Here to Help
For more information on local resources, contact these area organizations
The Arc of Florida | (850) 921-0460 | ArcFlorida.org
Autism Society of Greater Orlando | (407) 855-0235 | ASGO.org
Devereux Advanced Behavioral Health Florida | (407) 362-9210 | Devereux.org
OCA | (407) 808-7837 | GoOCA.org