Diabetes and Your Eyesight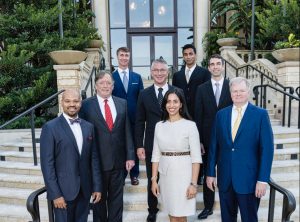 Diabetes is said to be one of the fastest-growing chronic diseases in the world, and in the United States alone it affects 34.2 million people. According to the Centers for Disease Control and Prevention, that's roughly one out of every 10 of the population. Even more jarring is the fact that one in five don't even know they have the disease. 
What, exactly, does this have to do with the eyes? Surely, vision is not the first concern that comes to mind for someone who receives a diagnosis of diabetes—but it shouldn't be too far down the list.
Over time, this condition can lead to retinopathy, in which the retinal blood vessels are damaged and retinal function is compromised, resulting in vision loss or even blindness. The good news is that these complications can be avoided with regular checkups, and the team at Florida Retina Institute is eager to help.
Dr. Ruwan A. Silva, a board-certified, fellowship-trained vitreoretinal specialist at Florida Retina Institute, says many patients are often surprised by the correlation between diabetes and one's vision health. 
"For this reason, we take great pride in counseling patients on this facet of diabetes," Dr. Silva says. "When a patient has advanced diabetic changes in their eyes, we first take a very thorough series of eye photographs and scans. We are then able to show them these results which most clearly conveys to them their level of disease and the threat this poses to their vision."
For more than four decades, Florida Retina Institute has been providing groundbreaking care for a wide range of issues affecting the eyes, and it continues to treat patients of all ages at 10 locations throughout Central Florida. Retinopathy is one of the practice's specialties, and its experienced staff of ophthalmologists goes to great lengths to ensure the public is educated about the effects of diabetes and hypertension.
As Dr. Silva notes, it's imperative that a patient who has been recently diagnosed with diabetes immediately schedule a consultation with their eye doctor. "It is an absolutely critical element of the team approach to their care. Notably, many patients have had diabetes for years before actually being diagnosed with it, thus we cannot often predict how advanced their diabetic eye disease will be based solely on when they were diagnosed."
Some diabetic patients lose vision because of the damage done to the retina from a lack of oxygen or scar tissue and many require surgery, however their long-term visual prognosis can be poor due to the chronic disease. 
Dr. Silva says the most common symptom of retinopathy is blurred or distorted vision, when patients develop macular edema or swelling in the center part of their vision. Increased floaters, flashes, decreased clarity of colors and difficulty with night vision are other issues to look for.
"[These] may be warning signs of diabetic eye disease which may warrant urgent intervention," says Dr. Silva. 
Of course, many patients do not have any symptoms at all until it's too late, which is why routine dilated eye exams are so important. The American Academy of Ophthalmology recommends annual checkups for those with Type 1 and Type 2 diabetes and they should schedule a visit with an eye doctor a few months after their diagnosis. 
Patients are encouraged to control their diabetes by keeping up with their medications, maintaining a balanced diet, exercising and regularly seeing their primary care physician or endocrinologist. If abnormalities in their eyes are detected, the best plan of action will be determined by Florida Retina Institute. 
Dr. Silva, who joined the practice this past June, adds that recent advancements in the field and cutting-edge treatments are providing new avenues for patient care. For example, improved imaging capabilities are allowing doctors to more completely photograph and scan the eye—helping both to detect diabetic eye changes earlier but also more precisely assessing a patient's response to specific ocular treatments.
Emerging medications are also proving remarkably effective at not only abetting advancing diabetic eye disease, but actually causing disease regression. And in the case that the disease is so advanced that surgery is needed, new technology pertaining to the eyes now allows for faster, safter surgeries with a much lower complication risk and a shorter recuperation period. 
"The technology we have and even that of the near future provides patients with never before opportunities to successfully treat what was once an untreatable disease," Dr. Silva says. 
Dr. Silva, and his colleagues at Florida Retina Institute, are confident that these breakthroughs and the practice's commitment to personalized care will make patients feel safe and secure the minute they enter the office.
"With this group of talented, energetic and ambitious physicians, we have the ability to bring the most advanced, cutting-edge technology to Central Florida to best serve our patients," he says. "And with these advances come more options and more of a responsibility on physicians to optimize those treatments to the individual patients for whom they care."
Florida Retina Institute
Multiple locations in Central Florida including Orlando, Kissimmee, Lake Mary and Clermont
(877) 357-3846