Surge in Surrogacy
Motherhood is one of life's greatest gifts. Yet, pregnancy can be a challenging journey filled with morning sickness, swollen feet, and stretch marks. Wouldn't it be amazing if babies really were delivered by a stork or perhaps another carrier? Celebrities including Sarah Jessica Parker, Nicole Kidman, Elton John, and Giuliana Rancic have all expanded their families with the help of a gestational carrier (the fertilized embryo belonging to the biological couple) or a surrogate (utilizing a donated egg). These fertility options are not just the latest Hollywood trend, but a true solution for the 10-15 percent of couples who struggle to conceive or carry a child to term.
The Center for Reproductive Medicine, which has three locations in Central Florida, has seen a surge in surrogacy thanks to heightened awareness of fertility alternatives, improved regulations, and increased success rates. "Twenty years ago, the in vitro fertilization (IVF) pregnancy rate was just 10%. Today, women under the age of 35 who are in good health have a 60% pregnancy rate, and up to 70% for women in their 20s," said Sejal Dharia Patel, M.D., who serves as Medical Director for Reproductive Medicine at Celebration Hospital and practices at the Center for Reproductive Medicine.
Why Surrogacy?
According to Dr. Patel, a 'third-party volunteer' combined with IVF technology can be the solution for women affected by a variety of medical conditions, such as congenital heart disease, absence or abnormality of the uterus, endometriosis, certain types of cancers (including cervical), or unexplained infertility. "Surrogacy may also be an option for couples who have waited to start a family (i.e. concern about mother's age) but who still desire to have a biological child rather than adopt."
Starting a family was always a priority for now 45-year-old Kim and her husband Rick. With fertility complications possiblely caused by uterine fibroids and an autoimmune condition, the Orlando couple faced a miscarriage and four rounds of IVF before finally becoming pregnant with their first child. "I eventually had a perfect pregnancy with my daughter Kylie, who is now 7 years old."
Getting Started
Kim and Rick waited two years before again undergoing IVF to expand their family. However, after another miscarriage and ineffective IVF cycles, they chose to work with a surrogate agency and attorney. "It was difficult to fully trust someone else to carry my child. At first, I sort of felt like an outsider during the pregnancy; but I simply kept the big picture in mind ─ our family would soon be complete," Kim explains.
A couple can either select a loved one to serve as their gestational carrier or hire an independent agency to identify an appropriate carrier. In most cases, a contract will outline the physical and financial arrangement and expectations of both parties, including compensation, medical expenses, and issues surrounding heath potential concerns. In order to be a gestational carrier, according to Dr. Patel, the volunteer must have experienced at least one full-term live birth and be free of physical or mental conditions that could pose a risk to either herself or the fetus during pregnancy.
After a phone interview, Kim and Rick met face-to-face with Heather, an agency-aligned surrogate who had successfully carried four pregnancies. "Gestational carriers usually feel that this path is their calling ─ their gift," says Rick. Throughout the pregnancy, Kim and Rick spoke weekly with Heather and traveled two hours to her hometown to participate in prenatal care visits.
Treatment & Pregnancy
Finding a gestational carrier can take time, even when working with a surrogate agency; and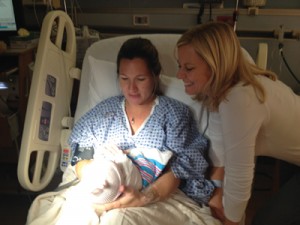 failed pregnancies or matches can occur. After initial medical screenings are complete for both parties, the biological mother is required to undergo an IVF cycle, explains Dr. Patel. Eggs are then harvested vaginally and fertilized. After 3-5 days, the embryo is transferred to the gestational carrier. "The chance of multiple-embryo pregnancies has significantly decreased thanks to today's advanced technology," says Dr. Patel.
"My friends joked that I was so lucky to enjoy pregnancy in this unique way ─ no weight gain and the option to enjoy a glass a wine if I wanted," explains Kim of the outpouring of support from loved ones. "My daughter Kylie was most excited. We explained that the baby was part mommy and part daddy, just like her, but made possible with Heather's help. At our baby shower, Kylie blew out the candles on the cake to make our wish come true."
Cost
"Couples who expand their family through a gestational carrier will incur the cost of IVF, which can be about $10,000 per cycle, plus surrogacy expenses which can range anywhere from $5,000 to $35,000. Costs can include medical testing, legal fees, agency and contract arrangements, and medical expenses for the carrier. Compensation varies since the volunteer can be a family member with little or no financial requirements, or hired through an agency," says Dr. Patel. Kim and Rick, who arranged a monthly payment plan with Heather, say that the medical expenses of a carrier may not be covered under insurance. "Parents can evaluate the financial comparisons of IVF, gestational carriers, and adoption," explains Rick. Families may also consider working with an international gestational carrier who can be a less expensive alternative.
Pluses
Infertility solution: A gestational carrier can be effective for those unable to carry a child as a result of:

Health-related conditions
Age
Same-sex couples

Genetics: Biological child of parents
Minuses
Navigation of process, such as:

Limited number of specialized agencies and attorneys
Financial considerations

No guarantees (as with most fertility options)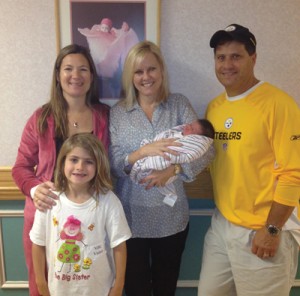 On November 24th, Heather gave birth to Kim and Rick's baby girl, Chloe. "I would encourage couples facing infertility to not give up, especially since surrogacy is an option," says Rick. Kim adds, "It may not be easy, but it is doable to achieve the miraculous family you want! Surrogacy will always be a part of Chloe's story; and Heather and her family, who also sacrificed for us, will always have a special place in our hearts."
For more information on surrogacy, visit ivforlando.com.