THE CARRIE DIARIES
Show: "The Carrie Diaries"
Airtime: Mon., 8/7c on The CW
Reel Rating: 4 out of 5 Reels
TV Rating: Not rated, but TV-14 if I was in charge
Genre: Comedy, Drama, Romance, Teen
Cast: AnnaSophia Robb, Austin Butler, Ellen Wong, Katie Findlay, Stefania Owen, Brendan Dooling, Freema Agyeman, Matt Letscher
Ok for Ages: 14+
Official Site: http://cwtv.com/shows/the-carrie-diaries
PARENTS SHOULD KNOW: "The Carrie Diaries" is set during Carrie Bradshaw's high school years and includes the same openness about sexuality as its predecessor "Sex and the City." So far, though — it being a show about teens — it's been mostly references to sex, like a teen girl talking about her first sexual experience ("It was like putting a hot dog through a keyhole"), references to homosexuality (a teen boy struggles with his sexuality), a teen girl's affair with an older man, references to losing virginity and "getting laid," and plenty of kissing. Language includes "bitchy," "hell," "screw you," "pissed" and "boobs."
Underage drinking is shown, sometimes to the point of drunkenness, and Carrie finds pot in her younger sister's drawer. The sisters struggle with the loss of their mother, who died a few months earlier. Carrie makes some iffy judgment calls when she falls in with an older, more worldly crowd in the city. But she seems to have a good head on her shoulders, and she values her relationships with friends and family.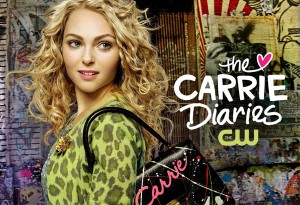 REVIEW: I was pretty excited when I first heard about "The Carrie Diaries." I loved "Sex and the City" and watched the entire series on DVD over the course of a few months way back when. After watching last week's premiere of "The Carrie Diaries," I'm still excited.
Based on Candace Bushnell's novels "The Carrie Diaries" and "Summer and the City," the show is actually a prequel to "Sex and the City," and takes place during Carrie Bradshaw's teenage years. This was long before she was a fashion icon, before her column in the New York Star (which, believe me, no writer can figure out how she could afford her Manhattan lifestyle and Jimmy Choo collection on a columnist's salary), and before Mr. Big and that long string of guys she dated.
"The Carrie Diaries" takes place in the 1980s. Carrie Bradshaw (AnnaSophia Robb) is a 16-year-old girl living in suburban Connecticut with her dad Tom (Matt Letscher) and rebellious 14-year-old sister Dorrit (Stefania Owen). They just lost their mom a few months earlier, and Carrie has spent the summer grieving and leaving her childhood behind, as Tom tries to figure out how to raise two teenage girls on his own.
Carrie has a close set of friends, including sweet, geeky "Mouse" (Ellen Wong), sarcastic and self-assured Maggie (Katie Findlay) and sensitive Walt (Brendan Dooling). They make life bearable, even as Carrie is still missing her mom terribly. The arrival of a sexy new transfer student named Sebastian (Austin Butler) helps, too.
When Tom offers Carrie the chance to intern at a law firm in Manhattan, that's when we see the beginnings of her love affair with the city. On a chance meeting at a department store, she meets the exotic Larissa (Freema Agyeman), who turns out to be the style editor at Interview magazine. And thus begins Carrie's love affair with fashion.
In fact, the reason they meet is because Larissa is fascinated by Carrie's purse — a purse of her mom's that she dressed up with splattered nail polish. Carrie ends up going out with Larissa that first night in the city, and she's energized by the avant-garde club scene and all the artists, writers and creative types in Larissa's inner circle.
Along with the fact that "The Carrie Diaries" returns me to the story of Carrie Bradshaw, there are lots of other reasons I love this show. It's fun to see how the girl we know from "Sex and the City" got to be that way. Her mom was a fashion maven, which we see when Tom asks the girls to help him clean out her closet. He gives Carrie her mom's fancy sunglasses, and the moment she puts them on, you begin to see the Carrie Bradshaw we know as a stylish Manhattanite.
Her mom was also a writer who filled journal after journal with her thoughts and musings. Carrie begins writing in one of her mom's blank journals, and here we see the origins of her career as a writer (I look forward to seeing how she eventually gets that cushy columnist job!).
For anyone who was around in the 1980s, "The Carrie Diaries" is rife with 80s memorabilia and a dance club soundtrack that includes The Talking Heads, Cyndi Lauper, Madonna and other 80s musicians.
Also, AnnaSophia Robb is an adorable and gifted actress with a huge fan base. You can tell she understands the legacy involved with jumping into those stiletto heels, and she handles it carefully and respectfully. She really does look like a young Sarah Jessica Parker, who of course played Carrie Bradshaw in "Sex and the City," and narrates the story just as Parker did. There's even a reference to that iconic opening scene from "Sex and the City" where Carrie is splashed by a passing bus.
The only thing I wonder about with "The Carrie Diaries" is whether it will appeal to The CW's target market — teens. My 15-year-old is iffy on the show, saying it seems like "The Vampire Diaries," only without the vampires. So "The Carrie Diaries" might appeal more to people like me who 1) loved "Sex and the City;" 2) loved Carrie Bradshaw and are interested in her origins; and 3) were around in the 80s when big hair was in vogue.
I'm onboard. As Carrie says at the end of the pilot episode, "It was the beginning of my Manhattan love story," and I can't wait to see where it leads.