Far From Finished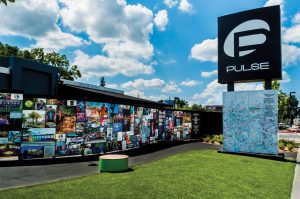 In the epidemic of mass violence across the nation, it is important to remember and to honor the victims and survivors that have been impacted. It is difficult to hear about, to understand and, most importantly, to ignore. It is common for Americans to personally know someone or somewhere that has been affected by gun violence. Within that horror, there have been increased efforts to focus on the victims and survivors.
June 12 marked seven years since the massacre at Pulse nightclub, and it is the second deadliest mass shooting in America with 49 lives taken and at least 53 people seriously injured. A memorial and a museum were proposed by onePulse Foundation in 2016 to honor the victims with educational and reflective implements. However, those plans have yet to come to fruition, as several setbacks including the pandemic have initiated a complicated controversy.
The project was initially expected to cost $49 million, and rose to an estimate of $100 million. This month, with objections to the use of tax dollars without an end result in sight, onePulse announced new changes to the memorial and museum plans, as well as changes within the organization. Deborah Bowie was appointed as executive director in June last year, just as the revised plans were announced. Bowie was personally affected by gun violence when her sister was killed in a home-invasion robbery in 1994, and was drawn to the opportunity to make a difference with her experience in executive positions with other nonprofits and organizations.
"The plan is different in that it includes more opportunities to connect with the local nonprofit community in meeting the needs of the groups serving the LGBTQIA+ public. That's the most significant change—a smaller footprint with more community-facing opportunities," says Bowie.
The majorly scaled down budget of $15 million, funded by an Orange County tourist development tax grant, hopes to accomplish a focus on education, remembrance and acceptance. However, onePulse was given a deadline of 2026—which will mark 10 years since the tragedy.
President Biden signed a law to make the site of Pulse a national memorial in 2021, but it is still undetermined where onePulse's memorial will be located. The foundation claims that it will survey the public and those personally affected by the shooting. Regardless of whether the memorial is placed on-site, near the future museum on Kaley Street, or somewhere else entirely, Bowie says deciding upon a location "deserves a thoughtful, inclusive approach."
"We are also in the process of determining a new site for the national memorial, beginning underground utility work for the Orlando Health Survivors Walk and hoping to expand our board and committees to include family members, first responders and survivors of the tragedy," says Bowie.
In the time that has passed since the horrific act of terror upon the LGBTQIA+ club, many survivors and victims' family members have taken to creating their own nonprofits in remembrance. Tiara Parker, who sustained gunshot wounds that night, also lost her cousin, Akyra Monet Murray. Murray was 18 years old, and the youngest victim.
Parker and Murray were on vacation with a friend when they were looking for things to do, and stumbled upon Pulse. They decided to go, as Pulse didn't have a 21+ age restriction, and was therefore able to accommodate Murray. Instead of a night of excitement and celebration—for Murray had just graduated third in her class and intended to play basketball on a full scholarship the upcoming fall—the three became trapped in a bathroom stall with the gunman on the other side.
In what she prefers to call a "remembrance" instead of "anniversary" (which has a more celebratory connotation), Parker takes the day to reflect each year. She also thinks about what she can do to ignite positive change. She launched the Global Activists Awards with her sister, aiming to recognize activists in the community and to advocate for gun reform. Rays of light in times of darkness, such as Parker's initiative, can be a reminder that kindness exists, too—not just hatred and fear.
"My mission is to honor those who are often unseen and unnoticed. My goal is to expand to be something that the world needs to see and understand that this is a real thing. I put my heart and soul into this … that every piece of pain that I experienced, every positive outcome that I've experienced, all wins," says Parker.
Although Parker is on an email and call list for updates about the progress of the memorial and museum, she has not been consulted directly. Ultimately, she would like to see a memorial for families to visit, which could serve as a location to place mementos. She also wants something created to protect it. In the current state of onePulse's plans, Parker claimed that it will be difficult for the organization to win her trust back.
"There were millions of dollars raised and nothing's been done with it—but all the money is spent. So where did it go? If it was supposed to be dedicated to specifically building a memorial/museum, where did that money go? Because that's my biggest concern. That's a lot of money for something we cannot see … or doesn't exist," says Parker.
One thing, however, is certain: the strength of survivors like Parker to turn a horrific stain upon our nation's history into a mission to give back to her community is both virtuous and inspiring. Her work was galvanized by what she witnessed from the Orlando community after Pulse. It worked to support the victims and survivors with fundraising initiatives and waiving medical expenses.
"[Global Activists Awards'] slogan is 'The fight is global,' and it is. That statement came from the fact that when Pulse happened to me, I watched the entire world stand up in solidarity and I was so amazed … and I will never forget that. So I'm paying it forward," says Parker.
At the time, national acceptance of the LGBTQIA+ community was growing, particularly with the then-recent legalization of gay marriage. The gunman who cut so many lives short demonstrated not only that there was actively life-threatening hostility toward LGBTQIA+ individuals, but that it could be acted upon in what was intended to be a safe space. With the museum's new goal to promote tolerance and unity, Bowie says that a "communal space for the many LGBTQIA+ organizations that formed after the tragedy" will be a pivotal factor.
In the years since such unprecedented violence, the world remains affected. The creation of a memorial and museum are intended to be a cathartic experience for the local community, as well as for out-of-state visitors. Until the project is completed, education and kindness have been proven to contribute to the healing process.