Pieces of the Puzzle
Through a variety of services, those diagnosed with autism spectrum disorder can lead fulfilling lives they never thought possible.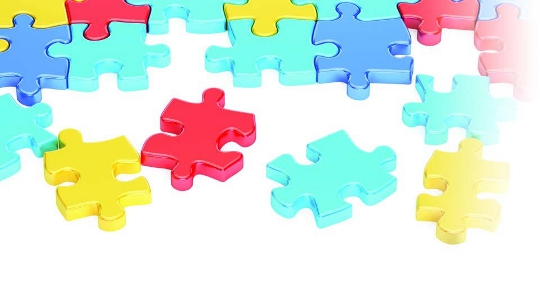 Raising a child comes with challenges every parent knows: the crying, the unpredictable sleep schedule, the bumps and bruises as they explore their surroundings. As they develop, children become more comfortable interacting with others, communicating their needs and wants, likes and dislikes—and those challenges become easier to handle. Yet, for approximately 1 in 68 children in the U.S., this course of development doesn't always occur. Parents  may notice their baby doesn't smile, make eye contact, babble or use gestures. They may develop a limited vocabulary, or not speak at all, and prefer to be alone.
These are just some of the possible signs of autism spectrum disorder (ASD), according to Autism Speaks, one of the leading organizations dedicated to research and treatment for ASD. If a formal diagnosis is made, parents might feel overwhelmed, unsure of what the future holds for their child. Fortunately, they don't have to look far in the Orlando area to find a wealth of people who have walked in their shoes.
Where to Turn
As diagnoses of ASD grow, so does the demand for services, amounting to more than 20,000 Florida families on a wait list. Claire Lottman is a behavior analyst and CEO of Camen Behavioral Services who says families should put their names in as many places as possible. "A lot of families find it stressful because they need the  services now and they will call and find out organizations are booked," Lottman says. Florida passed a law in 2016 allowing excused absences for students who had to leave school for applied behavior analysis (ABA) therapy. "It's now an approved excuse, which is important because some places might only have daytime slots available and parents don't have to worry about it affecting their child's attendance record."
Camen has a team of board-certified ABA therapists and registered behavior technicians who work with children in the home and in the clinic setting. "We focus on communication training, independent  living, academics, following directions, expanding food choices, and everything in between," she says. "We like to look at the family as a whole and come up with strategies and solutions best fitting each family."
Wherever families find their services, Lottman says to make sure there is compassion. "We are compassionate to families' situations," she says. "When you walk into the door of a therapy provider, make sure it's a positive experience right away. Make sure it's not only the therapist who is caring, but everyone in the organization."
One of the first resources many families turn to is the Center for Autism and Related Disabilities at the University of Central Florida, known as UCF CARD. One of seven regional resource centers established by the Florida legislature, UCF CARD serves children and adults with autism, developmental dis orders and sensory impairments, providing individualized guidance.
"We can guide them to the support they need as soon as they have that diagnosis, rather than floundering around trying   to find out what's the best direction," says Terri Daly, Ph.D., BCBA-D, director of UCF CARD. "We have 15 professionals who specialize in ASD and we'll go through the report to see what the recommendations are, what it means and how we can support that child with those symptoms." Most importantly, UCF CARD is a lifelong resource. "We support children and adults throughout their lifespan," she says. "We're there with them for the long haul."
Daly says there are coordinators from the local area who know the providers in each town and can match families with those services. "We spend 90 percent of our time on consultative support for families and  children—out in the communities, schools, homes," she says, adding UCF CARD hosted over 250 educational seminars and visited 15,000 homes, schools and communities last year.
"Knowledge is power with ASD," Daly continues. "We encourage families to come out to events and see what these children and adults with ASD are accomplishing. It helps people have hope and you can always learn from people who walked a mile in your shoes."
Founded in 1996 by a group of volunteer parents, the Autism Society of Greater Orlando (ASGO) works to provide a lifetime network of opportunities for all individuals within the autism spectrum. "We often refer to ASGO as our family because the supports and services are designed by family members for family members, which makes us a unique organization,"  says Donna Lorman, ASGO president.
The immediate understanding of shared experiences can put families at ease. "Families of children or adults   with autism are sometimes afraid to go out into  the community alone," she says. "ASGO's social events and activities allow families to go out in a group that provides support for them. It's always nice to go out … with others who just get what autism is all about."
Surprising Services
The wealth of programs, whether behavioral, educational or simply fun, has grown beyond imagination. "I've been involved in the autism community for the past 16 years in Orlando," says Lottman. "I have seen local chapters with 10 to 30 families grow to hundreds, and resources expand and explode with support. I see more families coming out to events, like the Autism Speaks Walk. It's a beautiful display of community, showing autism isn't such a stigma, but something to be   fully celebrated and acknowledged."
When Helen Leonard's son, who was diagnosed with autism at age 2, was ready to graduate from The Princeton Charter House at age 9, she wanted to keep his momentum going, but nothing seemed like a good fit. Since she had an education background, Leonard was encouraged to start her own school, and she did. The Paragon School is now in its 11th year and serves K-12 students with high-functioning autism or  Asperger's syndrome.
"My son was diagnosed in 1999 and since then the number of supports has blossomed," she says. "We opened because there weren't other schools like it, and we've stayed specific in our mission that we remain specific for this population."
Students at The Paragon School can pursue a traditional college path, a vocational track where they spend time working in local businesses such as Darden restaurants, McDonald's, a florist, bakery and others, and the newest track offered is life skills, providing students with skills like cooking and laundry so they can contribute in their current home life.
"When students come to us, we look at their current  skill set and take a holistic approach by matching them with academics and a range of therapies to build up their   deficit areas," Leonard says. "We can tailor to the needs of the students here."
Local organizations aim to maximize an individual's abilities and provide opportunities for a full life. "The needs and wants of these individuals are no different than you and I," says Silvia Haas, executive director of OCA (Opportunity, Community, Ability). "Everything we want, individuals with special needs also want. They want to be understood, accepted, loved and be part of a community. We strive for that day in and day out."
OCA's staff are trained in ABA, and while those functions provide the foundation for every person at OCA, they also believe in a multidisciplinary approach. Haas, for instance, is referred to as "coach" because of her love for physical education and sports, which kids are encouraged  to participate in. "But not everyone likes the physical aspect, so we also offer music therapy, dance therapy, or if your child has interest in theater we have a Running Man theater company," she says.
"A lot of times parents will tell us, 'I didn't know my child could do that.' Families who didn't know their kid would ever play sports, or sing. We create those programs to make sure kids get those experiences. The more we have, the better these individuals can navigate and contribute to society," Haas says.
Parents also might not realize their child can enjoy one of life's simplest pleasures: swimming. Children with autism are more likely to wander off from a  safe situation, and parents fear what might happen if their child goes near  water. In fact, accidental death by drowning is a significant risk for those with autism. Recognizing this, Quest, Inc., an organization that has supported children and adults with developmental disabilities for over 50 years, created the Quest Swims program within its Quest Kids Therapy services.
"Our mission as an organization is to build communities through quality and innovation so people can achieve their goals to live, learn, work and play," says Kevin Hagan, director of business operations for Quest Kids. "We have a full array of services from infancy to old age, and we recognized this need and merged both the skill sets of highly qualified therapists with the skill sets of swim instructors to provide this life-saving service."
Quest Swims offers one-on-one training to diminish fear or aversion to water while also providing an understanding that water can be dangerous. "We've heard story after  story of parents finding that their children had wandered off near water," says Amber Lampert, primary therapist for Quest Kids. "We knew there was a way to offer these lessons and make water safe and fun, so if kids do fall in they know what to do."
It's all part of making life as typical as possible for these kids.
Adults with autism also have special services available to them. Devereux Advanced Behavioral Health offers a broad continuum of services for all ages through therapeutic care in the organization's residential programs, group homes and in specialized treatment foster care. Communication, social and independence skills are integral for a productive and fulfilling life.
The Threshold Center for Autism, acquired by Devereux in 2015, offers a group home and Adult Day Treatment program. "The individuals  we serve are what make this program unique," says Lindsey Phillips, director of external affairs for Devereux.  "Our team has the honor of providing expert care and meaningful opportunities for skills development each day with some of the most vibrant individuals you have ever met."
Through the adult day program, individuals develop essential skills and become more engaged in society, specifically with vocational training and community-based employment experiences. "One of the challenges for individuals with intellectual and developmental disabilities is the limited opportunities for meaningful jobs and potential impact to feelings of self-worth," Phillips says. "Through the vocational skills obtained, individuals will be able to gain confidence,  independence and become productive members of our community."
Services will continue to expand as needs arise and the members of the autism community in Central Florida plan to continue collaborating on best practices.  "We really do talk among ourselves as resources and work together to expand the services for the huge spectrum that autism impacts," says Leonard. "Many of us were inspired by our own children initially to find how we can give them success in the long term, and now we stay connected in hopes to solve the greater mystery as the number of those being diagnosed climbs."
This article originally appeared in Orlando Family Magazine's April 2018 issue.