Reach for the Stars
These local standouts are just a few of the talented student-athletes to watch this fall season.


Erika Smith, Lake Nona golf
A senior, Smith's stellar career at Lake Nona includes the Class 3A state championship in 2016. Last year she secured the region title by carding a course-record 64 at Orange Tree Country Club and went on to place second at states, and this summer she competed against the nation's best golfers at the U.S. Women's Amateur Championship in Tennessee.
You've had an exciting summer highlighted by playing in the U.S. Women's Amateur. Had that been a long-time goal?
Yes. I've tried in the past but I hadn't qualified until now. It's really exciting. I've had a really busy summer with a lot of tournaments and I've done a lot of traveling. I went to Arizona for a tournament, I went to New Jersey for a tournament. I feel like every time, I haven't played my best but I have learned a lot, which is great.
You've already accomplished so much in your high school golf career. What are your goals for your final season?
I have won states in the past and I'm going to try my best to do that again. Our team is really good too, so I'm hoping we can place or win. That would be amazing.
Does your experience from previous years play a big role?
Oh yeah, definitely. I've played that course [Mission Inn Resort & Club] a lot now since we've played it every year, and I feel like I have a good grasp of the course. It's a challenge but it's fun to play every year, especially with the team.
What sticks out when you look back at last year's regional tournament, which you won with a 64?
Regionals was a lot of fun. Orange Tree is a very tight course, a very tough course, but everything was working for me that day. I was dropping putts and making birdies and not making a lot of mistakes.
Can you usually tell early in the round when a good day like that is coming?
I think so, because when you're warming up and starting out on the first few holes you get a feel for it and start building confidence as more putts go in. It builds up and keeps on going.
How old were you when you first started playing?
I was 8, so I've been playing for about nine years now. I actually started because my best friend at the time was moving away and she and I wanted to do something to keep in touch and have something to do together. So my dad suggested playing golf, and we went and took lessons and we both just kept on playing.
What do you like about growing up in Florida?
There's always so much to do. It's so beautiful year-round and the golf courses are really good to practice on. Everything just fits well.
Do you have a favorite course?
Oh, man. I've played so many that it's hard to choose. Some of them are so incredible and it's hard to pick one.
Is there one you haven't played that you would love to get out on?
I actually live close to Bay Hill and I haven't played there yet, but I would love to.
What would be your dream foursome to play a round of golf with?
Tiger Woods would be incredible, he's the person I look up to the most in golf. I really love a lot of the old greats, like … Lee Trevino or Gary Player or Tom Watson. Playing with any of the greats would be incredible.
Do you know what you're doing next year?
Yes, I've actually committed to the University of South Florida. I feel like everything fit really well for me there. They have a really good program and it's still in Florida, somewhat close to home. Me and the coaches really bonded too, so everything fit perfectly.
What are your long-term goals in golf?
I want to turn pro after college, that's the ultimate goal.

Darrell Harding, West Orange football
A three-year starter at wide receiver, Harding had 27 catches for 492 yards and nine touchdowns last fall as a junior, scored twice on kick returns and threw a TD pass to lead West Orange to a 7-4 record. Also an outstanding student with a 4.4 weighted GPA, he will play college football at Duke University.
How does it feel to be heading into your final season of high school football?
It feels a little different. I always knew it would come so I'm trying not to make it too different from any other year. I'm trying to make the best of it and I know the people I've been playing with are ready to go, so I'm excited to have a great season.
What can you accomplish as a team this fall?
I think we can build off what we accomplished toward the end of last season. We have to take what we learned last year and make sure we fulfill what the seniors put in place last year. We have to do our jobs as seniors this year.
It seems like you have good chemistry with your quarterback, Elijah Stimmell. Do you feel good about that relationship?
I do. We work together almost every day, whether it's practice or anytime we can get together and throw to get our timing down and make sure everything is perfect. We have a pretty good relationship.
You have great size and speed for a receiver. What do you see as your biggest strengths?
I would say those two things and being able to get the ball at its highest point over some of the DBs [defensive backs] I face. Even if they're tall DBs, I can usually jump up and get the ball. As for my speed, it doesn't always look like I'm moving that fast, but once I get moving it's hard for the DBs to be able to react. I'm always working to make sure I get faster so I have even more of an edge against the defense.
Is it a relief to have your college decision out of the way going into the year?
That was a big relief. One of my goals was to choose my college before I started the season and I think it was a great decision. I'm getting even closer with the other commits and we're all prepared to meet up in the fall or even the winter.
Your dad didn't encourage you to go to Cincinnati, where he played college football?
No, he tells me all the time that he's not going to push me to do anything, it's my decision and all he's going to do is help guide me. That was one of the schools that came up and I asked him about it. He told me it was a good opportunity but to make my own decision.
Duke has a solid football program and obviously a top-notch academic reputation. Was it important to find that blend?
That was the biggest thing I was looking for. Duke and Stanford were my top two choices, so obviously education played a big role in what I was looking for. I love football, but even if God forbid something happens and I can't play, I'll still have a degree from a school that will let me get any job that I want.
Do you know what you want to study?
Psychology. I've always had a love for science and anatomy and how the body works, and once I learned about the different regions of the mind and everything I got into psychology and how people think. That's always intrigued me.
I know you're a basketball player too. Are you looking forward to watching Duke games at Cameron Indoor Stadium?
Oh yeah, for sure. I'm looking forward to meeting Zion [Williamson]. I've already met R.J. [Barrett] a couple times, he played for Montverde right down the street from me. That will be cool and we might even be able to scrimmage them a couple times, you never know.
Just make sure you get out of Zion's way when he's dunking.
Oh yeah, I'm definitely making a business decision and getting out of the way. There's no problem there.
Have you always just played football and basketball?
I played baseball up until my freshman year and then I made the decision to narrow it down a little bit but still play multiple sports. I didn't want to narrow it down too soon and just play one sport, but I'm glad I broke it down to two and tried to get better at those two, because those are my true loves.
Obviously you have baseball in the family, since your grandmother and Ken Griffey Jr.'s mom are sisters. What kind of impact has he had on you?
He's had a big impact. When I was a little kid he was playing for the Reds, that's the big stint that I remember. We went to almost every game when I was little. I grew up watching him, and me and my sister would always hang out with [Griffey's children] Tevin, Trey and Taryn and go on trips. … We've always been really close and now we live about two miles away from him, so I see him when he's not traveling. We have a good relationship.
What have you liked about growing up in Florida after moving here from Michigan?
Definitely the competition. You can see a huge jump coming from Michigan. That really pushed me to excel and showed me what it takes to be a great athlete at a high level. I love the weather too. Even though I was always in the cold before, I didn't love it. Getting away from that was a big impact. I don't miss the snow at all.
Caroline Cooper, Winter Park swimming
Last fall as a junior, Cooper captured district titles in both the 100 butterfly and 100 backstroke and went on to shine at the Class 4A state championships, placing sixth in the backstroke and third in the fly with a school-record time of 53.99 seconds. This summer, she competed in the USA Swimming National Championships, winning the 18-and-under 200 fly.
It sounds like you had an exciting summer. What was the experience like at nationals?
It was so amazing. I was really happy with it because it was my first nationals. Having all of those big names around you is pretty crazy, but I was proud of how I did and I was happy to win the 18-and-under final and have a really fast time.
Is the 200 fly your favorite event?
Yes, it is. I like butterfly in general, but [in that event] I like that you don't have to go out too fast and you can just maintain the same speed. When people start slowing down, that's when you can speed up.
What are your goals for this high school season?
Last year in the 100 fly I went 53.9, so my goal this year is to go 52. I will also be swimming the 200 IM so I want to break two minutes in that.
What does it mean to you to have the school record in the 100 fly?
It's such a big honor to me to have a school record because some of those records have been there since the 1980s. It shows how hard work can get you something amazing and produce great results.
I'm sure you're excited to swim at the collegiate level. What made you choose the University of North Carolina?
It was such a hard decision because there were a lot of other colleges [I considered] that were also prestigious. But I knew when I walked onto the Carolina campus and talked to the people, there was just something unique and special about the way Carolina takes pride in their swimming and academics. Getting to meet the coaches and the girls secured my decision to pick Chapel Hill.
Do you know what you want to study?
I'm thinking along the lines of medicine because I'm in the biomedical program at my school now, and also maybe a minor in business. [Medical school] is definitely a possibility. Since I was a little girl I always said I wanted to be a doctor or a nurse. Once I got to ninth grade I was able to pursue a medical opportunity at my school and I took advantage of it. I've loved the course and I think I would love a career in the medical field.
What are you going to miss about Florida when you go away to school?
Definitely my family because they've been my biggest supporters. Not having my mom and my dad and my stepdad there for me is going to be hard.
What are your hobbies when you're not swimming?
The few spare moments I get away from the pool I just enjoy spending time with my friends and family, either doing something simple like going out to eat with my friends or spending time at home with my mom and dad. I also like spending time with my dog.
What do you like most about swimming for Winter Park?
I think my favorite part about swimming for Winter Park is how many people we have and the energy and support that we all have for each other. We're always cheering everyone on from the sidelines. During practices, [head coach Joe Auer] is always correcting everyone's technique and making sure they're working their hardest. It creates a strong bond with all of us, and you can really tell during the meets because everyone is so supportive.
Luke Uttley, Trinity Prep swimming
Uttley, a junior, had an unforgettable sophomore season at Trinity Prep as he won the Class 1A state championship in the 100 freestyle and also helped the 200 free and 400 free relays claim state crowns, ending Bolles' recent dominance in the events. This summer he had a strong showing at the Los Angeles Invitational at USC, capped by a 10th-place effort in the 200 free.
It seems like you had a successful summer in the pool. Were you happy with your progress?
Yes. I was able to travel to Georgia and USC for swimming and I also went to Alaska. I had a very good 200 freestyle at USC and I was happy with that. I also swam the 100 free, 50 free and 100 fly. There was a lot of college kids there and a bunch of fast kids from L.A. [Olympians] Anthony Ervin and Conor Dwyer were there too.
How was the trip to Alaska?
I went there on vacation with my family. It was cool. We explored Alaska; we had a floatplane that landed on the water, we saw a bunch of bears and we went canoeing everywhere.
When you look back on last year's state championship meet, what comes to mind?
I was just so happy. I was mad about my 200 freestyle because I went out too fast, so I used that anger for the 100 free. [For the relays], we knew we were going to be close to Bolles because we were comparing times. All four of us worked together to pull out something amazing.
Do you have specific goals for this season?
I'm trying to keep my title in the 100 freestyle and I'm also looking to win the 200 freestyle. … I'm hoping we can get at least top three in whatever relays we do as well.
Do you have a favorite event?
I would say my favorite event is probably the 100 freestyle. It's an all-out sprint but it's also a sprint of endurance.
How did you get into swimming in the first place?
Originally I got into it just to learn how to swim for safety reasons. But I loved swimming so I kept training at the YMCA from 4 to 6, then I went to Blue Dolphins with Kevin Meisel and then I switched over to Trinity.
Have you started thinking about colleges yet?
Yes. I'm looking for a competitive D-I college. I'm not sure yet [what state I want to be in], but staying in Florida is definitely an option.
Who is a competitive swimmer that you admire?
I would say Caeleb Dressel, just because of his entire kick under water. I always have interest in sprinters and how they move their arms above the water, because you're supposed to keep a high elbow. But different swimmers all have different techniques and I like to study them and try to mimic them. I've studied Caeleb Dressel a lot.
Do you feel like you have made a lot friends through swimming?
Yeah, and not just on my own team. I know people who are going into college now as freshmen. It's like you know everyone in Florida, and they know you as well.
What do you like to do away from the pool?
Well, that's pretty rare. I usually just like to sleep when I get home because I'm so tired. But I do play video games and watch Netflix. I just finished Breaking Bad and I've also been watching The 100.
Do you have a favorite teacher in school?
Since school just started, not yet. But my favorite teacher last year was Mr. [Brian] Burmeister. He taught world history and he's a very down-to-earth guy. He's easy to talk to and he explains the material in an interesting way with cool facts.
Where do you see yourself in 10 years?
I'm not sure. Hopefully in some kind of finance or business position. I'll always try to stay in shape, but I don't know if I'll be able to stay in swimming shape.


Jonah Leach, Olympia golf
A standout player on the Florida Junior Tour, Leach won a qualifying event for the U.S. Amateur this summer and went on to compete at the championship at renowned Pebble Beach. The University of Florida commit has high hopes for his junior season at Olympia.
What did it mean to you to qualify for the U.S. Amateur this summer at Pebble Beach?
It means a ton. I had always wanted to go to that course because it's one of the best courses in the world. I actually wanted to go there after I graduate high school for a graduation celebration, but I guess I don't have to do that anymore.
Are you happy with how you played this summer overall?
Yeah. I started off the summer pretty well with an AJGA [American Junior Golf Association] win and then I got a second place a few weeks later. So I'm pretty pleased with my game this summer.
Do you have any specific goals for the high school season?
I definitely want to have a scoring average below 72, that's my main goal. I also want to go to states individually. We lost two good players so I'm not expecting to go to states as a team, but anything can happen.
How did you first get into golf?
I started getting into golf at the age of 2. Once I was able to walk I had plastic clubs in my hand. I started playing competitively around age 7. That's when I started playing tournaments and got serious about golf. My dad is the one who got me into it.
What do you love about the game?
I love a lot of things. I like that it's an individual sport. I used to play basketball and I ended up switching to golf because I didn't want to count on people and I didn't want people counting on me. I also like that you don't have to be tall or strong, it's more about flexibility and efficiency.
Do you have a favorite course that you've played?
I have two favorite courses. One is Isleworth here in Windermere and the other is Pinehurst No. 2.
Aside from Pebble Beach which you got to play this summer, what other courses do you dream about playing?
Probably St. Andrews and obviously Augusta National.
Do you have certain pro golfers you like to watch?
I've always liked Jason Day's game; he's probably my favorite out of all of them. I like Justin Thomas' swing and how efficient it is, and I also like [Dustin Johnson's] game. He plays so much different than other players because he hits the ball so far.
What made you commit to the University of Florida?
I was mainly trying to decide between Auburn and Florida and there were a couple of things that made me pick Florida. One was the coach; I have nothing against the Auburn coach, but I feel like I can connect more with J.C. Deacon. I also like the future teammates I'm going to have.
I heard you're a whiz with the Rubik's Cube. Is that true?
Yes, in seventh and eighth grade I used to really be into Rubik's Cube. I ended up being able to solve one in 11.7 seconds, that was my record. I've always been a person who likes to solve puzzles and I like math and science, so Rubik's Cube is very cool because it's basically a puzzle to me each time I solve it. I still do it sometimes when I'm bored, but I'm more focused on golf and family.
What else do you like to do when you're not golfing?
I like to hang out with my friends and play basketball or go see a movie. I just saw Antman and the Wasp, that was a pretty cool movie.
What do you like about growing up in Florida?
[Playing golf year-round] is probably my favorite thing. The winters are nowhere close to what they are up north and you can practice the whole year. I also like all the courses in Florida; there are so many.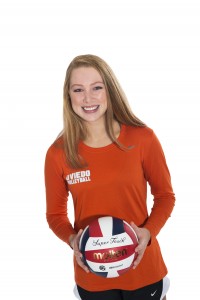 Savannah Vach, Oviedo volleyball
A senior setter, Vach led Oviedo last year with 539 assists, a .387 hitting percentage and 35 service aces and was second on the team with 314 kills, 237 digs and 45 blocks as she helped the Lions reach the 9A region final. An Esmarck All-America selection, she will continue her career at the University of Miami.
How does it feel to be heading into your senior year at Oviedo?
It's really weird. I'm super excited but also nervous because it's my last year at home. But I'm looking forward to all of the opportunities I'll have after [high school].
I know you played a lot of volleyball this summer, including the USA Volleyball Junior National Championships in Detroit. Do you think you made a lot of improvement?
I think I got a lot better because everything I played in was such a high level. My team also got a lot better.
Your team at Oviedo has put together impressive seasons the last few years, including a berth in the state final in 2016. What are your goals this year?
It's always the same goal, to get to the state final. If we don't make it there, we don't make it there, but we have a lot of good players and we have a good chance. We're an older team with a lot of upperclassmen.
Do you think you're motivated by coming so close to a state title in previous years?
Oh yeah, for sure. It makes us work even harder to get there this year.
Your mom is renowned Florida high school coach Kim Vach. Is that how you got interested in the sport?
Yes. She helped start the club OVA and when I was born she was already coaching. So I started playing club with her when I was 4 and it has just stuck ever since then.
What do you love about volleyball?
I think meeting new people is definitely a great part about it, but also growing as a person through the sport is really nice too.
Is it a good feeling as a setter to see your teammates succeed?
It's awesome. When you're setting, you kind of know if it's going to be a good or bad set. So when it's a good one you're just watching the hitter smash the ball straight down, and you get so excited.
You're on track to graduate early from Oviedo and enroll at Miami in January. How did that decision come about?
My coaches at Miami threw that idea out there. They told me it was completely up to me and I said, 'Heck yeah, I'll do that.' Of course I had to talk to my mom about it. It's just a really good opportunity to make sure I'm prepared and getting all the training I need before we start playing in the fall.
Do you know what you want to study?
Probably finance or going into the business side.
Where do you see yourself in five years? Do you think volleyball is part of your future?
I want to play pro after college in Europe, so hopefully I'll be doing that in five years. If that doesn't work out, I just want to get a job somewhere and see where life takes me.
What do you like to do when you're not playing volleyball?
I don't really do much. I like to hang out with my friends and family and I like to sleep a lot. We have an annual pass to Universal so we go there a lot. The Hulk ride is my favorite.

Warren Sapp II, Foundation Academy football
As a junior, Sapp put together an outstanding season on the defensive line, racking up 49 tackles and 13 sacks to make the Class 2A all-state first team and help lead the Lions to a 7-3 record. The defensive end/tackle is being recruited by a number of FBS programs.
How does it feel to be a senior?
It's weird, it doesn't feel right. But it's my senior year and I'm excited about it and looking forward to being with my teammates and everything.
After a monster junior season, do you think that is something you can build on?
Absolutely. [I'm looking for] more sacks. That's my favorite part of the game, getting sacks and being with my teammates; the brotherhood that we have.
What do you think the team can accomplish?
We lost a lot of seniors last year, but we're hoping we can make it to the state championship.
Who would you say is your biggest rival? What's the game you look forward to the most?
Windermere Prep, because that's my old school I went to.
How is the recruiting process going?
It's going great. I went to a lot of football camps this summer. I would love to stay in Florida, but I'm just looking for great academics and a great football program.
Is your father [Hall of Famer Warren Sapp] the person who first got you interested in football?
Nope, my friends did. I was in middle school when I first started playing. I used to play lacrosse, that was my main focus in sports. [But football became No. 1] my freshman year.
What kind of influence has your father had? Do you remember him as a player?
No, I was too little, but I've seen a lot of film of him. He definitely gives me tips and a lot of skills to work with. He's bigger but I'm a little faster than him.
Are you close with your mother JaMiko as well?
She's my No. 1 fan. She's always been there for me and I'm grateful for her support. I appreciate everything she's done for me.
What do you like to do when you're not playing football?
I like to hang out with my friends, go fishing, play basketball. I also love surfing and going tubing with the guys on the lake, stuff like that. I go deep sea fishing for mahi.
Do you have a favorite teacher at Foundation Academy?
All of my teachers help me with my work and always support me. But my favorite is Miss [Ruth Ann] Farmer. I go to her for tutoring.
Do you like to watch NFL or college football?
I don't watch too much football but I do like the Seahawks.
What do you like about growing up in Florida?
The water and the weather. And I definitely go to the parks. Universal is my favorite; my favorite rides are The Mummy, The Hulk, Spider-Man and Dr. Doom.
Star Watch: More athletes we're keeping our eyes on this season
Presented By Orlando Health and Sports Medicine
FOOTBALL
Jalen Carter, Apopka: A 6-foot-3, 275- pound junior tight end and defensive end, Carter has recruiting interest from Auburn and Miami.
Rian Davis, Wekiva: After playing his sophomore and junior seasons at a school in Texas, Davis has joined Wekiva and is poised for a huge senior campaign. Considered one of the top line- backers in the country, he is committed to Georgia.
Tyler Davis, Wekiva: A senior defensive lineman, Davis had 21 sacks last season to lead Wekiva to the state semifinals and was named Orlando Sentinel Defensive Player of the Year. He is being recruited by a number of top college programs, including Clemson, Florida and Ohio State.
Daquan Evans, Jones: Evans, an out- standing cover corner, led Jones in tackles and had six interceptions as the Tigers posted a 9-2 record last year. He will continue his career at South Florida.
Terrance Gibbs, The Master's Academy: Just a freshman, this explosive running back was the offensive MVP for The Master's Academy as an eighth- grader as he rushed for 1,081 yards and scored 15 touchdowns. He already has an offer from Miami.
R.J. Harvey, Edgewater: A Virginia commit, this dual-threat quarterback threw for 1,399 yards and 13 touchdowns last year and rushed for 1,171 yards and 20 TDs.
Peter Hayes-Patrick, Winter Park: A senior transfer from Timber Creek, Hayes-Patrick is a standout running back with offers from Florida State, Ohio State and Nebraska.
Japerri Powell, Dr. Phillips: Powell, a linebacker, was second on the team in tackles and blocked a punt for a touchdown to help Dr. Phillips win the Class 8A state title last year. He will also see action at slot receiver.
Jaquarri Powell, Dr. Phillips: The twin brother of Japerri, this linebacker had nine sacks as a junior for the state champs and is expected to play an in- creased role on offense at running back.
Jaquaze Sorrells, Winter Park: One of several key additions to the Winter Park roster, this senior transfer from Largo is a force at defensive tackle. Ranked the 49th overall prospect in the country in the 2019 class by ESPN, he has offers from Alabama, Clemson, Florida and South Carolina, among many others.
Marcus Tillman Jr., Jones: A 6-foot-2, 220-pound outside linebacker, Tillman was heavily pursued by the likes of Ohio State, Clemson and Florida before committing to Texas in July.
BOYS SWIMMING
Anthony Battestella, Lake Nona: Battesella, a senior, is a standout sprinter who was the Metro Conference champion last year in the 50 free.
Nate Boccuzzo, Apopka: A junior, Boccuzzo shined at the Class 4A state meet last year with a fifth-place finish in the 100 breaststroke and an eighth in the 200 individual medley.
Luke Carey, Olympia: The Orlando Sentinel Player of the Year in water polo this past spring, Carey is also an accomplished freestyle sprinter who took third in the 50 free at last year's Class 4A state meet.
Dominik Hodges, Colonial: Just a sophomore, Hodges has already left his mark on the program with his efforts in the 100 free and 100 breast- stroke.
Jan Collazo Torres, Trinity Prep: Torres took second behind teammate Luke Uttley in last year's Class 1A 100 freestyle state final. He was also part of the state champion 200 and 400 free relays.
GIRLS SWIMMING
Abigail Carroll, Lake Nona: Carroll claimed Metro titles in the 200 and 500 freestyle last year and qualified for states.
Leah Gentry, Freedom: Gentry's impressive rookie season included a second-place finish in the 100 breaststroke at Class 4A states and a seventh-place effort in the 100 free.
Kara Holt, Olympia: A senior diver, Holt has placed fourth and second in the state in Class 4A the last two years. She competed this summer in the USA Diving Junior Nationals.
Raqual Mason, Lake Nona: A Metro champion in diving, Mason took seventh in the state in Class 4A.
Isabella Monteleagre, Colonial: A four-year varsity swimmer for the Grenadiers, she specializes in the 100 breaststroke and 100 butterfly.
GIRLS VOLLEYBALL
JoJo Brown, Montverde Academy: A senior outside hitter/defensive specialist, Brown was named to the all-district first team in 2017.
Lilly Gunter, Oviedo: A junior libero, Gunter set the single-season school record last year with 5.56 digs per set and finished with 468 digs, just 11 shy of another record. She will continue her career at Mississippi State.
Taylor Head, West Orange: As a sophomore, this junior outside hitter led West Orange with 344 kills, 245 digs and 78 service aces and helped the Warriors go 29-0 with the Class 9A state title. This summer she was named MVP at AAU nationals.
Elli McKissock, The First Academy: A Florida commit, McKissock is a junior libero who recorded 448 digs as a sophomore. She was named an AAU All-American this summer.
Rebekah Rath, Oviedo: A 6-foot outside hitter, Rath led Oviedo with 430 kills last year as a sophomore and is already in the school record books for career kills, kills per set and hitting percentage. She has committed to Maryland.
Evan Reich, Lake Nona: A senior cap- tain, Reich led the Lions with 292 digs last year and added 199 service aces. The libero will continue her career at Cornell.
BOYS GOLF
Eric Berggren, Windermere Prep: A senior who has committed to Indiana, Berggren competed this summer at the U.S. Amateur at Pebble Beach.
John DuBois, The First Academy: A senior, DuBois carded a 73-75-148 at Class 1A states last year to place 10th and also took second at districts.
Joseph Padgin, Lake Nona: Padgin's memorable sophomore year included a school-record 31 in match play, a district title and a tie for 20th at Class 3A states.
Joshua Stewart, Oviedo: Stewart burst onto the scene last year as a freshman, capturing individual titles in the district and conference tournaments and placing 17th at states in Class 3A. He has committed to Florida State.
Brendan Valdes, Dr. Phillips: Valdes' solid rookie season was highlighted by a 10th-place effort at Class 3A states.
Artem Yalovenko, Windermere Prep: A senior, Yalovenko shot 76-70-146 at states last year to tie for seventh in Class 1A.
Sampson Zheng, The First Academy: Zheng claimed a district title as a sophomore and finished 3-under at states to place fifth in Class 1A.
GIRLS GOLF
Lauren Clark, Freedom: Clark's impressive freshman campaign included a district title with a 69 and a tie for fifth place at states in Class 3A.
Sophie Guo, The First Academy: Guo, a senior, was a district and region champion as a junior and took second at states in Class 1A.
Sophia Hwang, Timber Creek: A senior, Hwang has been selected to the all-Metro Conference team every season of her career and had a 37.4 average as a junior.
Alexis Rieli, Apopka: As a freshman last fall, Rieli posted a 39.18 average in match play with a low round of 34. She also tied for fourth at the Metro West Tournament and tied for fifth at regions.
Ariel Yu, The First Academy: A junior, Yu claimed the Class 1A state championship last year and led the Royals to the first team state title in program history.
BOYS CROSS COUNTRY
Kayamo Galloway, Oviedo: A junior, Galloway ran 16:03 at Class 4A states last year to place 11th and lead the Lions to their first-ever state crown.
Mamush Galloway, Oviedo: Kayamo's brother also turned in a strong performance at states, running 16:29 to place 29th.
Nicholas Miller, West Orange: This senior has a PR of 16:17.63 and ran 16:51 at Class 4A states to place 44th.
Christopher Wilhelm, Trinity Prep: Wilhelm will look to lead the pack for Trinity as a senior after taking 36th at Class 2A states as a junior.
GIRLS CROSS COUNTRY
Kendyl Cardwell, Montverde Academy: A district and regional champion last fall, Cardwell led Montverde to an undefeated regular season and a third-place showing at states in Class 2A, finishing 11th in the individual standings.
Jeanne Davis, Oviedo: Davis, a sophomore, ran 19:20 at states to place 22nd in Class 4A.
Lily Henne, Montverde Academy: Henne finished the 2017 cross country season ranked first in the state and eighth in the country among eighth- graders. She took fifth overall in the Class 2A states with a time of 18:32.
Emma Noel, Winter Park: As a fresh- man Noel placed 34th at states to help Winter Park win its third Class 4A title in five years.
BOYS BOWLING
Ryan Archer, West Orange: Archer, a senior, had the best average on the team as a junior to help the Warriors finish second at districts and qualify for states for the first time since 1995.
Logan Furlong, Hagerty: A two- time selection to the all-conference first team, Furlong averaged 215 during the regular season last year and is looking to end his standout career on a high note.
Tyler Knutson, Lake Nona: The Lions' top finisher at districts last year, Knutson has high expectations for his senior season.
GIRLS BOWLING
Shauna Rodgers, Oviedo: As a sophomore, Rodgers had a team-high average of 198 and led Oviedo to its second straight state championship.
Patricia Rosales, Evans: The reigning Orlando Sentinel Girls Bowler of the Year, this senior placed fourth in the state last fall.
Amelia Vasquez, Oviedo: Part of a talented, experienced group of returners at Oviedo, Vasquez will look to help the Lions claim their third straight state crown.
This article originally appeared in Orlando Family Magazine's September 2018 issue.