Safety First
In the wake of unimaginable tragedy at Marjory Stoneman Douglas High School, Orlando parents struggle with how to talk to their kids about violence and the school district looks again at what safety means for students.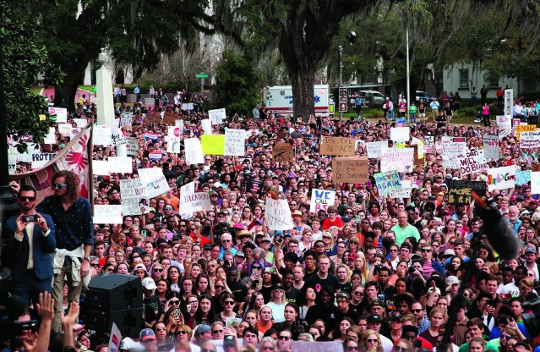 A small aspect of what is so disturbing about a school shooting is how ordinary the setting is for a level of violence that is so incomprehensible. Almost every person in America attends high school as a teenager and the experience is so universal that it spawns an endless number of movies that resonate not just in the time they are released but with kids today. (See: The Breakfast Club) Yes, kids today have cell phones to text instead of passing paper notes and some schools even use laptops in lieu of textbooks, but still all of the hallmarks are there. The anxiety of where to sit at lunch. The sign in the cafeteria that says "Get your yearbooks here." The pubescent peer pressure. The fire drills and football games. Surely, you  remember.
So, when a kid brings a gun into school intent on causing the most damage possible, it just doesn't compute. Things like that are not meant to happen in as ordinary a setting as a school. But as we've seen, most recently with the shooting at Marjory Stoneman Douglas High School, they do.
Out of the grief over the most recent school shooting, Orange County Public Schools and members of the community  have responded with sending love and prayers to the victims and their families while also reassessing what needs to be done to keep our schools safe.
After Sandy Hook
After the mass murder in December 2012 at Sandy Hook Elementary  that left 26 school children, teachers and staff dead, Orange County Public Schools (OCPS) put in to motion a review of all its safety and security procedures by an independent consulting firm. Because of the outside consulting firm's suggestions, several new security measures were implemented including: a single point of entry in the plans for every new school and renovating other campuses to have the same, video intercom entry boxes at front doors, cameras for surveillance and fencing around the campus border.
Also suggested by the experts was the formation of a police department specific to OCPS. That force, called the District Police, was established in August 2015. The District Police coordinates with each police department that supplies school resource officers  (SRO) in our schools. The department arranges drills and trainings, monitors social media for perceived threats and conducts the random, unannounced weapon screenings at schools.
In the wake of the Parkland school shooting, the district has re-engaged the outside consulting firm to discuss security issues.
One thing you won't see in your child's school anytime soon? Metal detectors. According to a presentation given at a school board meeting by OCPS District Police Chief Bryan Holmes, metal detectors would not be effective for our schools. Instead, random weapons screenings were recommended by the outside firm and subsequently adopted by the district.
Another sight you won't see in Orange County schools anytime soon will be guns in the hands of school staff.
Although Gov. Rick Scott signed a school safety bill that allows some school personnel to carry firearms, the OCPS board does not support the measure and does not have any plans to put it into place.  The superintendents at the Osceola County School District and Seminole County Public Schools have also expressed that they are not looking to arm school staff but instead want to have more armed SROs.
While OCPS has shared some of its security measures with the community, school officials and the District Police do not talk publicly about specific security details so as to not inadvertently expose weaknesses that could be exploited by people who may want to enter our schools and cause harm.
The school district has also asked parents, students and community members to be aware of also accidently exposing flaws themselves when they share concerns on social media or publicly with others.
Superintendent Barbara M. Jenkins urged people at a recent school board meeting to speak up about security weaknesses  and threats but to not spread specifics on social media. After the school shooting in Parkland, multiple threats were made against schools around Central Florida.
"If you see something, you have to say something," Jenkins says. "That's something we've reminded  our students of but also we have asked our community: Do not spread it, because sometimes it is a hoax. Sometimes it's someone foolishly thinking it's comical. So, we ask folks don't spread it, report it."
School officials ask that if you have a specific concern about your child's school such as an unlocked door that shouldn't be or any other sort of security  flaw, that you send that information straight to the school principal instead of noting it on social media or telling other parents and stud ents. To anonymously report threats or suspicious activity, people can call the "SpeakOut Hotline" at 800-423-TIPS (8477).
A sense of community
Windermere High School junior Ryan Joiner says she mostly feels safe at school.
"I feel like my school would be ready if something were to happen, but I do feel unsafe in the  sense that so much has been going on," she says. "And I don't know. We've been in three lockdowns since the beginning of the school year and, although those were some of the scariest moments of my life, I did feel like my school was ready."
Joiner, 16, spoke at an organized community meeting in March after her teacher asked her if she'd be willing to share her thoughts on school safety from the viewpoint  of a student on campus.
When she stood in front of the crowd, with several other students who were all from high schools in West Orlando, she expressed a longing for a stronger sense of belonging.
"When there is no community or sense of establishment in a school especially as new as this, we  don't have a culture," she said. "And that makes it easier for people to feel displaced or outside, especially for people who are new."
Joiner is a student in Kristen Kushner's peer counseling class. Kushner, who taught at Bridgewater Middle School for eight years before coming to  Windermere High School for its inaugural school year, says her students are putting together a campaign to make their campus feel more inclusive.
"The class is coming  up with ideas for how they can promote exactly what it sounds like: Letting people know that their peers are here for them," she says. "That they aren't walking through alone. That they can turn to someone next to them who will support them."
According to Roberto Potter, a sociologist and a University of Central Florida professor in criminal justice, a sense of community is more important than some people may realize when it comes to stopping criminal behavior before it happens.
"The commonality we find with all of the risk and resilience studies is that you have people in your life who can deflect you from that breaking point," he says.
Potter looks at trends and data to figure out how people develop into criminals. He's worked in juvenile diversions  and is involved in a school safety study in Brevard County that is looking at bullying as a trigger. He says family and positive ties with others can really help a child who otherwise might act out in violence.
"Family is so important," he says. "They're the ones who help people make sense out of these things. They're the ones who help people develop the coping skills that when these bad things happen to you, you know there are people who will help you get through it."
Safety with kids
On a Thursday night in March in Windermere High School's cafeteria, Julie Sadlier stood in front of concerned parents and community members, local school board officials and a handful of students. The night's meeting, she said, was to allow a conversation about school safety to blossom.
Sadlier, who has a child in middle school and a senior that goes to West Orange High School, helped organize this meeting with District 4 school board member Pam Gould. After the Parkland shooting and the multiple lockdowns that Orange County schools had gone through, she felt compelled to do something, so along with about 10 other local women, she started Mothers Opposing Violence in Education (MOVE).
"There's a way to bring both sides [of the gun debate] together and that's safety with kids," she says. "So we came up with 'Mothers Opposing Violence  in Education.' Violence covers everything from gun shootings to stabbings to fights. Any violence. We're opposed to all of it."
At the meeting, suggestions included economical  ways to install bullet proof doors and putting panic buttons in classrooms.
Sadlier says her high schooler is more or less accustomed to seeing and hearing about violence and mass shootings in the news but her middle schooler is a little bit different.
"She got the social media threat on her phone with the kid from South Carolina with the mask and it scared her," she says. "And it was right before bedtime so we discussed you know, 'What do we do with it?' So, she showed it right to me and I immediately sent it to officials."
The New Normal
Angie Gallo  is the Florida Parent Teacher Association (PTA) legislative chair. In this role, Gallo travels  to Tallahassee where her group of about 10 volunteer staff seek to influence legislation such as the recent school safety bill signed by Gov. Scott that raises the minimum age for all gun purchases to 21 from 18; bans bump stocks, which can be attached to rifles to make them fire faster; allocates millions of dollars toward making school buildings more secure including hiring more SROs; expands mental health services; and allows for the arming of some school officials.
The U.S. House of Representatives also passed a school safety bill that approves spending more money on school security measures but the bill still has to move through the Senate before it could become law.
Gallo met with students  from Parkland after the shooting.
"I've had a child look at me and say, 'You failed me,'" she says. "And that cuts me to the core. And I don't want to fail another child, which is why we fight so hard for good, common sense gun legislation."
After the Las Vegas shooting in 2017 that killed 58 concertgoers, Gallo felt it was important to broach the topic of gun violence with her daughter; it's a conversation she says is difficult for all parents.
"As a parent you have to decide, 'OK, how do you have that conversation with your child,'" she says. "What does it look like? How do you make it so that they still feel safe going to a concert or living their life. Because you don't want them living  in a bubble and not feeling safe."
Gallo has a 20-year-old that goes to Florida State University and a 17-year-old who goes to East River High School. She says her children don't know anything different having grown up post-Columbine where active shooter drills are a normal thing to do at school.
"They didn't grow up in [my] world where we didn't experience that," she says. "So sometimes I feel like they're almost desensitized, which breaks my heart because they hear it and they've heard before and they've heard it before and they've heard it before."
Unfortunately, armed officers in schools, parents calling for bullet proof doors and the fear that accompanies each school lockdown is somewhat normal for students today.
"They've never known a world where there wasn't school shootings or mass shootings," Gallo  says.
Talking to Children About Violence
High-profile acts of violence are confusing and frightening for children. The National Association of School Psychologists provides some guidance for adults on how to talk to kids about what they see in the media about violence. Some of the organization's suggestions are listed here.
1. Reassure children that they are safe and allow them to express their feelings around the violence they've witnessed or seen in the media.
2. Make time to talk and let your children's questions be the guide for how much information you provide them.
3. Keep your explanations developmentally appropriate. Early elementary school children should be provided brief, simple answers along with reassurances that their school and homes are safe. Upper elementary and early middle school children may be more probing in their questions, so parents should discuss measures in place that allow our schools to be safe. Upper middle school and high school students are able to discuss violence in depth and should be encouraged to share suggestions on how to make school safer.
This article originally appeared in Orlando Family Magazine's April 2018 issue.