Still Fresh
Hollywood megastar Will Smith continues to be a charitable everyman who's focused on his family.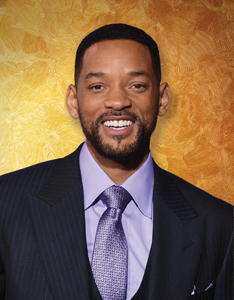 Power corrupts, or so the saying goes. Will Smith has proven to be a remarkable exception to the rule, however. Being one of the most powerful  actors in the world—not to mention a featured attraction at Orlando's Madame Tussauds—hasn't stopped Smith from being an all-around nice guy committed to changing the lives of people he will never meet, either through his inspirational films his many philanthropic works.
Smith has become one of the most iconic actors in the world, a man who has taken just pretty much every screenplay he has been handed and turned it into a blockbuster. His path to mega-star dom—rapper, television star, film actor and producer— began in West Philadelphia, where a boy named Willard Carroll ("Will") Smith Jr. began fleshing out his outsized dreams.
Smith grew up with his older sister, Pam, and younger twin siblings, Ellen and Harry. His parents—Willard, a refrigeration engineer, and Caroline, a school board administrator—separated when he was 13, but they instilled strong family-oriented values. He attended the city's well-known Julia Reynolds Masterman Laboratory and Demonstration School, as well as Overbrook High School. He recalls being "a goofy kid and a major jokester." He has vivid memories of "getting in trouble when I was little, for setting up a prank or for being silly, when I should have been paying attention. I have always been the type of guy to just leap and to ask questions later."
Smith has long since settled in Los Angeles, but he also has homes in Sweden and Florida. (For those keeping score, Smith and his son Jaden, now 18, also visited Orlando back in 2000 for the premier of Universal Studios Florida's Men in Black: Alien Attack ride.) No matter where he is or what he's working on, though, his true focus stays on his family: his wife of 19 years and fellow actor, Jada Pinkett Smith; Jaden; and daughter Willow, 15. (He also has a son, Trey, 24, with his first wife, Sheree.)
The high-energy performer is known for being friendly and approachable, for establishing strong bonds with the actors and crew on many of his movies. His positive energy tends to be contagious. "Give me a problem, I'll give you a solution," he says. "I can't fake my zest for life. Sometimes, I think that even the camera can feel that I'm an extremely happy man. I'm honestly grateful for every single day."
The 48-year-old movie star, and one of Hollywood's best-paid actors, says he is humbled by the fact that he has far exceeded his teenage aspirations, and taken millions of movie lovers around the world along for such a thrilling ride. Of course, his career in the spotlight began not as an actor but as a musician, as the MC of the hip-hop duo, DJ Jazzy Jeff & The Fresh Prince. The duo's critical acclaim included the first-ever Grammy Award for Best Rap Performance, which they earned for their 1988 hit, "Parents Just Don't Understand."
Although that could have been the pinnacle of his career, it proved to be just one of many peaks to come. His confidence, charm and tenacity, not to mention talent, helped him earn three more Grammys. He was on top of the world, yet his rise to stardom was just beginning. In 1990, he starred in the popular television sitcom, The Fresh Prince of Bel-Air, which ran for nearly six years (1990 to 1996) on NBC, and has been syndicated ever since. Also, with childhood pal Jeffrey Townes (of Jazzy Jeff fame), he co-wrote the catchy theme song for the show about a West Philly teenager whose mom sends him to live with his wealthy Uncle Phil and Aunt Vivian in sunny California. Wearing loud, funky clothes and matching ball caps, often seen strutting his stuff like an overconfident rubber band, Smith's lanky character had instant appeal.
Smith's career truly took off after making the transition from television to film. He has had leading roles in numerous action hits, such as Independence Day, Men in Black and I Am Legend, as well as in more serious films such as The Pursuit of Happiness and Seven Pounds. He also played the romantic lead in comedies such as Focus and Hitch, the latter of which was one of the many movies produced by Smith's production company, Overbrook Entertainment.
Throughout his journey from the East Coast to Hollywood, family has remained his No. 1 priority. Smith has been extremely supportive of Willow's career, as he helped her with her popular song, "Whip My Hair." Also, Jaden's first film role was playing Smith's onscreen son in The Pursuit of Happiness. This dramatic film about a single father putting everything on the line for his young son, won Smith one of his two Oscar nominations; the other was for his role playing Muhammad Ali in the film, Ali. In many of his films, he has portrayed formidable men who, despite seemingly insurmountable obstacles, persevere in the end.
In his 2015 movie Concussion, Smith portrayed Bennet Omalu, a determined doctor who discovered a neurological deterioration (similar to Alzheimer's disease) while conducting an autopsy on a former National Football League player. Based on a true story, the film follows Smith's character as he embarks on a crusade to raise public awareness about the concussion crisis and the dangers of football-related head trauma.
He then took a rare role as a "bad guy" in Suicide Squad, the action-packed movie starring a gaggle of supervillains from the DC Comics universe. Also starring Margot Robbie as Harley Quinn and Jared Leto as The Joker, the movie is about a team of the world's most dangerous, incarcerated malefactors who are sent off on an impossible mission to defeat a seemingly unbeatable entity.
Robbie, who was also Smith's leading lady in Focus, says she found instant chemistry with Smith in both films: "Will is a true gentleman. His enthusiasm and kindness are totally contagious. I couldn't ask for a better leading man."
His next work was Collateral Beauty, a film featuring an ensemble cast that also includes the likes of Helen Mirren, Edward Norton and Kate Winslet. In the film, Smith plays an executive who descends into a deep depression following a personal tragedy. In the aftermath, he starts writing letters to the entities of Love, Time and Death—and, remarkably, those entities show up, in human form, to help him piece his life back together. Smith has described the film as a cross between It's a Wonderful Life and The Wizard of Oz.
Smith's extremely full life extends beyond family and entertainment. He and his wife started the Will and Jada Smith Family Foundation to help individuals and organizations advance in areas "where need is great"— namely, through education, empowerment, health, community development, sustainability and the arts.
From his West Philadelphia childhood to his current status as one of the world's most visible and down-to-earth superstars, Smith knows his life could have taken a much different turn. He remains incredibly grateful for his success, yet he also intends to continue building upon it. In other words, the "Fresh Prince" has no plan to slow down any time soon. His fans in Greater Orlando, as well as those around the globe, would not want it any other way.
This article originally appeared in Orlando Family Magazine's September 2017 issue.