Tales of Triumph
The ever-evolving world of medicine is continuously opening up new doors, breaking ground and making the once implausible now possible.
The ever-evolving world of medicine is continuously opening up new doors, breaking ground and making the once implausible now possible. And along with these exciting advancements come those medical professionals who are willing to push the boundaries a little further. Luckily, our area is home to some of the best hospitals and health care providers to help lead the way and the following stories of remarkable recovery are some prime examples of the amazing work being done right here in Central Florida. They illustrate a clear bond and lasting connection between doctors who show great dedication and patients who  demonstrate tremendous resolve.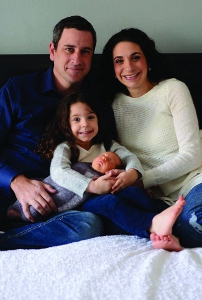 SHARON BROWN
Shortly into her fourth pregnancy, Sharon Brown found out that she had vasa previa, an incredibly rare condition that threatens  the life of the baby during ges- tation."When [the doctor] initially told me, I was in a little bit of shock," she says. "I left and it was very emotional and scary."
Vasa previa happens in the womb when a baby's unprotected blood vessels cross over the mother's cervix. If the vessels were to tear and bleed, the doctors would only have a few minutes to save the baby from dying. These blood vessels can rupture just from the baby's movements in the womb or during low level Braxton Hicks contractions but they will almost certainly tear during childbirth.
"This is  a condition with no warning and with no pain can cause a baby to die," says Dr. Rachel Humphrey, a perinatologist at Florida Hospital for Women, who specializes in women dealing with complicated or high-risk pregnancies.
When she discovered Brown's vasa previa, Humphrey was anxious about telling her the bad news. "I just couldn't believe that with everything Sharon had been through, that this had ended up happening," Humphrey says. "I just couldn't believe it. So, I was just sitting in my office going, 'How am I going to go in and tell her this?'"
Brown had already had other complications before the discovery of the vasa previa,  so she was disheartened because it felt like she was only hearing bad news. However, she also felt tremendous comfort because she knew that she had Humphrey and some other outstanding  doctors watching over her.
"Those feelings went away because I knew I was in their care and they had been with  me for my other pregnancies," she says. "I knew I had the best doctors that anyone could ever ask for." Brown first met Humphrey in the spring of 2012 and Humphrey guided her through the pregnancy of her first child, Mia Rose. The two quickly bonded. "I instantly fell in love with her," Brown says. "She has the warmest smile and she is just the most caring person."
When Brown was admitted to the hospital 23 weeks into the pregnancy of her second daughter, Humphrey would always stop by her room to visit and chat. "We had some good times," Humphrey says with a laugh.
"Yeah, we had so much fun together," Brown says. "But she really is just so warm and genuine. And every time she smiled, I just knew everything would be o kay." At 35 weeks, Brown had a cesarean section, so as to not risk her child's blood vessels tearing during labor. Both mom and baby made it through the surgery and shortly afterward were able to meet.
"The first time I held her it was overwhelming," Brown says. "I just teared up." Humphrey was also relieved to hear that Brown and her baby, Harper Avery, had both made it through.
"It was particularly sweet," she says, "because I know [Sharon's husband] and I know Sharon and I feel so connected that I can feel how much brighter the world is now that Harper Avery is here."
GRANT GIBBENS

Grant Gibbens is just like any other toddler. He's growing up fast, running around and keeping his parents, Jessica  and John, busy as any  parent would be raising a toddler. However, in 2016, Grant was diag- nosed with a form of leukemia that is very difficult to treat.
"When we initially found out that he had leukemia right before he turned a year old, he got standard chemotherapy and was doing OK," Dr. David Shook, medical director of pediatric bone marrow transplant at Florida Hospital for Children explains. "While he was getting chemotherapy, his leukemia started coming back. Once he relapsed, that was when we decided in order to cure him, he's going to need a bone marrow transplant."
In what could be considered a miracle, Jessica, at the time, was pregnant with the family's second child and for Grant's best chance at a cure, the umbilical cord blood, which carries bone marrow stem cells,  from her unborn baby could be a lifesaving  option—if it was a match. Those odds are just one in four.
"We actually didn't know [if the baby]—who was born as a brother—would be a match," Shook explains. "We made arrangements ahead of time to collect mom's umbilical cord blood … in the hopes that maybe her baby, now Wyatt, would be a match."
After Wyatt's birth in May 2016, doctors learned he was a match for Grant, leading to a successful  bone marrow transplant that July. "The amazing thing about it [is Wyatt] was honestly a perfect match."
Following the transplant, doctors noticed Grant's blood wasn't fighting the leukemia as strongly as they would have liked. "We actually went back to Wyatt and drew blood from him—because now they are  the exact same blood—and infused it directly into Grant the same day in order to make his blood stronger.
"So his [infant] brother was not only his umbilical cord blood donor, but he was also his blood donor," Shook adds. "Now all of that is working perfectly … and today, Grant is cancer free and staying that way."
Grant is now gearing up for play groups and gymnastic classes since his immune system is strong again. "Both of [Grant's] parents are nurses and they understand medicine and when things are bad, how bad they are, when things are good and what that means," Shook says. "They have an incredible village … and they have a very strong faith and really believe that Wyatt was born when he was born for a reason.
"[Wyatt] was at every stage that we needed him to be," Shook adds. "Nobody ever wants their child to get leukemia, but when they needed a donor, [Wyatt] was there. When they needed extra blood, he was there. [It's as] if it was all part of a plan."
KARLEE GRAHAM
Karlee Graham's story begins at Nemours Children's Hospital when she arrived as an inpatient at the Lake Nona Medical City location for its intensive rehabilitation program in December 2016, with her entire left side of her body paralyzed. Following a seizure just a few weeks before Christmas at age 14, doctors learned Karlee had a brain tumor and after undergoing surgery at another hospital, experienced significant weakness on her left side—and a fear she would never fully recover.
"She was paralyzed [and] couldn't feel that side and because it also included her face, she couldn't speak well," explains Dr. Ewa Brandys, division chief, division of physical medicine and rehab, department of orthopedics at Nemours Children's Hospital. "She was able to communicate, [but] she had problems with chewing [and] swallowing, with producing  words and even producing statements that would be easily understandable by listening. Cognitively, she was absolutely intact."
With a steep feat ahead of her, Graham—along with a team of multiple specialists including senior physical therapist Amber Yampolsky and occupational therapist Nneka Wells— tackled her therapy utilizing special equipment, including functional electrical stimulation, which sends electrical pulses to paralyzed muscles as a means to promote and improve their function, in addition to supportive braces for stabilization.
Additionally, Graham was aided by a speech pathologist to help regain strength in her face and relearn how to swallow a sip of water and develop speech. "In Karlee's face, she recovered her face strength beautifully during the one-month stay with us with help of speech therapies," Brandys says.
Today, Graham walks with just a leg brace and returns weekly for continual occupational and physical therapy to further improve her strength and the full use of her left hand, which she can feel down to her wrist and slightly move her fingers—a feat doctors consider remarkable.
"[Graham] understands that what she's building now, is for her future and very rarely a child of this age is thinking about the future," Brandys says. "She also understands that it is hard and we stated in the  beginning that it was going to be hard, but she took the challenge and she worked tremendously during the inpatient stay. Usually kids go back happy to their daily routine and accept whatever they gain, but that was not Karlee. Karlee keeps working."
"I've come a long way because now [I have] feeling in my hands and now I'm involved in school," Graham, who turns 16 this month, adds. "I'm back at school full time and I'm planning on doing marching band in the fall." With a goal in place, Graham continues her outpatient therapy with determination—a trait doctors find admirable. "As long as she sees a goal, she's determined," says Brandys. "She didn't give up."
With a team of doctors behind her, Graham's mother, Jennifer Nielsen, is in awe of her daughter's progress. "There are no words for what she's been through and I don't even know how to thank Nemours," she says. "It's kind of a miracle how far she's come.
"The fact that my daughter went from completely paralyzed on the left side to contemplating marching band in the fall and playing a completely different instrument than she wanted to play, she found a way and therapists who power [her] and work to help her reach her goals."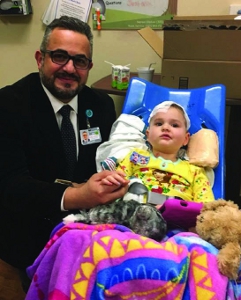 EVANGELINE  "LENA" TIETJEN
During a family trip to Walt Disney World Resort in 2017, the Tietjens—who hail from New Jersey— were celebrating their 4-year-old daughter, Lena, who was due to begin radiation treatments upon their return. Lena was diagnosed with anaplastic astrocytoma that fall at Children's Hospital of Philadelphia (CHOP), a poor prognosis as her brain tumor was deemed inoperable due its location in the center of her thalamus.
"We were told that if we wanted to take a trip to Disney World—sooner would be better than later," Lena's father, Matt Tietjen, explains. "Throughout the week—while it was a positive experience—she began to exhibit strange behaviors and symptoms that were indicating a worsening of her condition.
"We remained in contact with CHOP throughout, and were adjusting her medications accordingly. O n Dec. 3, 10 minutes before we were to board our bus to the airport, Lena threw up and CHOP recommended we take her immediately to [Orlando Health  Arnold Palmer Hospital for Children] and not board our plane."
There, a CT scan indicated Lena's tumor had doubled in size over the span of four weeks, and as a result, was causing severe swelling and increased brain fluid. In response, Lena underwent two surgeries to alleviate the pressure brought on by the tumor and lost consciousness for two days.
The family then consulted Dr. Samer Elbabaa, medical director of pediatric neurosurgery, who would become a beacon of hope for both Lena and her family. "I saw certain changes in the tumor that  led me to believe I could operate," he explains. "When  I suggested the surgery to Lena's parents, they were happy to take the risk if that meant potentially extending her life."
"Dr. Elbabaa had given us hope that he would be able to remove 50 percent or possibly more of her tumor," Matt recounts. "This, he hoped, [would] allow her to regain consciousness and make it back to Philadelphia. After her five hour surgery—she immediately opened her eyes, and Dr. Elbabaa  sat down with us to explain that he had removed close to 90 percent or more of her tumor.
"This was nothing short of a miracle," Matt adds. "He was able to remove almost all of the tumor that was not risking delicate parts of her brain. His hope was to leave a small enough amount to be attacked by the  radiation and further treatments."
Back home, Lena underwent radiation and completed her last round this February and currently participates in clinical trials and undergoes physical, occupational and speech therapy almost every day to regain some of the things she lost due to tumor damage. "Lena was able to celebrate her 5th birthday with her fifth brain surgery to remove the shunt [a medical device that relieves pressure on the brain] that was placed in Florida," Matt says.
"While having a surgery is not the ideal way to spend your birthday, this was a huge moment for Lena's recovery, because she was no longer shunt-dependent due to the surgery in Florida," her father explains. "Her ability to go back to preschool is a huge accomplishment and milestone for Lena. … She is   spending time with her family daily and is able to be a 'normal' kid as much as possible."
Today, the Tietjen family remains in contact with Elbabaa, as they continue to send updates, pictures, MRI images and ask for any input Elbabaa may have. "He follows Lena's progress because he legitimately cares about her and our family," Matt says.
"While every day is a challenge and each day has its struggles, we are thrilled to have this time with our baby," Matt continues. "We spend every moment appreciating the moments we have, and appreciating the doctors that have gotten us to this point. We pray not only for our baby, but for all of the people that have helped us along the way and for all of the families that have to deal with something similar."
This article originally appeared in Orlando Family Magazine's April 2018 issue.