A Juicy Past, A Thrilling Future
Winter Garden embraces its history while keeping an eye toward what tomorrow brings.
The streets of Downtown Winter Garden are almost always bustling with people and activity. "There isn't a day or time where this street isn't busy," Melissa Braillard, director of patron development at the city's historic Garden Theatre, says. "No matter what time of day it is, there are always families out and about having a great time."
Things weren't always this way, though. Founded in 1908, Winter Garden's early success can be attributed to its spot along the citrus-shipping Orange Belt Railway and for being adjacent to Lake Apopka, which brought tourists to the area for bass fishing.
But with the tanking of the citrus industry and the pollution of Lake Apopka, the city's fortunes took a turn and by the late 1960s, the city's main hotel closed along with the Garden Theatre, which originally opened in 1935 as a single-screen cinema to show the first moving pictures that had sound.
Today, you maybe wouldn't know that there was a time when people stopped coming here. Both the theater and the hotel have reopened and have been restored to their previous splendor.
It would be easy to say Winter Garden reinvented itself, but to reinvent oneself is to slough off the old and become completely new. What the city really did was embrace its past and work to incorporate that past into its future.
This is evident in the city's motto: "A charming little city with a juicy past."
Today, with the rapid growth of West Orange, the city might want to tack on a third part to its motto: "And a thrilling future."
A Bedroom Suburb
Mayor John Rees, who grew up in Winter Garden, says he remembers when the area wasn't so populated and a bit more sleepy than it is today.
"It was a small town of 5,000 centered around agricultural," he says. "The town was a friendly place where you knew most everyone."
Although residents still boast about how friendly neighbors are here and about the charm that has lingered, now the area is home to 42,000 people and its economy is centered on technology, health care, construction and service-oriented businesses.
But, while it sustains all these industries, it's still mostly known as a bedroom suburb of Orlando. Linked to Downtown Orlando by State Road 408 and by the Florida Turnpike to Southern Orlando, the area attracts many people who want to live in a place with a small-town feel but still need access to a larger metro.
The construction of these toll roads helped to bolster Winter Garden's population and today it also contributes to its local tourism since people can easily drive into town for one of the city's many events or just to enjoy the atmosphere. In fact on any given Saturday, people from all over West Orange come into town for the weekly farmers market, which in 2016 was voted the best farmers market in a contest by American Farmland Trust.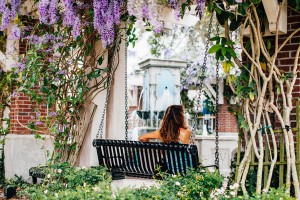 Many of the vendors that come out for the market are small businesses and the city also boasts many longtime family-owned operations, such as RV dealer Giant Recreation World, which has been here for more than 40 years.
Tanja Gerhartz, economic development director for the city, says of the more than 2,000 businesses here, most are classified as small business.
Gerhartz moved to Winter Garden eight years ago after she started working there.
"I view it as just an open living room," she says. "There are a lot of open spaces and places to hang out and I think that it sets it apart from a lot of towns and downtowns."
These spaces for idling in the heart of the city were created deliberately beginning in 1992 when the Winter Garden Community Redevelopment Agency replaced the railroad tracks that ran through the middle of downtown with a bike trail. Most recently the city added a pavilion with a splash park.
Christy Clark-Weber, a broker-owner at Southern Heritage Realty, says the outdoor spaces are a huge draw for people looking to move into the area.
"It's kind of like a town that the whole idea is around a parklike setting in all areas of the downtown," Clark-Weber says. "It's very cozy and easy, and not too flashy."
Plant Street
No visit to Winter Garden is complete without a stroll down Plant Street. With plenty of shops and restaurants, you could spend a whole day just going from one place to the next.
With the brick buildings and preserved historical structures, this area is almost like stepping back in time. And nowhere is that grandeur more prevalent than at the city's restored Garden Theatre.
The theater was originally built with a Mediterranean Revival style and the interior was modeled after a Spanish courtyard with Romeo and Juliet balconies. When the theater closed in 1963 and became a farm supply store much of the interior was removed or covered.
But more than 30 years later, the Winter Garden Heritage Foundation restored the theater and it reopened in February 2008 as a cultural performing arts center.
"And what happened is that the Garden Theatre has really become a central point for our community to come together," Braillard says. "Whether it's for a show, theater production, movie, concert or ballet performance, it is really the hub."
The Edgewater Hotel is another structure that has had a long history. Completed in 1926, the three-story building was a place for people looking for a winter hideaway and it is claimed that Clark Gable once stayed there. In later years, it became a destination resort for people who wanted to fish on the nearby Lake Apopka, so much so that each floor was equipped with a fish cleaning station.
The hotel closed its doors in the late '60s but after an extensive renovation, it reopened in 2003 and has once again become beloved in the city. Today it hosts a number of businesses including a barbershop and the award-winning The Chef 's Table, along with operating as a bed-and-breakfast.
One of the newest and most popular additions to the historic downtown area is the Plant Street Market. Anchored by the home-grown Crooked Can Brewing Company, the indoor artisan market has quickly been welcomed by locals.
A Thrilling Future
Gerhartz says what lies ahead for Winter Garden is more redevelopment.
"I believe you're going to see downtown stretch to the east and to the south along the Dillard Street corridor and along East Plant Street," she says.
South of the city's downtown, the town of Oakland is already flush with new construction thanks to its closeness to the amenities Winter Garden provides. Clark-Weber, who's been selling homes in the area for over 20 years, says she's seen the growth of the area and only expects it to continue.
"The future—I think it's just going to get bigger and better and more exciting," she says.
This article originally appeared in Orlando Family Magazine's September 2018 issue.