BEST OF THE BEST 2022
We love this time of year, and not just because we are entering into the festive holiday season. Rather, this is when we like to celebrate all that Greater Orlando has to offer in our annual Best of the Best roundup. From the finest food and drinks, standout retail shops, pampering services and places to enjoy with the family, this list is full of stellar options. And because we wouldn't our readers to be left out on the fun, we have included their choices as well. Let this be your guide to everything that is great about this place we call home.
Food & Drink 
COFFEE
Craft & Common
Between the signature hand-crafted drinks and benevolent baristas, it's no surprise this local coffee shop has amassed a bevy of loyal regulars. Using coffees from roasters across the country and sourcing local ingredients whenever possible, the beverages are unmatched and the perfect pick-me-up.
GELATO
La Carraia
This authentic Italian gelateria offers a wide variety of unique flavors and concoctions all while maintaining a traditional Florentine base. Specializing in both milk-based and fruit-based ice creams, there is a flavorful option for all taste buds.
WINE TASTING
The Wine Room
Showcasing over 150 hand-selected wines from around the world, guests can sample selections via state-of-the-art Enomatic wine dispensing machines. Enhancing the experience, is one of the finest cheese and charcuterie selections in the country. There is also a retail wine and cheese shop, and restaurant, all under one roof.
HOT DOG
Portillo's Hot Dog
A taste of the Windy City, right here in Orlando. Serving up classic Chicago-style hot dogs and Italian sausages, Portillo's wide range of choices make it difficult to choose a favorite, but trying each one certainly makes for an inviting challenge.
POKE
Island Fin Poke Company
Ever popular poke eateries have been popping up all over but Island Fin Poke Company has certainly stood out amongst the crowd. With its uniquely healthy and customizable variations, diners of all likes and dietary needs can find something to satisfy their taste buds.
VEGAN FOOD
Ethos Vegan Kitchen
As one of Central Florida's few fully vegan restaurants, Ethos Vegan Kitchen succeeds in showcasing the variety, freshness and flavor of true vegan dining. In addition to the hardy fare, there is a selection of vegan beer and wine plus vegan bakery items made from scratch and on-site daily.
BURGER
Briarpatch
This place is serious about its burgers, which are made with dry-aged beef, prime ribeye, short rib and chuck or a prime brisket blend. The No Fuss option with American, LTO and a pickle is a fine introduction, but we're partial to the delightful number with bacon jam and Point Reyes blue cheese.
BAKERY
Sister Honey's
There's no shortage of sinfully satisfying sweets at Sister Honey's, and our mouths water just thinking about the pistachio-studded cake with vanilla custard and buttercream frosting or the scintillating blueberry and lemon bread pudding.
JUICE BAR
New Moon Market
From the cold-pressed juices with lemongrass, ginger and fresh vegetables to the wellness shots and array of smoothies, this is the perfect place to recharge your body and give your system a much-needed boost.
OYSTERS
Lee & Rick's Oyster Bar
This longtime family-run spot is a fan favorite for its laid-back vibe and its bushels of fresh, meaty Apalachicola oysters. Belly up to the bar, grab a bucket (either raw or steamed), an ice-cold beer and go to town.
BREWERY
RockPit Brewing
No matter your taste in craft beer, this brewery has you covered with taps pouring crisp pilsners, hoppy IPAs and robust stouts. What's more, they release new beers every week, meaning there's always something new to wet your whistle.
BRUNCH
The Hampton Social
Hampton Social serves a topnotch brunch menu comprising of stellar selections like the crab and shrimp bruschetta, smoked salmon tartine or the crispy quesadilla with goat cheese, balsamic and white truffle. And because brunch wouldn't be complete without a cocktail, don't forget about the impressive lineup of signature drinks.
BENTO BOXES
Bento Asian Kitchen
With 15 options, like the wok-fried katsu or the coconut red curry, the bento boxes are our go-to order here. Served with rice, lo mein, garlic string beans and a ginger salad, these compartmentalized meals are well-balanced and full of flavor.
PERSONAL PIZZA
SoDough Square
Detroit-style pizza is making a name for itself of late and here they serve up delicious representations. These square pies are made with 24-hour fermented dough that creates a wonderfully chewy bite that is perfectly complemented by the crisped edges and any number of inventive toppings.
SOUVLAKI
Little Greek Fresh Grill
Choose from chicken (our favorite), beef or salmon that has been skewered and charred on the grill before being served over a bed of rice with a side Greek salad. Sometimes, simpler is better and this Mediterranean eatery never disappoints.
PIES
Winter Park Pie Company
Perfectly latticed apple pies, can't-miss Key Lime pies and tantalizing toasted pecan pies are just some of the reasons why this bakery is high on everyone's list. And in addition to the extraordinary dessert options, they also make a pretty mean chicken pot pie for good measure.
COOKIES
Gideon's Bakehouse
The oversized, half-pound small-batch cookies at Gideon's take more than 24 hours to create, but we're guessing you'll need less time to devour them. These rich, buttery delights come in a number of varieties like the beloved chocolate chip and peanut butter crunch.
BREAKFAST
Le Café de Paris
Get your day off to a solid start at this hotspot where you can opt for an omelet with turkey, pesto and mozzarella, a smoked salmon sandwich, the quiche of the day or perhaps satisfy a craving for something sweet with a crepe full of Nutella and fruit.
CUPCAKES
La Zucre Cake Boutique
The gourmet cupcakes here are delicate, moist and decorated with an artist's touch. The wide range of flavors vary, but some standouts include the red velvet, dulce de leche and the unforgettable guava.
BARBECUE
Pig Floyd's Urban BBQ
No matter if they are stuffing pulled pork in between two buns with apple fennel slaw, sliding deep fried pork belly into a taco shell or serving up a rack of sticky ribs tossed in honey sriracha, Pig Floyd's can seemingly do no wrong when it comes to well-made, elevated barbecue.
CHURROS
Choo-Choo Churros
Don't let the name fool you, this Argentinean steakhouse is much more than just a place to get dynamite churros. But, no visit would be complete without sinking your teeth into the warm, pillowy bites of dough that are dusted in sugar and better than any you've previously tasted.
MILKSHAKES
The Soda Fountain
The shakes at the Soda Fountain taste even better than they look, and that's saying something. Opt for a classic black and white, the s'mores or use your imagination to create your own. Did we mention they also whip up boozy milkshakes for the adults?
DOUGHNUTS
The Salty Donut
These downright delectable doughnuts come outfitted with all sorts of jaw dropping enhancements. Think brioche that's been baked for 24 hours, soaked in coquito, crusted on the bottom with luxury chocolate and topped with browned cinnamon-infused meringue or a vanilla bean cake doughnut glazed in brown butter and finished with sea salt.
COCKTAILS
The Guesthouse
Don't let the non-descript exterior fool you, this is the place to be at come happy hour, or any hour really. The atmosphere is relaxed, the bartenders are attentive and the signature drink list showcases a nice mix of classic cocktails and modern twists.
SUSHI
Bayridge Sushi
You can taste the freshness of the ingredients with every bite, no matter if you're chowing down on chirashi, a spicy tuna roll or otherwise. While there are no bad options on the menu, we recommend ordering at least one specialty roll so you can see Bayridge's full creativity on display.
GRILLED CHEESE
Toasted
With locations throughout the area, you're never too far away from getting your hands on one Toasted's grown-up grilled cheeses. The pulled chicken, pesto, tomato chutney with arugula and mozzarella is fantastic, but don't overlook the Havarti, goat cheese, fig, basil and honey either.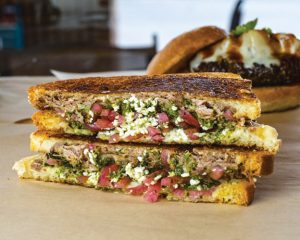 WINGS
Johnny's Fillin' Station
Few things go together better than football, cold beer and good wings. And on game days at Johnny's you'll find all three. The wings are sizable, meaty and doused in a variety of sauces from the tame (mild, barbecue, teriyaki) to the bold and fiery high octane.
CREPES
Crêpe Delicious
These paper-thin pancakes are great any time of day as they come stuffed with an assortment of ingredients from savory like the ham and chees, to sweet choices like the cookies and cream. And for early risers, the breakfast options are just as rewarding.
HAPPY HOUR
Santiago's Bodega
Every day from 4 to 6, guests can enjoy half-priced drafts, glasses of wine and sangria, and single well mixed drinks, not to mention a $5 tapas menu which rotates often. And on select evenings, you'll also find a late-night happy hour to help keep the party going.
TAPAS
Café Tu Tu Tango
They say sharing is caring, and what better way to show you care about your family and friends then to share small plates with one another. Here you'll find everything from rich and creamy avocado hummus and crispy Brussels sprouts to smoked Thai spare ribs and Cuban sandwich sliders.
NOODLE BOWLS
Soupa Saiyan
We love the Hangover Bowl with noodles, char siu pork, boiled egg, corn, shrimp tempura and a fish cake as well as the Vietnamese Pho with a complex beef broth, rice noodles, thinly shaved steak, brisket and meatballs. We also appreciate that you can take matters into your own hands and create your own culinary inspiration.
NACHOS
Black Rooster Taqueria
You'd be hard-pressed to find a better plate of nachos than these bad boys. Tortilla chips are generously piled high with pinto beans, tomato, onion, smoked kale, cilantro, guacamole and a chipotle-cheese sauce before being topped with an egg with a yolk just waiting to be broken so it can envelop all the goodness that lies beneath.
CHICKEN AND WAFFLES
The Coop
Many places try their hand at chicken and waffles, but no one does it quite like The Coop. The Belgian waffles are soft with slightly-crisped edges and set the stage for well-seasoned chicken tenders before being finished with drizzles of warm maple-bourbon syrup that helps bring everything together.
BREAKFAST SANDWICHES
Deli Desires
Forget the bacon, egg and cheese you're accustomed to and try one of these morning marvels. We're talking latke with egg, American cheese and mayo on a sesame bun or scrapple with caramelized onions, egg and mayo on a smoked jalapeño and muenster bialy.
ITALIAN ICE
Jeremiah's Italian Ice
Jeremiah's founder Jeremy Litwack used to sell Italian Ice when he was in high school in Philadelphia, where you'll arguably find some of the best "water ice" in the country. He brought that passion South and we love that his frozen treats are made with fresh fruit, allowing you to really taste the true flavors without all those additives.
DINER
The Daybreak Diner
With a menu full of staples, a daily special board and a friendly wait staff that knows the regulars by name, you couldn't ask more of a diner. The Daybreak not only makes you feel like your family, they cook up the kind of comfort food where you can taste the love it was made with in every bite.
PASTRIES
Charlie's Bakery and Creamery
Handmade puff pastry filled with guava and cheese, chocolate chip cannolis, chocolate eclairs piped with vanilla custard … sorry, we were just daydreaming about our next order at this bakery where the pastry menu reads like the back of a greatest hits record.
FISH TACOS
bartaco (KEEP LOWERCASE)
This popular taco joint makes some mean Baja fish tacos with cod that is tempura battered with a little spice for some extra pop and then slid into a corn tortilla shell with a chipotle slaw. If that doesn't get your attention, we suggest the ancho-crusted tuna with an Asian slaw nestled into a Bibb lettuce cup.
PASTA
Pizza Bruno
We've previously talked about the wonderful pies coming out of the oven at Pizza Bruno (and let's not forget about those baseball sized garlic knots), but they also know a thing or two about fresh pasta. We'll take a plate of cacio e pepe anytime, but the casarecce with mushrooms, brown butter and grana Padano is unforgettable.
BAGELS
Bagel King
Since it first opened in Winter Park in the late '70s, Bagel King has been dispelling the myth that you can only find a decent bagel in New York City. You'll find all the familiar favorites along with other popular choices like asiago, cinnamon glazed or the everything egg bagel.
Health & Beauty
SALON
Stella Luca Salon
With high-end, cutting-edge services and individualized consultations that offer head-to-toe pampering, you're getting world-class care at Stella Luca—home of the Orlando Magic dancers—whether you're here for a cut and style or something more elaborate, like a DevaCut or volumizing extensions.
HAIR COLORING
Beauty and the Balayage Hair Salon
Armed with the ongoing education befitting industry experts, the pros here deliver a luxury experience with vibrant results, whether you're one of their vocally loyal clients leaving another rave review or a first-timer sporting the healthiest, most dimensional color your hair has ever had.
HAIR TREATMENTS
Dolce Vita Salon
Give your tresses a dose of the good life with Dolce Vita's menu of services. From natural-looking gray coverage to curly-hair specialties, from keratin treatments to custom color, from highlights to blowouts, the stylists here will make you feel like you're heading out their door and straight for the catwalk.
CHILDREN'S SALON
Pigtails and Crewcuts
With salon chairs that look like playground rides, whimsical art everywhere and tons of child-safe products, it's obvious that kids come first at Pigtails and Crewcuts. The team welcomes every young client with wide-open arms and a desire to make them feel comfortable and safe.
BARBERSHOP
Nick's Barber Shop
For an old-fashioned barber shop that promises old-fashioned customer service, look no further than Nick's, where every regular touts the reasonable prices, raves about the masterful men's cuts and shaves, and swears their barber is the best in the biz.
NAIL SALON
Windermere Nails & Spa
High-quality products meet top-notch customer care in this salon that takes great pride in providing its clients with a painstakingly sanitized environment and a truly worry-free, luxurious experience as they deliver an impressive array of today's most popular mani/pedi treatments.
SPA
SPA by JW Marriott
Treat your mind, body and soul with an infinitely customizable selection of spa options. Whether you opt for the exclusive JetPeel facial, an indulgent massage or an express treatment that fits into even the busiest schedule, you'll leave here feeling refreshed and rejuvenated.
MED SPA
Florida Cosmetic Center
From healing to preventative care, from diagnoses to treatments, this med spa is serious about helping patients achieve optimal wellness. The team works closely with every patient to put their safety and comfort first, while providing the individualized education to keep them feeling their best.
HOT YOGA
HOTWORX
Feel the burn—literally—at this 24-hour infrared fitness studio. Here, hot yoga sessions are 30-minute, virtually instructed isometric workouts where the athletic posture sequences utilize different practices and styles that will condition your core while providing a mental recharge and detox.
FACIALS
Beautiful Skin by Carmen
This skincare spa is a mainstay on the region's best-of lists for a reason. From classic facials to more modern treatments like microdermabrasion, chemical peels, oxygen facials and microchanneling, the results will make you swear you've found your very own fountain of youth.
MEN'S FACIALS
Tres Belle Beauty Bar & Spa
Sure, the facial, scalp and beard care, ingrown-hair removal, antioxidants and moisturizer will make you feel great post-treatment. But it's the education you'll receive about proper post-shave skin care and the best products to use that'll make sure you keep feeling like a million bucks.
SUGARING
Luxe Essentials Sugar Wax and Body Spa
Using only a three-ingredient ball of paste—sugar for exfoliation, lemon for hyperpigmentation and water for hydration—yields results so amazing that the pros at Luxe swear this all-natural body-hair removal process will have you ditching your razor once and for all.
PILATES
HiLi Pilates
The high intensity, low impact workouts at this fitness studio will push your body to its limits without compromising your safety, ensuring you get the most from every workout. The Pilates classes won't just work your heart and muscles: They'll benefit your posture and flexibility, too.
IV THERAPY
IV Lounge
A team of medical professionals is always on hand to ensure clients get the most from their infusion sessions, which offer benefits like quick headache and nausea relief, rapid rehydration, increased energy, toxin flushing and immunity boosts, all delivered in a comfortable, inviting lounge spa.
WAXING
Essentials Spa of Metrowest
You don't have to go broke pampering yourself with luxury. The talented aestheticians at Essentials Spa can get rid of body hair anywhere while delivering their in-demand depilatory services in a tranquil spa environment—and at a price point that's as attractive as the final results.
EYEBROWS AND LASHES
The Lash Lounge Dr. Phillips
The eyes have it at The Lash Lounge, where glamourous lashes and flawless eyebrows take center stage. A team of talented, professional stylists offer lash extensions and fills, eyebrow and eyelash tinting, threading, microblading, brow lamination and permanent makeup, all with dazzling, natural results.
Lifestyles 
HIKING TRAIL
Tibet-Butler Nature Preserve
With over four miles of well-kept and gentle hiking trails, the preserve is a true oasis for nature enthusiasts. There is also a picnic area, butterfly garden and wheelchair-accessible sandbox. In addition, it is the home of the Vera Carter Environmental Center which provides a variety of exhibits and displays.
ARCADE
GameTime
At 25,000 square feet, with more than 100 new and retro classic arcade games, prize machines, mini bowling and other attractions, it's impossible to be bored at GameTime. There is something for everyone in your party in addition to an on-site restaurant and sports bar.
LIVE THEATRE VENUE
Dr. Phillips Center for the Performing Arts
Located in the heart of downtown, this impeccably designed performing arts complex has become Central Florida's entertainment hotspot since it's opening in 2014. Through its three performance theaters and outdoor plaza, audiences are treated to unique and memorable live entertainment, Broadway shows, educational programs and a variety of special events.
PROFESSIONAL THEATER
Orlando Shakes
As Central Florida's largest professional theater company, Orlando Shakes produces classic, contemporary and children's plays. In partnership with UCF, the company develops new plays and provides innovative educational experiences. Consisting of several intimate theater settings, the top-notch productions shine a spotlight on many talented local artists.
PERFORMING ARTS PROGRAMS 
Central Florida Community Arts
This nonprofit "exists to give every artist of every age a cultural platform to connect, serve and perform." Through donations they are able to make the arts affordable and accessible offering music lessons, workshops and classes as well as providing members and students the opportunity to perform in seasonal productions.
ART CLASSES AND WORKSHOPS 
Crealdé School of Art
Established in 1975, Crealdé features a year-round curriculum of more than 125 visual arts classes and weekend workshops for students of all ages, taught by a faculty of over 45 professional working artists. The school also houses changing exhibitions and offers extensive programming that serves diverse populations at no cost.
DINNER SHOW
Capone's Dinner and Show
Step back in time to 1931 gangland Chicago with this entertaining dining experience. Audiences of all ages will enjoy this engaging and fun production featuring talented local performers, while feasting on a four-course Italian-American dinner with unlimited beverages.
WATERSPORTS
Island Vibez Watersports 
Whether seeking a thrilling jet ski adventure or a relaxing boat ride, Island Vibez Watersports has what you need. They will even bring their top-of-the-line watercraft rentals right to you at the Central Florida area lake or ocean of your choice.
FUN WITH THE KIDS
Orlando Science Center 
Learning has never been more fun than at this indoor interactive science museum. Featuring four floors of exciting exhibits, live programming, state-of-the-art theaters and unique events, visitors of all ages can easily spend an entire day exploring and discovering.
DATE NIGHT
Eola Wine Company
This cozy wine bar is a great place to grab a couple flights of vino with your significant other while noshing on a cheese plate or perhaps sharing a heavenly slice of red velvet cake for dessert.
INDOOR RECREATION
Dezerland Park
An amusement center with something for everyone in the group, from go-karting and indoor mini golf to a full arcade, axe throwing, bumper cars, bowling and lots more. And when you need a break from all the action, be sure and check out the stunning auto museum full of vintage vehicles.
KIDS' PARTY SPOT
WonderWorks
With hundreds of hands-on exhibits, a ropes course, an immersive 4D XD motion theater and other interactive experiences, a birthday party here is one your guests, and most importantly your guest of honor, won't soon forget.
Retail 
ANTIQUE SHOP
Orange Tree Antiques Mall
With an expansive 15,000 square feet of unique treasures, shoppers are sure to find one-of-a-kind items including everything from knick-knacks to large art pieces and furniture. Whether seeking hard to find objects or simply browsing before spotting unexpected but suddenly absolutely necessary items, there is something for everyone.
VINTAGE CLOTHING
The Lovely Boutique Market
With a focus on vintage clothes as well as decor, furniture and products ranging from the 1960s through the 1990s, The Lovely Boutique Market features a variety of fashions from the past. The market has apparel for both men and women, showcasing the beauty of yesterday with today's style.
WOMENSWEAR
Tuni
This chic boutique offers the latest in high-end fashion trends from the highly sought after well-known and up-and-coming designers. With the best in clothes, shoes and accessories, Tuni has you covered from head to toe. Closet consults, personal styling and private shopping parties are also available.
CHILDREN'S BOUTIQUE
Tugboat and the Bird
From its vast selection and friendly staff, shopping for your little ones has never been more fun. Whether seeking adorable high-end dressed up attire or quirky, fun comfy clothes, this boutique has what you need. The store also features, shoes, accessories and one-of-a-kind toys.
FLORAL SHOP
Leaf & Blossom
Formerly known as Mel Johnson's Flower Shoppe for the last 51 years, the recently rebranded shop continues to provide impeccable arrangements and service. No matter the occasion, the mother-daughter owned and operated flower shop meets the needs and exceeds expectations of their customers.
BIKE SHOP
Kyle's Bike Shop
Since 2006, master mechanic Kyle Markel and Darren Gray have been providing repairs, sales, parts and accessories for any bike and brand. They offer same or next day turnaround for most repairs, fixing anything from flat tires to tune ups and overhauls, or custom bike builds from the frame up.
FINE JEWELERY
Victoria Jewelers
For over 30 years, area residents have trusted the team at Victoria Jewelers for all their full-service diamond and jewelry repairs and appraisals. The facility also specializes in custom jewelry design, re-design and restoration. They even boast the only on-site AGS accredited gem lab in Central Florida.
PET SHOP
All 4 Pets
This natural pet food and supply store offers a wide variety of quality food and services for all pets. The loving care and expertise of the staff will help keep your furry loved one healthy and happy. For added convenience, they also offer delivery within five miles of each location.
BRIDAL SHOP
Ivy Bridal Shop
A full-service bridal gown and tuxedo shop that is the ultimate one-stop shop for both bride and groom. The store offers a large selection of attire, accessories and rentals and the warm, detail-oriented staff ensure that every customer gets the attention and service they deserve.
GARDEN CENTER
Palmer's Gardens & Goods
This family-owned garden center has been providing horticultural services and expertise since 2002. Whether you are looking for plants, pottery or other garden items, you are sure to find what you need here. It's also where you'll find an outdoor garden space ideal for weddings, birthdays or other social gatherings.
CIGAR SHOP
Admiral Cigar Club
With a wide selection of stogies from premium cigar makers, a sophisticated menu of liquor, wine and spirits to complement your smoke of choice and an on-site tobacconist to help you make informed decisions when trying something new, this place attracts both connoisseurs and casual puffers.
TOY SHOP
Gods and Monsters
Orlando's self-described "nerd hub" has it all from toys and games to an award-winning selection of comics and plenty of other collectibles. It's the perfect place for kids, or those of us who remain kids at heart.
HOME ACCESSORIES
Foreign Accents
From stylish side tables to accent pieces that will spark conversation with your guests, Foreign Accents has all the wares to enhance the décor of any room in the house as well as your outdoor living space.
OFM BEST OF THE BEST READERS'S CHOICE
BARBECUE
Bubbalou's Bodacious Bar-B-Que, Altamonte Springs & Orlando
BUBBLE TEA
Bonsai Tea, Winter Park
ITALIAN CUISINE
Christini's Ristorante Italiano, Orlando
ORGANIC JUICES
Clean Juice, multiple locations
WINE TASTING
Maggie's Attic, Mount Dora
COUPLES MASSAGE
The Ritz-Carlton Orlando, Grande Lakes
FLOAT THERAPY
Float8 Wellness Lounge, Orlando
HAIR SALON
Salon Dulay, Orlando & Windermere
IV SPA
Prime IV Hydration, Orlando
DOGGIE DAY CARE
V.I.Pet Resort, Orlando
VETERINARY CARE
Winter Park Veterinary Hospital, Winter Park
VENUE
Gallery J, Winter Springs
CONSIGNMENT BOUTIQUE
Gatorlillys, multiple locations
GARDENING ACCENTS
Pistil Home & Garden, Windermere
GIFTS & ACCESSORIES
Maffrey's, Orlando