Family Theater Takes Center Stage in Central Florida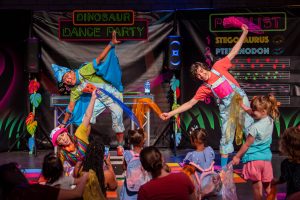 Orlando Family Stage's new name exemplifies its mission to provide youth the experience and appreciation of the performing arts with a family-friendly spotlight.
Interaction with the arts, especially from an early age, imparts life skills and lessons that last a lifetime. Within that immersive setting—whether from an audience, technical or performance perspective—-it's not difficult to connect with material instigating both emotion and cultural understanding. That's why Orlando Family Stage (formerly Orlando Rep) focuses on adapting children's literature for the stage, developing characters youngsters can relate to while introducing topics in a way that's accessible and more exciting to comprehend. 
"What's beautiful is that a lot of the shows on our stages are developed from children's books … and we get this unique opportunity to bring these stories to life. Much of our work promotes literacy. Many children are reading these books at the same time, learning these stories, relating to these children's book characters, and we bring those things to life right in front of them, it's really, really powerful," says Chris Brown, executive director. "There's beauty in that magic of the simple things: making a character appear out of nowhere, or doing a cool set change or costume change. If we do a good job presenting these stories, it engages those young minds and really pulls them into the story." 
During Orlando Family Stage's  theatrical season, shows with professional adult actors will be performed for around 40,000 children, including school field trips. Their community commitment is also highlighted by increasingly including all ages—even the very young with sensory processing "Baby and Me" experiences' storytime stroll in nearby Loch Haven Park, which includes characters to interact with. Mobile shows, like Dinosaur Dance Party, additionally travel to daycares, libraries and hospitals. 
Those inspired to be on stage will find endless opportunities, too. While auditioning or performing might overwhelm some budding young actors, Orlando Family Stage offers a welcoming, friendly and safe environment to explore their passion, as do its workshops and range of classes. Camps
 and classes also help provide hands-on experiences with the many parts that go into putting on a show. Orlando Family Stage also places emphasis on taking kids seriously, without any shortcuts in exhibiting an impactful message through art.
"That could be everything from a four-year old-camp where they're princesses and pirates or The Little Mermaid, to something a little heavier. We've done camps with teenagers about gun violence and about homelessness, and we work with nonprofits in town where we meet the children where they are at and give them opportunities to find their voice, emphasizing hope, even though they live in difficult situations. We try to be a resource for the community … [with] ways to have those conversations and facilitate dialogue around what you just saw on stage," Brown explains.
Children discover how lighting, props, costumes, sets, and can help elevate a production if they gravitate to behind-the-scenes roles. Orlando Family Stage is also dedicated to providing accessible opportunities, highlighting inclusivity as one of their top priorities.
"Something that we've been doing for decades is creating a safe space. And we've actually started to evolve that in saying we need to create a brave space where kids have agency, and are confident in their voice …  that's the kind of place we are. We just changed the mission, and that is to empower young people," says Brown. "We value including everybody, and we value different perspectives in the world. We are committed to do what we can to let our work speak to that."
The impact of early exposure to theatrical productions is proven to nurture a lifelong supporter of the arts, and it can also be a multi-generational experience when fine-arts lovers share that passion with children. For those who feel compelled to immerse themselves deeper in this tough and rewarding business, Orlando Family Stage is a wonderful source of support, as it aims to be the ultimate performing-arts venue for young people to feel valued and enthusiastic about learning and growing. 
"If you're going to give it a go and try to make this your career, we're going to have resources for you and we'll be able to help you on that journey," Brown says. "But to have a good society, we need [everyone] to appreciate culture, have empathy for others, and have compassion for others and want to collaborate with each other to make the world a better place. Those are the skills that our programs provide for young people. You get your kids involved in theater, and all of a sudden, they can watch a story happening in front of them, and be able to talk about it, relate to it and learn from it. That's really powerful."
Orlando Family Stage
1001 E. Princeton Street
Orlando
(407) 896-7365
OrlandoFamilyStage.com