Moving Forward
When it comes to getting around in Central Florida, commuting by car is the option most residents choose. And maybe that's not surprising considering Orlando was always designed for car travel between the far-flung suburbs, the strip malls and the giant parking lots.
But while the city's past may be about cars and highways, the future, according to transit advocates and experts, lies in public transportation. Because as our roads are widened to their absolute max and become filled to the brim with vehicles, there's only so much traffic that can be moved efficiently. But although a better public transportation system is what's needed, there are hurdles standing in the way including a significant lack of funding to make our current systems (SunRail and Lynx) solvent. Unfortunately, if we can't fix these problems today, Orlando's transportation future may just be a commuter's nightmare.
Communication
To hear it from David Thomas Moran of Omnimodal, a social technology venture that works to improve transit systems, Central Florida's current public transportation is just not "dateable."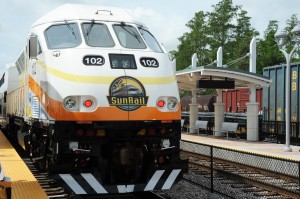 Between not being available on the weekends to a lack of communication, making a commitment to ride the bus or the rail is like being involved with someone who doesn't love you back.
"It's kind of a toxic relationship," Moran says.
This metaphor of dating your public transportation is how he explains the problems in Orlando's bus and rail systems, namely that there is a lack of communication and reliability causing many Orlandoans to abstain from using either.
Moran and his Omnimodal co-founder, Nathan Selikoff, want to change that by using real-time information to inform riders and the people who manage the transportation systems.
"You should be able to see in real time where all the bike-share bikes are, where the SunRail train is, where the Lynx buses are, [and] where smart parking and electric charging stations are available," Moran says. "And on top of that we then send data analytics to decision-makers so that they can make high-level decisions in a better way that optimizes our mobility ecosystem and our transportation infrastructure."
Selikoff and Moran have worked with the city of Sanford to optimize its trolley and with the I-Ride Trolley, which runs up and down International Drive. The city of Orlando is currently finalizing a contract with Omnimodol that will have it piloting an analytics dashboard to help the city government better manage transportation demand.
Lynx
David Porter, a transit advocate and a former Orlando Sentinel reporter, agrees that a lack of communication is a big hurdle for riders of the Lynx and SunRail. Seeing that there was a void, he created two websites, SunRailRiders.com and LynxedTogether.com, devoted to informing the public about Orlando's bus and rail systems and chronicling the ongoing issues with each.
Porter is blunt about the issues plaguing Lynx, the regional bus system that connects Orange, Seminole and Osceola counties.
"It's underfunded and underequipped," he says.
Lynx has been under scrutiny recently for its financials. The agency had been dipping into its reserve funds to keep the system operating and in January, CEO Edward Johnson told the agency's board that more money was needed from the county governments to keep things going.
After facing mounting criticism for Lynx's budget deficit, Johnson resigned in February. Jim Harrison, Orange County's assistant county administrator, is currently serving as interim CEO.
Porter says Johnson was more or less a scapegoat because until the Lynx bus system has a dedicated funding source, anyone who is CEO of the agency is going to run into the same problems.
"Doesn't matter who you put in there," he says. "You're going to have a deficit until you reach a point that there is a reliable and sustainable source of funding for the busses because the bus system can't pay for itself."
This is true of most all public transit in the United States including the subway in New York City and the metro in Washington, D.C., which both rely on government funding to pay for the gap between revenue (from fares and advertising) and operation costs.
This is a point that Lynx board of directors Chairman Lee Constantine, who is also a Seminole County commissioner, makes as well.
"Tell me which road pays for itself directly," he says.
Constantine stresses that with Central Florida's low-wage workforce, having a working transit system is imperative.
"Transportation is commerce," he says. "Transportation is assuring that you have a workforce that can get to their jobs. Public transit, whether it be bus or rail, is something that is a generator of economic development."
Constantine says Seminole County is able to pay for the services it receives from Lynx out of its general revenue but since Orange County is the largest funding partner and has the bulk of the bus routes, a dedicated funding source may be what is needed.
In Lynx's 2017 fiscal year, ridership was about 24.8 million. Preliminary numbers for its 2018 fiscal year bumped that number up by about 400,000.
SunRail

When the SunRail opened in 2014, it was a significant first step in connecting Osceola, Volusia, Seminole and Orange counties by train. And last year when the 17-mile southern expansion opened linking Kissimmee and Poinciana to the rest of the line, daily ridership numbers reached an all-time high with about 6,000 people per day.
But nearly five years on from its first day of operation, the SunRail has failed to meet certain expectations.
"We have a train but we don't have a train that the community really wants," Porter says. "It's not doing the job the community wants."
The major complaint Porter hears from riders and potential riders is the train lacks in service. For one thing, the SunRail does not run on the weekends. But even during the week, there are stations that won't see a train for hours.
"If you were to go down to Kissimmee to have dinner or something like that, and you didn't catch the 7 o'clock [northbound] train, well you're going to be waiting for a while for another train to come through," Porter says.
The SunRail is currently funded by the Florida Department of Transportation (FDOT) under an agreement that says Central Florida's local governments will take over paying for operations in mid-2021. Right now there is no plan on how each government entity involved is going to pay for its portion.
"It's costing more to operate the system than we anticipated," says Orlando Mayor Buddy Dyer, who is chairman of the Central Florida Commuter Rail Commission Governing Board. "There's a formula that distributes the operational cost when we take it over among the governments and it's based on track miles and boardings at stops and things of that nature."
The rail commission governing board has hired a consultant to figure out the best way to transition the operations of the SunRail to the government entities involved. Dyer says there have been preliminary discussions on the best way for the city of Orlando and Orange County to fund their portion of the SunRail and the Lynx bus system.
"I'm hoping that we will be able to in November of 2020 pursue a one-penny sales tax for transportation," Dyer says.
As for the SunRail's next move, he says expansion to the airport would be a good next step.
Although politicians, experts and transit advocates say the future of Orlando is based in public transportation, Central Florida is still mostly a car-commuting metropolitan area. To support all those drivers, the Ultimate I-4 project was born.
As the single largest construction project that the state has undertaken at any one time, Ultimate I-4 is an attempt to remake 21 miles of Orlando's main throughway into a highway that can accommodate current need and what the FDOT projects demand will be in the year 2030.
According to the Central Florida Expressway Authority, as many as 200,000 cars a day pass through the downtown Orlando I-4 junction.
The choice of using ultimate in the name for this project was intentional.
"There is basically no room to go any wider than what we're building today," says David Parks, public information officer for Ultimate I-4. "So, that's where the 'ultimate' comes from. It's the maximum width that you can make I-4 within the available right-of-way space."
The buildout of Interstate 4 began in February 2015 and is supposed to wrap up in 2021. Although the construction has been halted a number of times to deal with safety issues after some highway workers were injured and killed, Parks says the project is on schedule to finish on time.
Besides widening I-4, the construction project will also add an express lane to the highway, with the goal of better managing congestion on the roadway.
"If you're willing to pay a few dollars for access to those express lanes, the assurance is that you'll be able to travel 50 miles an hour along I-4," Parks says. "While if you're not paying the toll, you're going to be traveling at whatever that current traffic or that current congestion is allowing at that time."
Money collected from the toll will go to paying back the Ultimate I-4 contractors and to ongoing operations and maintenance of the road.
Interstate 4 first opened in the 1960s as an 8.2-mile stretch from west of Orange Blossom Trail to Lee Road. But as Orlando became a vacation hotspot and Walt Disney World brought in hordes of tourists, the road was quickly expanded.
There have been many construction improvements over the years but none that takes on as much as the current reshaping of the highway.
"I-4 was built for a different Orlando than we have today," Parks says.
Future Projects
Metropolitan planning organizations, which work to design the future of transportation for a region, are required by the federal government for any urban area of 50,000 people or more. As head of Orlando's metro planning group, Executive Director Gary Huttmann works to create Central Florida's transit future.
Through surveys and market research, the organization has found that residents are hungry for reliable public transit options like bus and rail. But financial burdens have stood in the way.
"It really comes down to having the financial resources to have a system that is attractive for people to use that can get them where they need to go in a reasonable amount of time," Huttman says.
Beyond strengthening the current public transportation, he says, there are a number of premium transit projects sitting on the shelf just waiting to be funded. This includes a rapid-transit bus that would travel the length of State Road 50 from the Lake-Orange county line out to the University of Central Florida's main campus.
The bus would have Wi-Fi and would run at higher frequencies than the Lynx fixed-route service in the hopes that it would be a more attractive option for commuters who maybe don't ride the Lynx bus system already. MetroPlan Orlando has also looked at doing a similar project on U.S. Route 192 in Osceola County from Kissimmee to the attractions areas.
"If we could get in the next 20 years one or two of those premium transit projects up and running, that would be an accomplishment," Huttmann says.
On the other hand, with the way that technology is reshaping transportation, planning for decades into the future is difficult. There's always the possibility that projects like these will be toppled by other innovations.
"Some people say to even think 20 years in the future is too far," Huttmann says. "That we need to be just doing five-year increments because of the changes and the advancements in technology."
But in the meantime, Floridians are still looking for better solutions, according to MetroPlan Orlando Public Information Officer Cynthia Lambert.
"I think there is a community awareness that we just can't keep widening roads," she says. "We're maturing as a region, so we need to look at other ways to move people."
This article originally appeared in Orlando Family Magazine's July 2019 issue.