Greek Mythology
Despite the recent headlines made by area fraternities and sororities, there's much more to Greek Life than hazing and salacious partying.
The formation of the first Greek-lettered association that bears resemblance to today's fraternities is generally considered to be the Kappa Alpha Society, established at Union College in 1825.  Instead of structuring its group around debate and highminded academic discussion as previous societies at American universities had done, Kappa Alpha was formed around developing brotherhood. It was also a secret society, something that made others on campus distrustful of it.
That distrust has never gone away completely. And it's all the more augmented by the number of infractions and stories in the news that originate from fraternity members. A selection of stories from Orlando's largest college, the University of Central Florida, from just this past year yields some interesting incidents. First up we have the most recent one to make news: Two pledges threw powder up in the air in a classroom as a stunt in which they attempted to reference LeBron James' penchant for tossing chalk up before games. Unfortunately, the pledges ran out of the classroom without informing the teacher or their fellow students what the white powder was (it was baby powder) and the whole building had to be evacuated with police and hazmat crews called to investigate. The fraternity in question was suspended after the incident.
In February of this year another UCF fraternity was suspended after the mother of one of the pledges complained to the school that her son was forced to chug a large bottle of alcohol. And late last year, one UCF fraternity was suspended after rape charges were brought against two members.
Sororities, which were originally called women's fraternities, are not immune to grabbing negative headlines either, although they seem to stay out of the spotlight more. In 2017, a UCF sorority was accused of hazing by forcing underage members to drink alcohol.
If secrecy is what causes the initial distrust of these organizations, and negative headlines are what supports the narrative that these societies are highly susceptible to a groupthink where some members are emboldened to act on their worst impulses while siphoning others into their delinquency, then it's the division between non-Greek and Greek students that is the final prong keeping the general public from fully embracing fraternities and sororities.
But university systems have cracked down on fraternities and sororities that toe the line. If a fraternity or sorority is found to have allowed underage drinking or holds an unsanctioned party, it is subjected to the school's judicial system. Last year, Florida State University even banned all Greek operations for a time after the alcohol poisoning death of a fraternity pledge.
Beyond school penalties, the state has also stepped up to be more aggressive in holding Greek students accountable. Five FSU Pi Kappa Phi fraternity members were charged with misdemeanor hazing after the death of their pledge member.
But amidst all the negative stories and outside perceptions, there are bright spots. Greek organizations provide support systems to students, raise money for charity and give students access to large alumni networks.

Support Systems
Woody Joseph, director for UCF's Fraternity and Sorority Life office, says many students have positive experiences in Greek organizations and create friendships that last a lifetime.
"You create these relationships where these people aren't here for just the season but they're here for a lifetime," he says. "And because you make that commitment that is for a lifetime, you tend to strive to make it so."
Additionally, joining a smaller group in college can make new students feel more at home at an institution so large.
"In coming to an institution such as ours, we're 67,000 students, having people you get along with and that you know you can just come home to and know that you are not alone in such a big institution, it makes it feel a lot smaller," Joseph says.
And although the cost of joining a sorority or fraternity can be a barrier to entry, Joseph says many of the groups do try to make joining accessible.
"The price ranges from $300 to $3,000," he says. "Most of them have scholarships. Most of them have payment plans. So, I think that if one were interested, they could find an organization for them."
This is actually why UCF's administration has talked about opening up to more Greek organizations, Joseph says, so there could be more options and opportunities for students to join one that fits them.
And there are now, more than ever before, lots of options for students of diversified interests to find a group that matches their values and budget. UCF, like many other universities, has a Diversified Greek Council that is comprised of fraternities and sororities that were founded to give students of a range of different nationalities a chance to participate in their own brother and sisterly bonding while celebrating shared heritage.
UCF sophomore Emily Diez says she joined her sorority, Kappa Kappa Gamma, when she was a freshman because she was intimidated to even be attending a school as big as UCF.
"I knew that I needed to find some sort of support system because UCF is so large," she says.
Diez went through rush, what Greek organizations call recruitment, with the idea that if she ever felt pressured to do anything she didn't want to do, then she'd just quit.
"Going into it, I told myself that if there's any kind of hazing or anything that I felt uncomfortable with, that I would drop right away," she says.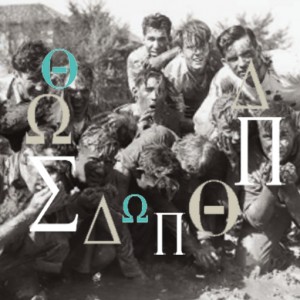 Hazing
Hazing has always been associated with the Greek system but it's actually not the only place hazing happens,  says Germayne Graham, who is the chairperson for UCF's Hazing and Prevention Education Committee and the associate director of the LEAD Scholars Academy, which puts on various programs on campus to help students develop leadership skills.
"I think the Greeks, we see it more often there because they are more visible as a group and we are able to identify the source of the behavior and really target a group more so than the other organizations," she says. "And traditionally that is where most hazing has taken place. But you'd be surprised. On a lot of campuses it happens in academic organizations and religious organizations."
UCF joined a national consortium on hazing along with eight other public institutions about four years ago. As a part of the consortium, the university did an assessment of the campus including an anonymous survey asking students about their experiences. Graham was surprised by some of the findings.
"We realized initially that one of the things that happened on our campus was that students could not identify exactly what constituted hazing behaviors," she says.
Hazing, as defined by Florida Statute 1006.63, prohibits "any action or situation that recklessly or intentionally endangers the mental or physical health or safety of a student for purposes including, but not limited to, initiation or admission into or affiliation with any organization operating under the sanction of a postsecondary institution."
While some may dismiss hazing as just silly traditions or rituals that students engage in to create a psychological bond between old and new members of the group, the real world consequences can be devastating when things take a turn for the worse.
In 2011, a Florida A&M University student died from a brutal beating he took as a part of a ritual for the school's prestigious marching band.
At UCF, students are required to sit through a 40 minute educational module before they start classes. The module gives students an overview of what hazing is, the consequences of it, the state laws on hazing and what university policies are on hazing.
Graham says even if something is considered voluntary, if there is coercion or peer pressure involved and pledges feel like their membership is contingent on a certain action, that can still be hazing.
Belonging
Tradition is often cited as the reason why students engage in hazing. But Graham says that the founding of many fraternities and sororities did not include hazing. She also likes to tell students a story she once heard a pastor recount when explaining the folly of following some traditions.
"[The pastor] talked about a woman who would cut a ham in half every time she baked it in the oven. And she taught her daughter to do that and her daughter taught her daughter to do that. And so finally someone asked, 'Why do we cut the ham in half to bake it in the oven?' And no one had asked before but the original reason was because the oven wasn't big enough. So, students often do things and they don't have a real historical reason. It's just because someone else told them to do it."
People often allow themselves to be hazed because they want to belong, something that all young people seek when they are caught in a sea of thousands of other students at a university for the first time in their lives.
"I think that students want to be connected to something," Graham says.
But while wanting to belong can cause some to endure or follow along with bad behavior, it also causes others to aspire to more, something that many fraternities and sororities can provide to members.
Diez says her sorority caused her to push herself academically and socially.
"The women that are a part of the organization made me want to stay here because I saw how passionate and involved they were," she says. "It made me want to be the same way."
This article originally appeared in Orlando Family Magazine's May 2018 issue.