Catering / Party Sweets
Farris & Foster's Chocolate Parties
4875 New Broad Street, Orlando
home
Phone:
work
(407) 770-1607
Chocolate making parties include 25 minutes of decorating a chocolate molded pizza slice, a marshmallow pop using our dipping machine, and two Oreo cookies in our chocolate waterfall machine. After chocolate making is over, you and your guests have another hour for cake, refreshments, or gift opening. Best of all, we'll clean up all the mess!
2020 West Fairbanks Avenue
Winter Park,
FL
32789
work
Phone:
work
(407) 622-2410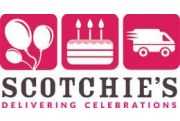 Imagine not having to run around before your celebration picking up a cake, balloons or decorations. Scotchie's will make your next celebration easier! We deliver our cakes, cupcakes, balloons and themed tableware for all occasions to your home or business. Check out our reviews and call us or order online. If it's worth celebrating, it's worth Scotchie's!