2023 Men of the Year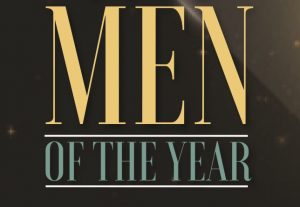 The kind of people who end up on our annual Men of the Year list don't set out to make an impact in the Central Florida region and beyond in order to receive personal accolades. Rather, they do things like create a difference-making organization following a family tragedy, devote their lives to nonprofit work or look for new ways to reach young adults on the autism spectrum because they are sincerely interested in making the world a better place and helping those who can't always help themselves. They might not want recognition, and oftentimes even eschew it, but we are honored to give them and their accomplishments just a little piece of the spotlight.
MAN OF THE YEAR
Bill DeMott
As a retired professional wrestler who spent 30 years with organizations like the WWE, DeMott certainly put his body through the ringer in the name of entertainment. But nothing could have prepared him for the gut punch he suffered on Oct. 10, 2015, when the middle of his three children, daughter Keri Anne, was killed in a head-on collision caused by a multiple DUI offender. In the immediate aftermath of the accident, DeMott says, the family "was kind of frozen in time." Eventually, however, they started to think about the person Keri was and the positive impact she would have wanted to come out of the tragedy. DeMott had a few opportunities to speak at events about her story and the dangers of drunk driving, and at one in particular, a man who had similarly lost his daughter eight years before—and was just leaving his house for the first time to hear DeMott's presentation—approached him afterwards. "He came up to me and he was crying and he asked me not to stop talking," DeMott says. "To me, that was pretty powerful. … I knew I had to do something more than what we were doing." Thus was born The Keri Anne DeMott Foundation, a 501(c)(3) nonprofit that aims to end drunk, impaired and distracted driving and continue Keri's passion for helping others by giving back to local community groups and national organizations. DeMott now travels nationwide speaking to students from elementary school through college and various other groups, but is especially proud to be making a difference in Central Florida, where he raised his kids and received the support of local law enforcement following Keri's passing. Calling this work "the hardest thing I ever do, because every day it brings me back to that day," he understands how meaningful it is. "My wife always says that sometimes we see a mom who is grieving and tells the story, and unfortunately as a nation we have gotten numb to that," he says. "There's something to a 6-foot-2, 300-pound guy getting emotional and sharing that journey that makes it relatable and helps them to understand what we're talking about." Keri was a junior at UCF studying sociology at the time of the accident, and she strove to help families and kids upon graduation. While she never got that chance, her story is doing that now. "Her heart was for everybody else," DeMott says. "Keri's mission and message was life should be good for everybody, and I feel like my job as her dad is to make sure her message and mission continue."
Todd West
West and his wife Gladys, both former animators at Disney, were inspired to pass on their skills and passion for the art form to the younger generation, who would typically have to wait until college to pursue such interests. So they founded Elite Animation Academy about a decade ago, with the mission of developing young minds and giving them a head start on their artistic endeavors. Not only has the program been a raging success, but it also led to Digital Arts for Autism, which teaches the fundamentals of animation and graphic design to children and young adults on the autism spectrum who may have the necessary talent but lack the opportunity to follow their dreams. The goal is to give the students employable skills with the hope of securing jobs in the industry. "It means so much to me because I get to know the community and its needs, [and] giving back helps me make a better world for everyone and has helped me grow as an individual," West says. He also credits his wife, who is originally from Nicaragua, for encouraging his charitable efforts, and together they distribute clothing and shoes to the poor when they visit her native country.
Derrick Chubbs
Chubbs started out his career in the technology industry and served in leadership positions for companies like IBM, Pervasive Software and Dell. But after more than 15 years in the field, he decided it was time for a change, followed his heart and entered the nonprofit sector. He spent the next decade at the American Red Cross in a variety of roles before becoming the president and CEO of the Central Texas Food Bank in Austin, Texas. Last year, he moved to Florida to take on the same positions at Second Harvest Food Bank, where he leads a $180 million nonprofit focused on addressing hunger and its root causes in the seven-county Central Florida region. Chubbs oversees a team of 160 employees, thousands of volunteers and over 600 partner agencies that provides 300,000 meals a day. Chubbs, who lives in Longwood with his wife Loly and their dog Einstein, considers himself blessed and believes that many find themselves in unfortunate circumstances through no fault of their own, like a childhood friend he recently ran into who was down on his luck. "This childhood friend was a smart guy, not a lazy guy, and I couldn't help but think what if the roles were reversed," he says. "I could have easily been him and he could have easily been me. I believe that everyone who wants one should be able to have a meal, have a roof over their head and have a job that pays their bills. Until they bury me, I am going to work to help give hope to those that are struggling with their situations."
Steve Powell
As a kid growing up in rural Northeast Pennsylvania, Powell did not have much access to a library outside of school. Perhaps that's why his focus as director/CEO of the Orange County Library System (OCLS) has been breaking down barriers and making sure library services are available to as many people as possible. Powell came to OCLS over 15 years ago and worked his way up to chief operating officer in 2018. He became the interim director in January 2022 and was named to his current role in August of that year. His first major initiative was stopping the practice of overdue fines when materials were returned past their due date, and as part of that project, public computers have become more accessible and charges for printing, copying, faxing and scanning were reduced or eliminated. He also helped kick start mobile services thanks to a donation from Sorosis of Orlando Women's Club and has created departments for community engagement, data and user services, and diversity, equity and inclusion. Powell points out that libraries are more than just physical books these days—they also include ebooks, audio books, genealogy resources, sewing classes and much more—and he hopes the entire community can take advantage. "To me, getting people to come to the library, or even better, bringing the library to them opens up a world of informational, educational, recreational and cultural opportunities and experiences they might not ever have access to," he says. "I don't want anyone to miss out."
Arnold Sanchez
Sanchez, who holds bachelor's, master's and doctorate degrees from Liberty University and is also a graduate of Leadership Orlando, brought more than two decades of retail and operational experience to Goodwill Industries of Central Florida (GICF) when he came on board in March 2020 as vice president of retail. He has since been promoted to chief operating officer and has seen GCIF experience tremendous growth across all organizational divisions in recent years. One of Central Florida's largest nonprofits, Goodwill collects and sells donated merchandise at affordable prices, diverting more than 22 millions pounds of clothing and household goods from local landfills. GICF directly channels 90% of its annual revenue into programs that enable people to secure meaningful employment, achieve personal goals and thrive economically. Sanchez calls it a privilege to generously serve the community and has been inspired both inside and outside of his role at Goodwill by his wife and best friend, Denise. "We share similar backgrounds growing up in marginalized communities in South Florida," he says. "Together, we created a monthly service opportunity in our downtown community to focus on those in need. The 'I Love My City' initiative invites people in the community to serve the homeless, serve in coalitions and participate in community cleanup efforts. My wife inspires me daily to make sure we are using our time, talents and treasures to impact the lives of others that find themselves in similar situations that we encountered as children."
Archbishop Allen T.D. Wiggins
Wiggins followed in the footsteps of his father, the late Rev. R.W. Wiggins—who he calls his "mental model and inspiration for giving"—by answering the call to ministry and community building. In doing so, he has helped bring about transformative change in the lives of families in Orlando and around the globe. One of his greatest accomplishments is Hope Center West, a "live, work, learn, play and worship" community he founded that spans more than 50 acres. It includes The Village Square Mall, a small business incubator with more than 25 small businesses; affordable apartments and single-family homes; a K-8 academy school; and several national brands that have increased employment opportunities. Wiggins also transformed a 50-year-old urban youth center called Frontline Outreach into Frontline Innovation Studios, with the goal of introducing youth to emerging technologies. The dedicated pastor of The Hope Church since October 2001, Wiggins was elevated to the office of bishop in the International Bishops Conference, and has since held leadership positions on the world stage. He is a board member of the Purpose Built Communities Networks, Lift Orlando and The First Academy, and believes everyone has a responsibility to give back to the community. "I am under a God-issued charge, as well as a personal conviction, to be a good neighbor," he says. "Therefore, I tend to be more considerate of the plights of others who face challenges far harsher than my own."
Sean LaGasse Sr.
Raised in a Catholic family, LaGasse was always taught to care for others and aimed to follow the example of his father, William LaGasse Jr., "one of the most generous/benevolent men I've ever known," he says. He caught the giving and serving bug early, and as a young man would help the elderly with household chores in his hometown of Fort Lauderdale. He eventually found his way to an inter-denominational church and expanded his Christian roots, becoming part of regular missions trips to the Dominican Republic, where he helped build a shelter and donated clothes, food and supplies to orphanages. That led to an affiliation with an organization known as Globe Missions, allowing LaGasse to serve with missionaries in countries across the world. LaGasse, who has been married for 32 years and has four children and two grandchildren, later moved to Central Florida with his family, where he now runs a pest control business and is the pastor for Purpose Church Orlando, where he is proud to help people of all backgrounds with their spiritual needs. He is also a board member for Eight Waves, which caters to children and families from underserved communities and is "one of the best outreach organizations I've ever been associated with." LaGasse also has plans for a free event in downtown Orlando later this year to help students dealing with issues such as peer pressure, emotional health, depression and anxiety.
Barry Johnson
Despite a busy career at Miller Johnson Law as an attorney specializing in real estate litigation matters, Johnson finds time to give back to the community in multiple ways. He is a current board member of Altamonte Springs Rotary, a past president of the club and a past District 6980 Area governor. He defines Rotary as "business leaders and individuals who desire to change the world from their own backyard," and does his part by chairing the membership committee and the Altamonte Rotary Foundation Golf Tournament, an event held every spring that has raised tens of thousands of dollars for the local community. Johnson is also a member of Florida Citrus Sports (FCS) and a supporter of its Lift Orlando Initiative, which is dedicated to revitalizing the West Lake neighborhood around Camping World Stadium. He is also part of the scouting committee for FCS, whose chief goal is bring the best college football teams to Orlando every bowl season to strengthen the Central Florida economy. Sticking with the sports theme, Johnson is passionate about coaching teams at the youth level and is a board member for both Lake Howell Pop Warner and Winter Spring Babe Ruth. He further volunteers for Christian Help, whose mission is to prevent homelessness by providing resources and job placement assistance, and Ali's Hope, which addresses mental health issues in underserved youth. Johnson cites his grandfather and two mentors from his youth group as a kid as his inspiration for being so giving of his time to charitable efforts. "Our eyes should be open to the needs of the world around us," he says. "To be able to meet a need, change a circumstance [or] make a difference is just my mission. I'm thankful I'm able to do just a small part and by doing so, it's amazing how much you benefit, grow and change too."