A Hub Heats Up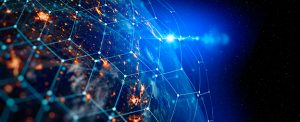 In the past decade or so, the Central Florida region's world-renowned hospitality and service industry has been making room for a new sector to blossom alongside it, as Orlando especially has become a hotbed of technological jobs, companies, opportunities and growth.
And while there are myriad factors contributing to that explosive expansion of an industry more traditionally associated with locales like Silicon Valley and Austin, Ben Noel, executive director of the University of Central Florida's (UCF's) Florida Interactive Entertainment Academy (FIEA) graduate game-design program, credits the trend's roots to a technology that we take for granted today but revolutionized life in mid-twentieth-century Florida: temperature control.
"Sixty or 70 years ago, there was not much air conditioning," he says. "Having air conditioning and climate control down in Florida made it very attractive. It was always nice half the year, but once we figured out how to cool things down in the South like they figured out heat in the North, Florida started to grow."
The advent of that singular technology summarily paved the way so plenty of others could follow its lead, with people quickly converging in Florida so quickly that its population rank went from the low 20s to the country's top five in just four decades, according to data from the U.S. Census Bureau. Today, it's the third-most populous state in the country.
And those people need work, so it's no surprise that companies have realized the employment benefit of putting down roots in a place where people want to live. Mayor Buddy Dyer is quick to itemize the array of high-tech businesses that call the Orlando metropolitan region their home, both as longtime locals and more recent residents.
"We have so many industries, from gaming to simulation to virtual reality to artificial intelligence," he says. "We have the automated vehicle sector, we have the vertical takeoff and landing, we have a lot of diversified high-tech industries that have all come out of a variety of different places, whether it's the Disneys and the Universals or the military command here, whether it's NASA or whether it's modeling simulation training."
He continues: "I would say it goes back 50 or 60 years, back to Lockheed Martin, which was Martin Marietta when it first started out … I think we have a long history of technology, but it's really accelerated in the last decade."
Perhaps unsurprisingly, it's another innovation that's kicked a decade of tech-sector growth into high gear, as Dyer notes that "the technology industry can be anywhere" now, thanks to today's widely accepted mobile workplaces making it easier than ever for workers to relocate to The Sunshine State in the midst of their careers, rather than waiting until their retirement years.
"In today's tech world, people can go live where they want to live," Noel agrees. "So you start seeing the rise of Austin, Phoenix and Orlando, these places where it's a little cheaper to live, we get a lot more sunshine, we can get outdoors a lot more. … The word's gotten out about Orlando, and Florida's been growing since the pandemic, but it was growing before that, too."
And while the region's lifestyle and affordability have long been among its advantages, better job security and more employment options are more recent developments that have helped make moving to Florida less of the risky financial decision it once was.
"When you're recruiting people, it used to be that in the 1980s and maybe to the mid-'90s, somebody would get relocated to Orlando and they would worry about what happens if that job didn't work out," Noel explains. "Now there's not that worry: There's 20 or 30 other similar places to work at, or you can work remote."
But attracting top talent isn't enough to keep the expanding industry on its current growth trajectory. That's why training today's students and retaining tomorrow's tech titans are both crucial parts of the equation.
"UCF grew with Orlando, and vice versa, so we have a university that's really focused on creating jobs and being workforce developers and partnering with the simulation industry, the biotech industry, the video game industry," says Noel.
FIEA—which The Princeton Review and PC Gamer magazine called the best program of its kind for the third consecutive year last spring—endeavors to do both. The graduate students enrolled in its immersive, hands-on program continue their education working under real-life conditions at a state-of-the-art facility in close proximity to video game giant Electronic Arts, one of the top employers of FIEA alumni.
"We have so much talent that is in Central Florida," Dyer affirms. "If you add up the number of students just at the University of Florida, the University of Central Florida and the University of South Florida, it's close to 200,000 students. … Whenever I give a commencement address out at UCF, I invite them to stay and to look, and we do a lot to highlight the tech industry here and support the organizations like the Orlando Tech Council and the Orlando Tech Community."
Noel does note that Central Florida isn't the only place that needs high-tech talent contributing to its local industry, though, and is proud of the far-flung contributions that FIEA's graduates go on to make.
"As much as I'd love for them to stay in Florida, if they go to work for Microsoft or Amazon or Blizzard or any of these companies out in California or Canada or Europe, I'm OK with that," he says with a laugh. "Our mission is to grow high-wage job opportunities for the state of Florida, but roughly 50% of our graduates are in-state, 50% are out, so they come and go. But they're going around the world and doing great things."
The benefits of Orlando's growing reputation as a technological hub far exceed just infusing the industry with talented newcomers and giving it a new place to thrive. Bringing those in-demand jobs to the region often comes with a salary that exceeds the area's median income, which infuses Central Florida with well-paid employees whose money often goes back into the municipalities they call home and adjacent economies.
"We benefit from having high-wage, high- value jobs and opportunities for our residents," says Dyer. "If they want to be involved in the tech industry, they don't have to move to Silicon Valley, they can stay right here in Orlando. It's creating that opportunity for young, smart people to stay."
It's just one reason why he regards both the present and the future of Orlando optimistically.
"We are rich with talent," Dyer observes. "I think we will be the metacenter of the metaverse, and I think that we have the most robust modeling simulation and training cluster anywhere in the world."
And while there are certainly other fledgling pockets and established strongholds in the tech world, none benefit from that homegrown hospitality that makes Orlando's service industry second-to-none and is already giving its approach to nurturing innovation a unique advantage by bringing old-fashioned customer-service values to a cutting-edge world.
"We see it in the downturns, that there's huge value in customer service because the business comes back to the places that treated them well," Noel says. "We've learned that we can produce things and make things work, that you can go be the mad scientist in the back but when it comes down to it, you have to play nice."