Animal Instincts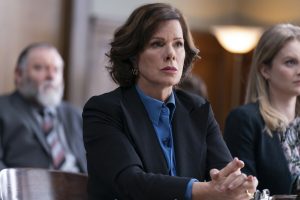 When Marcia Gay Harden thinks about joyous family vacations, her mind immediately goes to the time spent in Orlando in the legendary Diagon Alley at Universal Studios.
The Tony- and Academy Award-winning actress feels a strong tie to Orlando because of her family's enormous attachment to "all things Harry Potter." So much so that her three children cajoled her into going to the theme park in costume, despite her initial protests that it wasn't proper attire for her.
This devoted mom, who has been a Broadway, television and film actress for more than four decades, is best known for her Oscar-winning role in the 2001 movie Pollock, along with roles in Mystic River, The First Wives Club, Space Cowboys, the Fifty Shades trilogy and Mona Lisa Smile.
More recently, in the poignant new movie Gigi & Nate, she portrays Claire, a tough-but-nurturing mom who is devoted to her son Nate (Charlie Rowe), who becomes a paraplegic after a freak accident.
Nate finds hope as a result of his devoted family and a mischievous capuchin monkey, who becomes the young man's service animal. The movie is about triumph over tragedy, resilience and never giving up, despite the odds being stacked against you.
Her family-friendly movie is one that several generations in a family are enjoying. "What I love about Gigi & Nate is that it's inspirational, heartwarming, and sweet—a perfect family movie. Action movies are great but there is a limit to how many I want to see," Harden exclusively tells Orlando Family Magazine.
"I prefer to see movies about people who are going through things that I recognize. I want to relate to people," she continues. "I think this movie is about connection, triumph and real things that happen to families."
Harden's TV credits include the HBO series The Newsroom, the CBS series Code Black, the ABC series How to Get Away with Murder and the Apple TV+ series The Morning Show. She also was nominated for an Emmy for her role as special agent Dana Lewis in the crime drama Law & Order: Special Victims Unit.
Harden is starring in a new series, a CBS comedy called So Help Me Todd, which debuts this fall. The series is about a sharp attorney (Harden) who is helping her aimless private investigator son, Todd (Skylar Astin), get his life back on track. Astin is best known for his role as Jesse in the Pitch Perfect movies.
Todd, the black sheep in his family, and his mom obviously have a lot of conflicts because he still wants to keep his carefree lifestyle, which is in direct opposition to his mom's life philosophy; all of which results in solid comedy.
We spoke with Harden about her close family ties, how we can find inspiration from movies and television, and why she enjoyed working with a diva of a capuchin monkey in her latest movie.
Tell us about your deep affection for The Wizarding World of Harry Potter.
We love it so much; my children were wearing capes when we went to Universal Studios in Orlando. My kids said, "Mom, we're all going to be dressed up in capes," and I was resistant in case people at the park recognized me. But they insisted, saying, "Mom, you're part of the Harry Potter thing with us." So, I wore a long Harry Potter skirt. We have a strong relationship with Harry Potter.
My children are grown up and they've scattered all around the country [now]. When they were little, I made Harry Potter Thanksgiving and Harry Potter Halloween, complete with crazy bug things. It was really great fun. I would love for us to come back together to continue this tradition. I do it because I enjoy doing it with them. 
How did you relate to your new movie, Gigi & Nate?
I have experienced tragedy and to see this family triumph during the darkest of days was truly inspiring. Every day there are traffic accidents and accidental deaths and in one second, the world shifts. I liked the way Claire was strong, sometimes unlikeable. I loved Charlie Rowe, who played Nate, and the mother-son relationship. I know I'd be a mother bear for my kids.
What was the relationship between you and Gigi, the monkey? 
I had interactions with Gigi, whose real name is Allie. I will tell you that she is a real diva. In the beginning, she didn't quite know what to do, but by the end of the filming, she fully knew how to act. She would come to the set and look through the camera for her close-up. She was better lit and she had more screen time than any of the rest of us. I loved her. She was just completely emotional and empathic. These animals are in the moment, and you have to be in the moment with them.
Have you had much interaction with animals before on film or TV?
I've worked with dogs and horses like that before, so I know it's similar to working with babies. What was interesting about Allie is how intelligent she is and how sentient she is. If you were feeling sad, she would sort of nuzzle you to make you feel better. It was astonishing to see the level of cognition and connection up close because we usually don't get to be that close to them.
What were the life lessons that you took away from this movie?
There were many. First of all, to remember how precious the people we love are and that we need to be grateful for the lives that we have. I think the spirit of Nate, Claire and this family is about never surrendering. It's about asking ourselves, "In the worst possible situations, what do people do?" I believe that's what character is all about; I think it's about looking on the positive side. Claire is all about recovery and helping her son find something meaningful in his life after tragedy upended it.
Why do you recommend this movie? 
I think Gigi & Nate is about wanting to move heaven and earth for your loved ones, especially your children, because that's love. Also, the movie highlights the values of friendship and kindness.
There's a sweet little scene where Jim Belushi's character, who plays my husband, is trying to rent a car because his son is on his deathbed in the hospital and there are no available flights. The guy behind him finally says, "You can take my car, sir." There's the aspect of the kindness of strangers that makes such a huge difference in our lives.
To what do you attribute the longevity, richness and diversity of your career? 
I've always worked, and I'm blessed to always have work. I've got three kids and I pretty much take care of them. I'm happy working. When I haven't been working, I'll turn to writing or working on other projects. 
So, you've been playing several moms lately. How did you kind of get into the headspace of Margaret in your new TV show, So Help Me, Todd?
In So Help Me Todd my character has to learn how to work with her son and her daughter. First of all, no matter what you do there are going to be similarities to you and you're going to find things you relate to. I relate to the fact that she wants the best for her kids, but she's probably a little bit strident at times. I am definitely a "momma bear" when it comes to my children. 
I also relate to the fact that she's completely inept when it comes to technology. My 18-year-old son was visiting me in Vancouver and he got up at 6:15 a.m. to come to this hotel to help me with my Zoom calls. He set up the camera because he knows it is not my world. 
On a personal note, what is your happy place akin to the lake house where the family spends its time Gigi & Nate?
Literally, I have a lake house. Yes, I moved up years ago to the Catskills after my ex-husband and I bought some land and we built on that land. I was in a tent when I was five months pregnant because we were weed-whacking to clear space on this land. We built a very beautiful, happy place. We kayak down to the marsh. There are bald eagles, otters and beavers. It's about water and the healing aspect of water, so you go there because it's away from the grind of life. 
Can you talk about the importance that family plays in your life?
I think both of my recent projects are about connection and family. They are both about people that we recognize and about the value of love within a family. We can be incredibly separated. People move all over America, families can be very distant. Families are also troubled. They are about people you don't necessarily want for a Thanksgiving meal every Thanksgiving, but you do. 
I think I would say to my kids, "Listen, I don't care if you fall in love with a giraffe, just bring that giraffe home for Thanksgiving. [Laughs]. That's all I care about. I just want all of us to be together."