Self-Made Man
When Chazz Palminteri was struggling to find good parts as an actor, he created his own by writing A Bronx Tale. More than 30 years later, it continues to resonate with fans both young and old, whether onscreen or onstage.
Although it reached cliché status long ago, the old adage "write what you know" remains the No. 1 tip for aspiring playwrights, novelists and screenwriters. When Chazz Palminteri was desperately seeking his big break—and just a job, frankly—that was the exact advice he heeded. Little did he know at the time that the words that soon flowed would go on to define his career and keep him in the limelight for the next three decades.
Palminteri was a struggling actor making ends meet by working as a bouncer in the late 1980s when he decided to take control of his own artistic future by writing a one-man play based on his upbringing in an Italian neighborhood in New York. That coming-of-age story, A Bronx Tale, instantly resonated with audiences when it debuted onstage, connecting with both those who grew up in similar circumstances and those from different backgrounds. Not only were the characters relatable, but themes like handling peer pressure, trying to find your way in the world and balancing parental approval with personal goals proved to be universal.
Movie studios came calling right away with a desire to turn the play into a film, but there was a catch: They craved Palminteri's story, but they did not want him to pen the screenplay, and they certainly had no desire to see him act. In a crossroads of not just his career but his life, he stayed true to his dreams and refused to sell. Ultimately, his patience paid off when Robert DeNiro loved the play and offered to direct a script written by Palminteri, with Palminteri playing the key role of a mobster named Sonny. With DeNiro in a supporting part as Lorenzo, based on Palminteri's father, the movie became a cult classic that continues to be discovered by younger fans to this day.
Palminteri's career took off as well, with the highlights including an Academy Award nomination for Best Supporting Actor in Bullets Over Broadway, a pivotal part in the renowned crime movie The Usual Suspects, a hilarious recurring role on television's Modern Family, and dozens of memorable characters on the small and silver screens.
A Bronx Tale, meanwhile, has never disappeared from his life, as he created a musical version that ran on Broadway and continues to perform the original one-man play at theaters across the country. It comes to Orlando at Steinmetz Hall in the Dr. Phillips Center for the Performing Arts on Jan. 7.
Orlando Family Magazine spoke to Palminteri about the enduring appeal of A Bronx Tale, why he still loves performing the show and his other career highlights, including his new podcast, The Chazz Palminteri Show.
My 13-year-old son just recently asked me if we could watch the movie version of A Bronx Tale, so we did and he loved it. Is it meaningful to you to hear that the younger generation is getting interested in your story?
It's the most meaningful thing of all. I can't tell you how many times I've heard that exact story. People mostly say they watched the movie with their son and [tell me about] the life lessons he learned. It's amazing, just amazing. Or they watched it with their daughter, and it's the same thing: It's [a lesson] about not wasting your life and how the choices you make will shape your life forever.
I have a podcast now, and they have all these analytics, and one of my very big audiences is between 16 and 25. [laughs] And I'm saying, "They weren't born when I made this film!" It's really nice to see and I like it very much.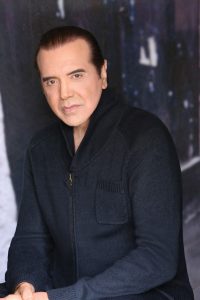 At the same time, the movie really resonates with people who grew up in a similar neighborhood to yours. It seems to span generations.
Oh my God, yes. It's because the characters are archetypes; people can relate to it. The story was told so honestly when I wrote it, that other people went through exactly what I went through and felt the same things that I felt. It's able to connect to them, and that's what makes a story that lasts, like It's a Wonderful Life. … People can relate to these stories.
Similar scenarios to yours have happened throughout Hollywood history, with unknown actors writing their own breakout part and insisting on playing that role when the movie got made. How difficult was it for you to stick to your guns and not waver on your desire to play Sonny when A Bronx Tale went from stage to screen?
Well, writing it was a monumental task and it took me 10 months. But then when I did it, my career just exploded. I was just an actor, and then, bam. You know the story: Everybody wanted it but they didn't want me. They wanted somebody else to write the screenplay, they just wanted my story. They offered me $250,000 and I said no, and then $500,000, and then $1 million. I had $200 in the bank, and how I said no, I don't know. I'm just a very stubborn guy. I believed in myself and I believed that I always had a guardian angel on my shoulder. So I just refused, and then finally DeNiro saw it, came backstage and said, "You'll be great as Sonny. You write the screenplay, I'll play your father and I'll direct it." And that's how it happened. It was pretty amazing.
And now nobody can imagine anybody else being Sonny.
No, I can't imagine anybody else doing it either. It just worked out great. It's worked out like I always knew it would—I hate saying it like that, but I always knew I was going to make it, I just didn't know when. It happened very late for me, which was probably better because I would have blown it if it happened earlier. I wasn't ready to be a star or to make a lot of money and be famous when I was young.
Do you still get amped up to do the one-man version onstage?
Every time I do it, I love it. I'm going to be coming to Orlando and it will probably be my 1,028th performance by the time I get there. I've been doing it on and off for the past 34 years.
Is it exciting to bring the show to Orlando for the first time and perform in front of a new audience?
Oh yes, I'm really looking forward to it. I don't like to brag, but it's not bragging if it's true: I'm the only guy who wrote the one-man show and starred in it, who wrote the movie and starred in it, and who wrote the musical and starred in it. But of all three, people say they love the one-man show the best.
I'm looking forward to going to Orlando, because I know there's probably a lot of Italians down there. But you don't have to be Italian. I did the show in Texas and it sold out, I did the show in Wisconsin and it sold out, I did the show in Arkansas and it sold out. It doesn't matter where you are.
Like you said before, I think people love the characters and relate them to their own lives. For example, we call one of my friends "Mush" because of how unlucky he is, just like the character from A Bronx Tale.
Of course! [Laughs] There's a book called The Moral Intelligence of Children, written by Robert Coles. He devoted a chapter to the movie A Bronx Tale, which is pretty amazing. I just happened to buy it many years ago when I had a son, and when I saw my movie in there, I couldn't believe it. What he says about it is great.
There are so many classic lines from the movie. Which one gets repeated back to you the most?
There are a few: "Now youse can't leave." "The saddest thing in life [is wasted talent]." "Throw 'em in the bathroom." "Is it better to be loved or feared?" There are so many. The movie has worked its way into the dramatic language of America, like The Godfather did. Just like, "Leave the gun, take the cannoli." It's part of life now.
A Bronx Tale led to a lot of opportunities for you, including another classic movie, The Usual Suspects. Is that a movie that fans bring up often to you as well?
Oh yeah. That's probably second, that or Analyze This. Bullets Over Broadway too, where I got the Academy Award nomination. I've been fortunate: Actors just want to be in one great movie, but I've been in a whole bunch of them, so I'm very fortunate.
What do you remember about the first time you read the script for The Usual Suspects and the big surprise at the end?
That's a good question. I remember reading it and we all had the same reaction: I know this is great, but how are they going to do this? You don't know what it's going to look like. It was so unique, the script, and it won the Academy Award for best screenplay. We all thought it was great but we didn't know if the director could translate it to the screen. He's a brilliant director, Bryan Singer, and he did a great job. The movie just lives on.
Was that a tough part for you to play, considering you're part of the big reveal in that movie?
The script was so well written and the director was very smart that we just had to do our job. I'll tell you a funny thing about that, I wasn't sure I was going to do that movie and I did it right between two other movies: I think I did it between Jade and Mulholland Falls. I had 10 days off and they said, "We'll shoot you in a week." I went and all they did was shoot my scenes to start the movie, nothing else. It was me and Kevin Spacey in a room and it was like a play. Every day, we'd be in that room and just do our scenes. I left to do the other film, and that's when they really started the movie.
Do you enjoy the comedy work you've done as well, like Modern Family?
I started in comedy, and then I got famous for doing these serious, dramatic tough-guy roles. But I love comedy and I'd like to do more comedy roles.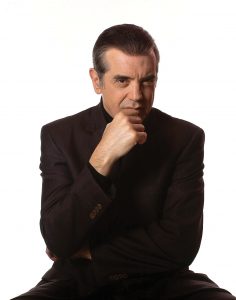 What's coming up next for you, other than your busy schedule with the one-man show?
I just filmed the one-man show and I directed it, so when that comes out I'll be very excited. Also, I'm on this series called Gravesend on Amazon, and I might be coming back to Godfather of Harlem. There's talk about that but it's not definite. I'm writing two other plays for Broadway, which I'm very excited about, and I love doing my podcast. And I really love doing the one-man show, and all people have to do is go to my Instagram or go to ChazzPalminteri.net and the schedule is there. I'm going to be all over the United States at a theater near you. People always say it's on their bucket list to see it. I'm playing my father, the little boy at 9, the boy at 17, and then I'm playing Sonny and Mush and Coffee Cake and JoJo.
Do you have a favorite character to play in the show?
Probably my father.
Was Robert DeNiro's performance close to who your father was in real life?
Yes. He was very quiet, a very honorable and honest man. You couldn't get anybody more honest than him. He never wanted to owe anybody anything. He was always like, "I do my job, I'm honest and I don't have to worry about nothing." He used to say, "You don't want anybody looking over your shoulder."
How did you get into podcasting and what do you like about that medium?
It was during the pandemic and I couldn't do anything: movies, television, nothing. My dear friend Phil Foglia—who I called my brother—said to me, "You should do a podcast. Let's do one together." He was a prosecutor in New York and he retired and asked me to do a podcast. I said yes and we were going to do it, but then he got COVID and passed away. It just broke my heart; I was devastated. I thought about him all the time and I said, "I'm going to do it." I have a picture of him behind me when I do the podcast.
It's been a wonderful thing, because I speak to so many people. Katherine Narducci, who's a wonderful actor—she played Bob's wife in A Bronx Tale and she was in The Irishman—comes on a couple times a month along with Tara Cannistraci, an Italian comic. The other times I just talk about what's on my mind, and I have a lot of comics on. I had Bill Burr on, I had Colin Quinn on. I have musicians too, like Billy Joel. I get a lot of great guests.