Leading Ladies
A look at some of the area's female business leaders as they reflect on their various paths to success and share their advice for the next generation of young women following in their footsteps.

Over the past few decades, there have been modest gains in gender equality in the workplace; however, women are still significantly underrepresented in leadership roles. Although there is still more that needs to be done, such as closing the gender wage gap, strides are being made.
From the medical field, government and education to philanthropy, entertainment and hospitality, these 10 extraordinary Orlando-area women represent some of the best in leadership in their fields. Their knowledge, talent, determination and resilience have led to tremendous success, and have greatly benefited the community at large.
---
SUE CHIN
Creative Director, Good Salt Restaurant Group
In this role, Chin ensures visual communication and brand standards are met for all of the company's restaurants and is responsible for creating a cohesive image that embodies each restaurant's brand identity.
Staying motivated and inspired:
"There are so many small details that need attention, and decision fatigue can be a real deterrent to inspiration. In these situations, you need to always remember the 'why' or the greater purpose behind what you are doing. This usually ties to something greater than yourself, something that engages the entire team to reach for something that we can all celebrate and be proud of."
Finding balance: 
"This is something that needs constant work and reflection as things change and grow in both your business and family. The most helpful thing to maintain balance is to take a realistic look at every single activity you take part in every day and ask yourself, 'Is this the best use of my time?' And then comes the difficult part: If there is something you are doing that someone else in your company is willing and able to do just as well, then you need to give it up and focus on the things that only you can do to bring value to the company. The 'giving up' part is harder than it sounds."  
Inspired by:
"My husband, Jason, is a great source of not only inspiration but he helps to keep me focused. There are many granular details that I deal with day to day and he helps to remind me of the bigger picture. He reminds me of the responsibility we have to our team and to the community we serve. He never fails to put things into perspective for me, which I really feel is a gift." 
---
PATTY SHEEHAN
Orlando City Commissioner, District 4
Sheehan was first elected to the City Council in 2000 and served as president of the Colonialtown North Neighborhood Association. She attended Seminole State College and the University of Central Florida and earned her bachelor's in art. A former administrator with the Florida Department of Agriculture and Consumer Services, she serves her constituents full time.
Challenges as a woman in business:
"The biggest challenge as a woman in leadership has been having my expertise or knowledge questioned because I am a woman. I usually deal with this by trying to make a joke followed by pointing out that my position is valid. But it is frustrating." 
Staying motivated and inspired:
"I stay motivated by never losing sight of the fact that all of us have worth. That was my biggest life lesson, and I know that if I apply myself to making this community a better place, more of us will feel valued."
Advice to other women:
"My advice to other women wanting to become leaders is to never give up. Even your darkest hours and struggles make you stronger. And women have to work twice as hard for recognition. But because we pay our dues, it makes us knowledgeable and more compassionate—and better leaders."
Most rewarding aspects of the job:
"The most rewarding aspects of my job are seeing a smile on the face of a child who experienced a Broadway show for the first time, seeing a new cygnet (a baby swan) born at Lake Eola, seeing an artist complete a mural that brings so much joy to others. Being a leader is seeing the possibilities others can't or won't see."
---
BARBARA CHANDLER 
Manager and Cultural Arts Educator, Hannibal Square Heritage Center
Born in St. Thomas, Virgin Islands, Chandler is a longtime Central Florida resident. She has worked for 10 years as the manager and cultural arts educator at the Hannibal Square Heritage Center, educating visitors on African Americans' contributions (past and present) throughout Central Florida. 
Staying motivated and inspired:
"My commitment to serve and develop equitable initiatives that represent the history and success of Black culture and communities globally is my motivation and inspiration. In my role, I've been able to create opportunities and share my platform with others to inform, educate and amplify the voices of Black leaders, organizers and influencers. I am ecstatic watching the next generation of leaders rise up."   
Finding balance: 
"Someone once told me, 'Balance is hard to attain, and you will spend a lot of time trying to control everything that happens around you; instead seek harmony and watch everything flow into place.' It is important that my work aligns with my core values and adds to my family's legacy. I've learned to hit the pause button and prioritize my well-being to sustain a quality of life. I enjoy spending time with myself, family and friends, going for a walk in nature as a way to decompress and do a self-check, [and] journaling is a great way for me to detangle my thoughts and express my daily gratitude."   
Advice to other women:
"Leadership is a commitment [that] requires resilience and the ability to be comfortable in the uncomfortable. Here is a quote that may help you choose the type of leader you want to become: 'People may not remember what you've said, but they will never forget how you made them feel.'"
---
SUZANNE A. WORTHINGTON, M.Ed.
Senior Vice President, Orlando Health
President, Orlando Health Winnie Palmer Hospital for Women and Babies
As president of Orlando Health Winnie Palmer Hospital for Women and Babies, Worthington leads a team of more than 1,700. Prior to her current role, she served as chief operating officer of Orlando Health Winnie Palmer and assistant vice president of Orlando Health. Worthington earned bachelor's and master's degrees from the University of Florida.
Initial inspiration to pursue a leadership role: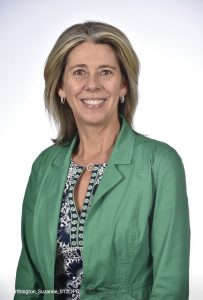 "My first leadership role was in the Patient Access, or registration department, at Orlando Health Dr. P. Phillips Hospital. I think I was interested in pursuing a leadership role because I wanted the opportunity to influence the way the work was done. I felt I had ideas that would make the work I was doing better: better for the people who did the work, better for the other departments who relied on our team to do our work well, and better for the people, our patients and their families, who relied on our team to be thorough, efficient and compassionate." 
Staying motivated and inspired:
"Maintaining connections to our team members who share their expertise with our patients every day provides unlimited motivation to continue to find ways to amplify their passion for the benefit of our community. When I have the chance to see and hear the pride they have for the work they do, it is humbling."
Advice to other women:
"My advice is gender-neutral, really. I think maintaining a strong sense of curiosity is critical to becoming a successful leader. Be curious about what is in front, around and behind you in your professional journey. When you are sincerely interested in others, opportunities and successes can come in unexpected and exciting ways."
---
DOMINIQUE GRECO
Founder, Orlando Hospitality Alliance
Greco is a partner in successful hospitality groups and leisure brands. She served as the first-ever Nighttime Economy Manager for the city of Orlando, making her one of the first hospitality leaders in the nation to hold that position. 
Challenges as a woman in business:
"I've personally experienced biases for both my age and my gender throughout my entire career. It's been a confusing journey at times; being a magnetic and powerful woman, I've been shunned for being too likable and then dismissed for not calling attention to myself. I've been purposefully misled and then been advised to not have a big reaction to the unfair treatment. I've stayed quiet out of fear and I've spoken up to protect others even when some said it 'wasn't my place.' How we, as women, demand respect is a delicate, artful feat rooted in knowing, loving and trusting yourself, first and foremost. That takes practice and tenacity but with that, your confidence and integrity will shine through in every action you make—big or small. The challenge itself is filtering out the noise from those who inevitably will tell you, 'You're doing it wrong,' and knowing to trust yourself over the outside pressures. 
Advice to other women:
"Show up as yourself. Stand up tall and confident. When you feel low, know who you can go to and what you can do that makes you feel revived. Don't be afraid to be bold, dress bold, speak up and ask questions. Surround yourself with a tribe of other women with similar goals. Encourage them and also let them be there for you. Hold yourself accountable for making healthy choices for your mind, body and spirit. Don't seek perfection. Enjoy your human experience and embrace your feelings and instincts."
---
JAMIE MERRILL
President and CEO, Boys & Girls Clubs of Central Florida
An expert in operations management, Merrill has spent the past 16 years in positions of increasing responsibility in the senior living and health care industries, including chief operating officer of Sonata Senior Living in Orlando and senior vice president of operations for Brookdale Senior Living, directing the operations for 72 senior living communities.
Staying motivated and inspired:
"I am a field leader through and through. These days, when I need to be inspired, I clear my calendar and head out to one of our Boys & Girls Clubs to spend time with the youth and teens. I get engaged in the activities. I laugh, play and enjoy my surroundings being in the moment of 'why we do what we do.' Every time I focus on the youth, I get new ideas; I get inspired and I am truly re-invigorated. I seek ways to develop our teams and our youth's leadership skills, and when I do this, it always helps me to develop my skills further as well." 
Inspired by:
"I grew up with wonderful parents who pushed me to be all that I could be, instilling strong values and morals along the way. That said, my daughter has always been the one who has inspired me to succeed, be better and have a desire to create a better life not only for us, but for those around us. As a single mom early on, I knew that I wanted to show her and others the possibilities of having a successful career without forfeiting your family or the precious time you have with your children. My time and relationship with her has always inspired my love for developing others. She has truly helped me to become the leader I am."  
---
MARIA VAZQUEZ, Ed.D.
Superintendent, Orange County Public Schools
Vazquez has served at every level of the education system and has extensive expertise in curriculum and instruction. As a teacher, principal and administrator, she has dedicated her career to ensuring every student has a pathway to success. As deputy superintendent of OCPS, Vazquez helped lead one of Florida's largest and most diverse school districts to an "A" rating in 2019 with a nearly universal (96%) graduation rate, and has narrowed the achievement gap for Black and Hispanic students.

Staying motivated and inspired:
"I am motivated and inspired by the people I work with and the students in our district. I look around and see so many amazing opportunities our students are taking advantage of to advocate and make a difference. Now more than ever, I am inspired by what I see in our younger generation—they have a strong belief that they can make a difference and impact change, and they find meaningful ways to do so."
Finding balance: 
"This is something I am still working on, and I give myself grace when I am out of balance. I block out time so that I can focus on quality time with my family and myself. Spending time with my family—my spouse, children and grandchildren—brings me great joy, and that keeps me going. I also find time every day to acknowledge all that is good in my life, and this focus on gratitude also replenishes me."
Advice to other women:
"Believe that you have what it takes to get the job done now—not two or three years from now. Many times, women shortchange themselves by convincing themselves they don't have all the prerequisites or enough experience. Focus on the strengths you will bring to the position and not on the deficits."
---
OFIRA BONDOROWSKY
Chief Executive Officer and Executive Director, The Jack and Lee Rosen Jewish Community Center (JCC)
New to her current role, Bondorowsky is an accomplished leader and philanthropic visionary. Born in Israel, she grew up in Southeast Orlando. 

Initial inspiration to pursue a leadership role: 
"Leaning into leadership roles offers me opportunities for personal growth, enables me to learn new skills, and challenges me to think outside the box. I love breaking down barriers, developing creative solutions to problems large and small, and engaging stakeholders to achieve organizational growth and impact. Underlying my professional ambitions is a drive to positively impact the lives of others, which equally applies to the people we serve as it does to the staff that deliver our mission. I'm inspired by the skills and abilities of others and enjoy bringing people together to achieve goals as a team. Being in leadership means I can set a tone for my organization that is positive and inclusive and fosters a culture of shared success." 
Staying motivated and inspired:
"When you work at the Jack and Lee Rosen JCC, you can't help but be inspired by what is and can be. The Rosen JCC is full of life—babies, children and adults of all ages—who enter our doors to find opportunities for personal growth, social connections, and to have fun. However, I'm also mindful that, beyond our doors, many face daily challenges that can diminish their health and happiness. So, I ask myself every day, what can we do to impact the lives of others further? How can we create uplifting experiences that help to improve well-being and foster greater joy? Perhaps most importantly, how can we ensure these opportunities are easily accessible to seniors, individuals with special needs and underprivileged families? I'm passionate about making a positive difference in the lives of others."
---
CASANDRA MATEJ  
President and CEO, Visit Orlando
With three decades of service in the travel industry, Matej is the first female CEO in the organization's 37-year history.
Staying motivated and inspired:

"One way I stay motivated is by staying focused on my 'why.' If you know the 'why' and are working toward a greater goal and impact beyond yourself, you feel more positive and can maintain motivation. Working with purpose is so much more fulfilling than just working for a paycheck. At Visit Orlando, my 'why' is the impact we make on the local community. Our tourism industry is an essential part of Central Florida's economy supporting nearly 450,000 jobs throughout Central Florida, generating more than $87 billion in economic impact, and saving each household $7,500 in annual taxes. I never lose sight of the tremendous impact our travel industry has on our community and that inspires me each and every day." 
Finding balance:
"For me, balance is having the tremendous support of my family and my attitude. I consider myself the ultimate optimist. To me, the glass isn't just half full; it's a beautiful glass, with a delicious drink filled with ice and a cherry on top. Studies found that optimists were 40% more likely to get promoted, six times more likely to be highly engaged at work and five times less likely to burn out than pessimists. With that in mind, I focus my energy on the positive things, what's working and again what I can control." 
Advice to other women:
"Show your value, don't tell people about your value. I think it's so true that actions often speak louder than words. Be flexible: Your career path may take you in directions you never could have expected if you stay open to opportunity and adapt to change. Be bold and take risks. To grow and learn, you have to be willing to put yourself out there."
---
ALLISON WALSH
Author of the recently released book, She Believed She Could
The former Miss Florida is a seasoned business consultant, founder, bestselling author, international speaker and influential leader. With over 15 years of experience in organizational leadership, success coaching, brand building and business development, Walsh's expertise lies in strengthening the professional development of current and future leaders. 

Challenges as a woman in business:
"For a long time, I was the only woman at the table. I intentionally sought out female leaders in other organizations and was fortunate to receive exceptional mentorship. As we began and expanded our family, it presented its own set of challenges and blessings to navigate. I am grateful for surrounding myself with supportive individuals upon whom I could depend. Balancing various roles—like being a mom, wife, executive and entrepreneur—often feels like a juggling act. However, having reliable people around me lets me focus on the task at hand."
Staying motivated and inspired:
"I am in a constant state of learning and growth. I acknowledge that I don't know everything and never want to be the smartest person in the room. I am inspired by the prospect of improving by 1% each day, which demands discipline and consistency in my personal and professional development. Moreover, I am deeply motivated by others' success. There's immense joy and fulfillment in nurturing others to achieve their best."
Inspired by:
"I was fortunate to have an incredible mentor, Lynn Grefe, the former CEO of the National Eating Disorders Association. She introduced me to true servant leadership in my early 20s and imparted invaluable lessons. I aim to be a similar influence in others' lives. We don't need to figure things out alone. There are remarkable people ready to guide, show possibilities and illuminate our path if we're open to seeking them out and asking."