Rising to the Occasion
With the pandemic having a major impact on family law, Conti Moore continues to be a fierce advocate for her clients.

For many people who suffer through a divorce, it can be one of the most turbulent times of their lives, and doing so during the COVID-19 pandemic only adds to the stress level. Feelings of sadness, loneliness and confusion are common, but having a trusted family law attorney who knows the law inside and out and is determined to advocate for your rights goes a long way.
Conti Moore has been just that for her clients throughout her distinguished career. She was drawn to the law from a young age, and when she became a mock trial state champion in high school, it confirmed that she was on the right path.
"I always wanted to go to law school," she says. "It was something I was passionate about from early on in my life. At first I thought I was going to go into intellectual property or trademark law, but I shifted to family law because it provides an opportunity to do trial work. I wanted to be able to help fight for people and solve their problems."
A graduate of Florida A&M University and the Florida State University College of Law, Moore began her career in Las Vegas but eventually moved to Central Florida. She founded her own firm, Conti Moore Law, in 2012 and assists clients throughout the Central Florida area.
Her stellar reputation for championing for her clients has only been enhanced during the pandemic. While other attorneys struggle to adjust to working remotely, Moore's undergrad degree in computer science has ensured her firm hasn't skipped a beat.
The technology was already in place for a seamless transition, and virtual consultations and hearings have gone off without a hitch. In fact, the always accessible team at Conti Moore Law has connected even more with clients than usual, and Moore is offering seminars for other lawyers who are not as well-versed in modern tools such as Adobe Pro or Zoom.
"We use technology to assist with the efficiency of our firm and that sets us apart from other firms during this pandemic because people are trying to catch up to where we are," she says. "With all that's going on in the world with COVID and everything else, we are able to still focus on our clients' issues and not get sidetracked. We continue to zealously represent our clients without any lag of time in this new reality that we're all living in."
The pandemic has had legal ramifications in the field of family law as well. Divorced parents may disagree on whether to send their children back to school; those suddenly without jobs are finding it difficult to make alimony or child support payments; and Moore reminds people who may be forced to move to update their address with the courts.
"Litigation is increasing because people simply can't agree on what to do," she says. "We're operating in a world where there are a lot of unknowns as it relates to this virus. We're all trying to figure it out: the court system, the attorneys and the clients. Our firm is getting creative and figuring out solutions for clients that will make them feel comfortable but also feel like we've advocated on their behalf."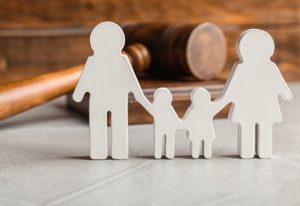 Although Moore is a ferocious competitor who thrives in the courtroom setting, she stresses that every case is different and some can be resolved amicably. She is trained in collaborative law and offer that option to clients as a way to avoid a nasty, drawn-out ordeal. In this approach, each party agrees not to go to court and they work together on the parameters of the divorce along with attorneys, financial consultants and mental health professionals.
"Trial is not always the best answer and there are other ways to reach your goals," Moore says. "Collaborative law can be more cost-effective and it's less damaging to the children if there are kids involved. It's a different way of getting results and it helps you figure out how to move the family forward without litigation. Of course, if our clients opt to litigate their case in court we are prepared, but we can also help them avoid contentious court proceedings."
No matter which approach is required, there is nothing more satisfying to Moore than guiding her clients through a chaotic period and allowing them to happily move on with their lives. That is especially true during the current situation.
"Family law was already contentious; it was already something that was difficult to deal with," she says. "The problems are magnified and there's even more stress now. But we're ready to fiercely advocate for our clients even during a pandemic."
Conti Moore Law
1314 E. Robinson St. | Orlando
407-831-0203 | ContiMooreLaw.com
This article originally appeared in Orlando Family Magazine's September 2020 issue.