Scout's Honor
After 108 years, the Boy Scouts are carving out a new future by accepting girls into its troops and Central Florida is leading the way.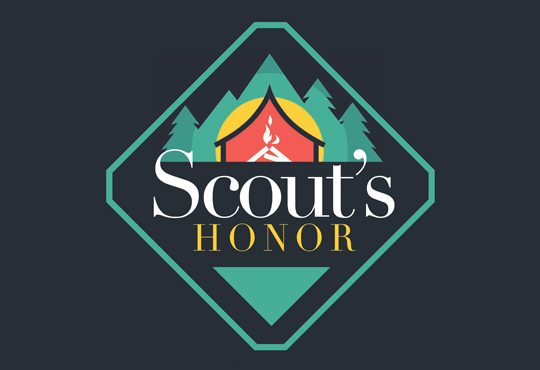 The new year is here which means a new opportunity and new tradition for one organization that's been focused on enriching the lives of boys. For over a century, the Boy Scouts of America (BSA) has been teaching younger and older boys how to build leadership and character while instilling ethical values through earning badges of rank and merit. But starting Feb. 1, the nonprofit organization program once known as Boy Scouts will become "Scouts BSA," dropping the "Boy" from the familiar name and begin accepting older girls into troops.
After conducting research through other organizations, the BSA found that over 90 percent of families wanted to see girl inclusion and over 85 percent of BSA internal members thought the same. Because Cub Scouts (a division of boys ages 5 through 10) embraced family-oriented outings, the BSA has let girls join Cub Scouting since the beginning of 2018—and so far, over 2,400 girls have joined the Central Florida Council alone.
"[A total of ] 10,000 new Cub Scouts and Scouts have joined since Jan. 1 and we're looking forward to continuing to provide our mission statement and our vision, which is to provide an unparallel experience for more youth," says Chris Crowley, director of field services and COO at Central Florida Council BSA. "We want to make sure we can continue to provide a program and activities that youth would not be able to have. That's something that we are striving for and it's something that we put a lot of emphasis on to make sure that the experience all of the youth have in our programs work really well from our camping programs to our advancement programs; they're all intertwined and they're meant to be life enriching."
While the younger kids have a co-ed group separated by dens (grade level) but are part of a larger pack, the older boys and girls in Scouts BSA will be separated into gender-specific troops. The organization itself would be co-ed, but the troops themselves would not.
"I initially thought they were going to be integrated and so that if a girl joined the Boy Scouts, she would just be part of that same pack or troop that [the family's] son was a part of, but at least initially as I understand it, they're not doing it that way," explains Janet Gaffin, parent volunteer for the BSA and the Girl Scouts of the United States of America (GSUSA). "They would recruit and get a female leader and they would recruit all girls and they would not be in the same pack with the boys so it would be all the girls … separate but equal."
Although the reconfiguration of the company gives ample opportunity for females to join and learn equal dexterity in a similar environment and the same opportunity to achieve the Eagle Scout rank, there's a bit of confusion with those still wanting to join the Girl Scouts and what the inclusion of girls means for the GSUSA.
Maryann Barry, CEO of the Girl Scouts of Citrus Council, says although boys and girls can be equal, they're different. "I have a saying I use around here: 'Equal doesn't equal the same.' You can be equal and have equal footing, equal experience, equal value but it doesn't mean you all have to be the same.
… That is, for me, a big part of what we have to offer. We offer amazing experiences for girls and for families and for Girl Scout families. I often hear [with Boy Scouts they do more outdoor], well we do quite a bit in the outdoors. I just think we don't talk about it enough."
Scouting was a movement that, in its earlier years, was geared toward boys regaining the knowledge of survival skills. But because of the growing empowerment of women at the time, the GSUSA was created to give young girls a comparable experience to build courage, confidence and character, according to its mission statement.
"For us, it's very important that girls have that [unique] space; we believe … that's a very important point in their development," says Barry. "Our new branding [is] 'G.I.R.L.' (it stands for go-getter, innovator, risk taker and leader) and so our badge programs are very focused in the pillars of outdoor experience, STEM education, entrepreneurial education and community service. So when you're going to be a Girl Scout, you can expect that we will guide you in developing into your highest potential through programming that is grounded in those four pillars of experience."
There has been confusion with the new "Scouts BSA" name, some wondering if GSUSA was merging with the BSA—or if it still exists—and causing a couple of families to sign their daughters up for the wrong organization. Gaffin mentions that a few parents within the Citrus Council mistakenly signed their daughters up to the BSA program at first.
In the beginning of November, the GSUSA filed suit against the BSA but the reason why has been misunderstood. What's often mistaken as a lawsuit against the BSA name change is really a suit against intellectual property infringement. Though the lawsuit is between the GSUSA and BSA organizations, local GSUSA councils are independent charters. "We don't actually own the brand locally. We charter to utilize the brand and use it under the brand program and brand parameters that are some GSUSA and managed through the charter process," Barry says.
A formal statement was made by the GSUSA saying, "Girl Scouts of the USA does not comment on pending litigation. The filing and the claims therein speak for themselves. The action Girl Scouts took are in keeping with standard practice in any field, and we did what any brand, company, corporation or organization would do to protect its intellectual property, the value of its brand in the marketplace and to defend its good name."
As far as what the local council is doing to maintain girls joining the organization, they will keep with the same mission and goals that have been pushed forward in the past. Gaffin and Barry aren't directly seeing girls leaving or showing interest in leaving Girl Scouts.
"We will make sure that our mission still has the opportunity to reach as many girls as possible by continuing to stay positively focused on what we have to offer and what we give to girls and making sure that we spread that good word. We definitely do not want to create a situation of negativity out [there] between any youth organizations," Barry mentions.
On a local level, Girl Scouts of Citrus Council and Central Florida Council BSA have a close relationship and support the opposing youth organization.
"I think that Girl Scouts USA offers great programs for girls. We offer programs that are totally different, but I think what it comes down to is families decide whatever is a better fit for them and then they join," says Crowley, noting that being involved in a co-ed activity makes it easier on parents.
Whichever way the lawsuit pans out, both of these local organizations will continue their focus on developing youth to make a positive impact on society. The GSUSA will continue enhancing girls' lives while the BSA looks forward to blazing the trails toward the next 100 years.
"There are more than enough kids in this country that need good outlets for their energy and being [a scout] is about teaching children how to be good individuals who give back, make a difference and give back to the community," Gaffin says. "That's what Scouting is all about; taking kids and hopefully making them good adults and good citizens, and so I hope that as [the organizations] go through this, that continues, [and] that does not get lost in all of this."