Super Women 2021
If the past year has taught us anything, it's the importance of lending a helping hand to those around us, and that gestures both large and small can go a long way toward impacting our community. For these 14 local ladies, standing up for what they believe in, assisting people in need and trying to lift up others just seems to come naturally. They have not started nonprofits or become mentors to the next generation for recognition, but we believe they are worthy of it.
Woman of the Year:  Nadine Mentor
Mentor, the president of Mentor Holdings and Investments, Inc., has enjoyed great success as an investment banker. The work she is most proud of, however, is with the nonprofits she has worked with and founded. After years of volunteering as a mentor to elementary students in disadvantaged neighborhoods, she was inspired to create The Greatest Investment Girls Empowerment Program (TGI) for at-risk teen girls in the Central Florida community. Over the last 11 years, TGI summer camp has mentored over 250 young ladies, aged 12-18. The free four-week camp offers empowerment and leadership workshops, community service projects, job shadowing and the opportunity to visit several colleges throughout Florida and Georgia. TGI also provides a college preparation program to assist with applications and scholarships. Mentor says she came up with the name of her initiative "because we truly believe that the greatest investment we can ever make is investing in our young people, especially our young ladies."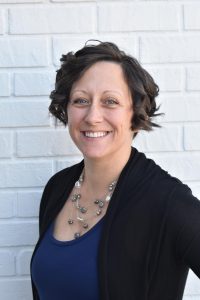 Terrie Scott
After leaving a nonprofit job in the spring of 2017, Scott was surprised to still be receiving calls for help from members of the community later that year. Not one to say no to someone in need, Scott found herself providing Thanksgiving meals to those low-income families who had reached out to her. A few weeks later, more calls came in from people needing assistance with holiday meals and gifts for children. After helping over 100 families that holiday season, Scott decided it would be best to start a nonprofit. In January 2018, she created A Heart to Give. Over the past few years, A Heart to Give has provided holiday gifts, as well as back-to-school supplies and clothes to thousands of children. Scott says, "I live with my hands open. If I have something that someone else truly needs then I let go of it."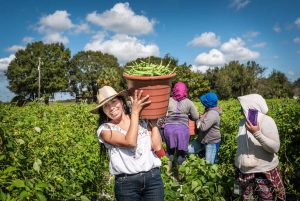 Isaret Jeffers
Jeffers knows firsthand the struggles and fears of so many migrant farmworkers, many of whom are undocumented, as she once was. After marrying an American citizen in 2009, Jeffers, who was born in Mexico, decided to create a charity to assist hardworking, tax-paying, undocumented farmworkers. Colectivo Arbol, which translates to Collective Tree, provides assistance to those workers on their path toward obtaining American citizenship. Jeffers relates to the pain and heartache faced by so many of the undocumented women she helps. "I began my charity to help other women who were suffering the same things that I experienced," she says. "That is why we support women who work in the agricultural industry with food, educational outreach, legal and medical aid, counseling, and above all we teach them not to silence the abuse or harassment they may face. We show these wonderful, hardworking women that they should not be afraid or feel paralyzed."
Colleen Gonzalez
In 2009, Gonzalez decided to take a more active role in her children's elementary school and was surprised to learn that the school didn't offer any running programs that other schools did. She found out volunteers offering to coach a team or program would have to fund it themselves.  Gonzalez also discovered many teachers were buying toys for their students to play with at recess. Gonzalez soon started a running club at the school as well as coordinating many events promoting the importance of good health and physical activity. In 2015, Gonzalez founded GROW (Grass Roots Outreach Within), a nonprofit organization that helps to provide recess and sports equipment for schools, sneakers and socks for those in need, as well as family and community engagement events. Gonzalez says she is passionate "about what educators, coaches and parents can do to impact youth health and wellness when given access to the proper resources."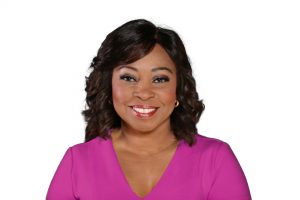 Vanessa Echols
In 2004, Echols, a revered WFTV news anchor, was diagnosed with breast cancer. After undergoing six months of chemotherapy, four surgeries and 30 radiation treatments she was finally cancer free. During her treatment, Echols met other patients who talked about everyday tasks they wished they could have assistance with during this difficult process. After her treatment ended, Echols kept thinking "that God had allowed me to walk through the cancer journey for a reason." She began searching for an organization that provided direct help to patients and could not find one, so she decided to start one. In 2007, Echols founded Compassionate Hands and Hearts Breast Cancer Outreach. The organization arranges housecleaning services, help with groceries, meals for families, transportation and financial help with utilities and rent/mortgage. "Patients who are fighting for their lives should be concentrating on that," she says, "and not worrying about the power bill or the rent."
Renita Hunt
Dress for Success of Greater Orlando has been helping to empower women achieve economic independence since 2001. Hunt, the executive director, has been with the organization for over nine years and has witnessed how impactful the services offered can be to the women they help.  "Oftentimes, when ladies initially walk into our boutique, they are down and their shoulders are slumped," she says. "Their mood quickly changes as we guide them through their personal shopping experience. Their confidence grows and their outlook brightens." Hunt's impeccable eye for fashion and warm heart have made her a perfect fit for Dress for Success. The services offered do not just involve clothes. "We not only help these ladies look and feel good, we also assist with key components to finding a job, such as interviewing skills, résumé help and networking. Our goal is to guide them on their way to living a successful and sustainable life."
Briana Daniel
While in college, Daniel would often jog around Lake Eola. She noticed several homeless people in the area and decided she wanted to help. Not knowing much about the needs of the homeless, Daniel took it upon herself to live among them for two weeks. During that time, she realized that hygiene was a major problem. Daniel soon founded Street Team Movement, a nonprofit organization that provides essential hygiene products via repurposed vending machines, laundry services and remedial aid. To ensure those in need were aware of these services, Daniel spent another two weeks living on the street passing out information on Street Team Movement. Now in its eighth year, the organization continues to grow and improve its outreach capabilities and services as well as its connection with the people it benefits. "We are not out there to judge; we are there to guide them through this with love and support," she says.
Renée Bertalan

After graduating from college in Minnesota and completing an internship in New York City, Bertalan decided to move back home to Central Florida where she aspired to attain a leadership role in the workforce. As she climbed the corporate ladder, Bertalan realized there was so much that college and her internship had not prepared her for. "I was looking for a female mentor to advise and guide me but there were not many women in leadership positions," she says. After unsuccessfully trying to find a mentorship program for female businesswomen, Bertalan decided to start her own. In 2019, she launched her nonprofit, Kinetic-Her, which aims to advance women through career mentors and connections. Bertalan says the growing nationwide program, with mentors in 15 fields, has "restored my faith in humanity. The mentors understand what these young women are going through and are able to provide the needed guidance and support."
Elizabeth Forrest
Forrest was just 10 years old when she founded the nonprofit organization Touched by Type 1, after being diagnosed with Type 1 diabetes. Touched by Type 1 seeks to elevate awareness of the disease, raise funds for a cure and inspire those with diabetes to thrive. The organization's signature event, "Dancing for Diabetes," began as a neighborhood fundraiser in Forrest's parents' driveway when she was 11 years old. Over 20 years later, it is an extraordinary production now held at the prestigious Walt Disney Theater at the Dr. Phillips Center in Orlando. "I want to do everything I can to make sure that all others touched by Type 1 diabetes have the most positive experience," she says. "None of us wanted this disease or chose this path, but we can all choose how we move forward and how we can impact ourselves and those around us."
Catherine Clark
In 2016, after watching a documentary on human trafficking, a horrified Clark decided she had to do something to combat the horrendous epidemic. Not very familiar with the problem or how to offer assistance, Clark began to research and learn more about human trafficking. She connected with organizations and leaders who rescued and offered aid to victims. Clark learned that there was not much assistance or support for survivors after a certain period of time. That revelation inspired her to start her own nonprofit organization, Beauty Boxx. The mission of Beauty Boxx is to bring awareness to this global issue as well as provide empowerment resources to survivors through its programs which offer social enrichment, financial literacy, fashion etiquette, health and wellness, and life coaching. "Our mission is to create a community in which we help survivors move forward with their meaningful lives through long-term healing and restoration," she explains.
Heather Bedor
In March of 2020, with strict stay-at-home orders, many restaurants were in danger of going out of business. Bedor, a hospitality and restaurant consultant, decided to start a Facebook group called "Still Serving" to showcase local restaurants that were still able to provide to-go and curbside meals. Bedor stopped taking a salary but continued to work hard, helping to create menus and specials as well as creating buzz to attract diners. Still Serving's membership quickly grew with restaurateurs as well as foodies who were offered prizes to patronize local restaurants.  Many restaurants have credited Bedor's generosity and knack for networking and cross promotions with keeping their establishments from closing down. She is now looking to turn Still Serving into a nonprofit so she can offer more assistance to restaurants and service staff even after the pandemic is over. "Local restaurants always need support and I feel honored to help," she says.
Tracy Jacim
While working as a television news reporter, Jacim often connected with the people she was reporting on. As time went by, she began to cover more health-related stories and found herself advocating on behalf of people of all ages and illnesses who were up against tough odds but surviving and thriving in spite of it all. Around this time, breast cancer became more prevalent in Jacim's family. She decided she wanted to have more of an impact on those dealing with breast cancer so in 2019, she joined the Florida Breast Cancer Foundation. Jacim currently serves as president and CEO of the organization, which funds scientific research and education, as well as offers advocacy, support and direct service grants. "Having watched many loved ones go through this difficult process, I know the importance of support," she says. "Support brings about hope and the power to overcome even the toughest of obstacles."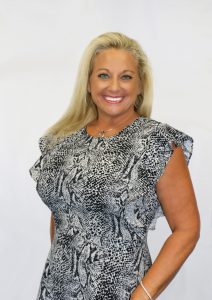 Stacy Burgess
Ten years ago, while driving one of her son's classmates home from school, Burgess discovered that the young boy and his family were living in a hotel. She soon learned they were one of many "hotel homeless" families. Heartbroken by what she saw, Burgess decided to start a nonprofit called Give 2 Live, which supplies weekly hot meals as well as clothing and basic necessities.  The organization also provides funding for at-risk children to participate in sports while helping parents with job placement. Another important mission of the organization is to locate and rescue victims of sex trafficking, as well as educate about this epidemic in the hopes of preventing children from falling prey. Over the years, Burgess has grown very close with the families she helps, especially the children. "Sometimes the thing these kids need most is to just know that someone is there who cares about them," she says.
Dr. Manal Durgin
Durgin, the medical director of Devereux Advanced Behavioral Health, has been treating children, adolescents and adults who struggle with mental health conditions and/or intellectual and developmental challenges and supporting their families for over two decades. Devereux provides a continuum of multidisciplinary services for individuals with mental health, behavioral, and intellectual and developmental challenges who often require specialized or intensive treatment. They also offer specialized services for sexually exploited youth and adults, many of whom are victims of human trafficking because they felt they had no other options. Durgin often goes beyond the call of duty, providing classes to community foster care providers, providing consultation to local hospitals for autism spectrum disorders, and advocating on behalf of behavioral health care issues. "I try to imagine myself experiencing what the individuals in our care, their families and my co-workers may be experiencing," she says. "I try to listen before I speak."