Taco Time!
It certainly doesn't have to be Tuesday for us to enjoy a plateful of tacos. In fact, we'd argue that every night is taco night in the Greater Orlando region. That's because our area is replete with eateries that serve them in a variety of enticing ways and aimed at every palate. And while such a wonderful array of creative offerings makes it hard to narrow down the best, this list of 15 standouts surely has some of our favorites—and chances are, yours too. 
BLACK ROOSTER ASADA TACO at Black Rooster Taqueria
This eponymous offering is can't-miss with well-seasoned seared beef piled generously atop a handmade corn tortilla and merged with pickled poblano, applewood smoked bacon and stringy melted Oaxaca cheese.
PANKO CRUSTED COD TACO at Tako Cheena
A selection from the "signature tako" portion of the menu, a hearty piece of encrusted cod—slightly coated with a tantalizing homemade sweet and sour sauce and garnished with scallions—is slid into a tortilla that's been lightly dressed with spicy mayo for a fiery kick.
CAMPECHANO TACO at Hunger Street Tacos
Trying to choose a single taco to highlight here is quite the task considering the many quality options available, but the one we can't stop thinking about is this amalgamation of seared brisket and piquant chorizo with a tangy avocado salsa verde.
PORK BELLY TACO at The Hammered Lamb
The silkiness of caramelized onions pairs perfectly with the meaty pork belly, while the acidic pico de gallo plays well with the creamy housemade aioli. You can choose your style of shell-hard or soft—and each adds its own dynamic to the dish. 
CHICKIRA TACO at Cocina 214
Rotisserie chicken that's been rubbed with peppery achiote spice is piled onto a medley of rice, roasted corn and fresh queso and served on a corn tortilla. Add a little sautéed poblano salsa and you have a taco you won't soon forget.
HONGOS TACO at Rocco's Tacos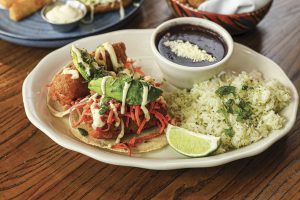 What do you get when you mix mushrooms with a little jalapeño, garlic, tequila, pico de gallo, pickled red onion and fresh cilantro? One of the more surprisingly satisfying tacos you'll sink your teeth into, that's what.
VIETNAMESE TACO at Viet-Nomz
Choose your protein—chicken, steak, pork, crispy tofu or fish bites (we'll highly suggest the fish and the tofu)—to set the stage for homemade slaw, pickled carrots, daikon and drizzles of both of the restaurant's signature nom-nom sauce and spicy-nom sauce.
CRISPY FISH TACO at Reyes Mezcaleria
Beer-battered red snapper is fried to perfection, providing a nice audible crunch with each bite of the meaty fish. A vibrant carrot slaw provides further textural balance to offset the creaminess of fresh avocado while a lime aioli amplifies your taste buds.
LOBSTER MAC & CHEESE TACO at 534 Scratch Kitchen
One of the more popular comfort foods in recent years gets elevated as truffled corkscrew macaroni and cheese is topped with poached lobster, avocado and finished with a fragrant saffron lobster sauce and leeks.
TACOS EL CAMOTE at The Pass Progressive Cuisine
Even the most devout carnivore would admit that these veggie tacos made with sweet potatoes and roasted cauliflower are sublime. Chunks of avocado, sprinkles of Oaxaca cheese and a rich garlic aioli help tie it all together.
BUTTER CHICKEN TACO at Pig Floyd's
One of our favorite Indian dishes gets the taco treatment, and what else would you expect from the creative culinary minds at this joint? Delicate jasmine rice blends with char-grilled chicken thighs robed in tikka masala and garnished with pumpkin seeds, sliced jalapeño and fresh cilantro.
SESAME RIBEYE TACO at Bartaco
The star of this taco is the tender and succulent shaved ribeye that's been marinated in a sweet sesame-soy sauce and topped with a spicy kimchi that not only packs a punch, but also delivers a further complexity of flavor.
DOUBLE D's TACO at Gringos Locos
This playful taco consists of a silky queso spread on a soft tortilla which envelops a crunchy shell and is then filled with your choice of beef, roasted pork, chicken or beans before the additions of shredded cheese, lettuce, pico and sour cream for good measure.
SHRIMP TIKIN-XIC TACO at MX Taco
Why it may look rather simplistic, this taco—which is a nod to the Mayans' cultural influence in the Yucatan—is anything but run of the mill. A generous portion of shrimp that has been seasoned with achiote and bitter orange shines through with minimal inclusions of pickled onion and cilantro.
BUFFALO SOLDIER at Tin & Taco
When you're not sure if you're craving tacos or wings more, this favorite offers the best of both worlds. Shredded chicken is sauced Buffalo-style and cloaked with shaved celery, green onion, blue cheese crumbles, homemade ranch sauce and placed into a signature soft shell that's been crusted in Parmesan.