Chef Recipe: Umi Japanese Restaurant's Shrimp Yaki Udon
Chef Stanley Yun teaches how to make one of Umi's most popular dishes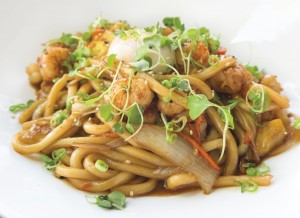 Offering a unique twist on Japanese cuisine, Winter Park's Umi uses meticulous methods to prepare each dish. This month, Chef Stanley Yun teaches how to make their Shrimp Yaki Udon, which you can prep ingredients for ahead of time and have dinner on the table in 15 minutes.
Ingredients
3/4 cup frozen, peeled shrimp
1/2 medium zucchini, 1" thick slices cut in quarters
1/2 medium onion, diced
1/4 cup cabbage, julienne
1/4 cup carrots, julienne
1/4 cup green onions, thinly sliced (white side only)
1/4 cup bean sprouts
1/2 tbl. chopped garlic
1 tbl. scallions (for garnish)
1/2 lb. udon noodles
1 half-cooked egg (ideally poached, but boiled is acceptable)
1 tbl. Worcestershire sauce
1 tbl. oyster sauce
1 tbl. saké
1 tbl. oil
Preparation
1. In a mixing bowl, combine oyster sauce, Worcestershire sauce, saké and a pinch of garlic
2. Mix well and set aside
3. If using half-boiled egg, boil it for 6 minutes, immediately place in ice water to stop cooking, remove from water once cooled down, and set aside
4. Blanch udon noodles in boiling water for one minute
5. Cool off immediately under cold running water and drain
6. In a heated pan or wok, add the oil, remainder of garlic, all vegetables and shrimp
7. Stir constantly, being careful not to overcook the shrimp
8. Add bean sprouts and gently stir for 30 seconds
9. Turn the heat to high, add udon noodles, the sauce mixture from step 1, and cook together for one minute, stirring constantly
10. Remove from heat and place everything into a serving bowl
11. If poached egg, gently place on top; if half-boiled, peel and place the egg on top of the noodles
12. Garnish with scallions and serve
13. When ready to eat, break egg and mix well
For Umi Japanese Restaurant reservations, call (407) 960-3993 or visit them online at UmiWinterPark.com.
This article originally appeared in Orlando Family Magazine's February 2017 issue.