DIY Elf on the Shelf Apron Skirt & Shoes
The Elf on the Shelf leaped from the pages of its 2005 picture book to become a new Christmas tradition. "Scout elves" hide in homes to monitor conduct with an objective to report back to Santa at the North Pole. Parents enjoy the added encouragement to aim for "nice" behavior; while kids wake up each day excited to discover their Elf's new location.
Santa Claus always wears his big red suit and, typically, the Elf wears a red jumpsuit. But my daughter Mia asked why her Elf, Josie, didn't wear a dress or shoes. I answered her question by creating girlie no sew Elf accessories and, one morning, Mia discovered Josie in her new Elf outfit beside craft materials. Follow these instructions to create a skirt and shoes either with your child or utilize as one of your Elf on the Shelf ideas.
Elf Apron Skirt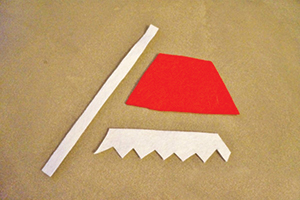 Materials
Red and white felt
Scissors
Hot glue gun and glue sticks
Instructions
Cut out a red trapezium-shaped apron skirt, white chevron border (to match existing collar), and white waistband.
Using glue gun, adhere border and waistband to skirt; let dry.
Tie apron skirt around waist of Elf.
Elf Shoes
Materials
Black felt
Lace ribbon trim
Red craft flowers
Scissors
Hot glue gun and glue sticks
Foam paint brushes (or pencils/pens)
Instructions
Cut two strips of black felt; fold each strip in half to form rectangles.
Free-hand cut boots shapes (to achieve desired feminine or masculine style). Don't worry if you flub up… just try again.
Take two foam paint brushes (which are about the width of the Elf's legs) and hot glue the shoes around the base of brushes.
Add shoe design as desired, such as lace trim and tiny red craft flowers, using glue gun. Let dry.
Slide shoes off the paint brushes and onto legs of Elf.