Let the Good Times Roll
Every spring in our April issue, we love to take a tour of Walt Disney World, Universal Orlando and the rest of the amazing amusement parks and attractions that make Central Florida one of the entertainment capitals of the world to shine a light on the latest rides, exhibits and events coming to each one in the months ahead. Following the unprecedented closures and changed park experiences brought on by the pandemic, this year more than ever we are excited to present this helpful guide as local residents and guests from around the globe yearn to return to these magical destinations for some good, old-fashioned fun with family and friends.
Whether it's a special milestone birthday at Disney, a dinosaur roller coaster ready to scare and thrill Universal guests or the continued growth at I-Drive and ICON Park, there is plenty to be excited about.
Walt Disney World Resort
A 50-year-old birthday only happens once, so Disney World will be marking the special occasion with an unforgettable party that lasts for 18 months. The resort officially welcomed guests for the first time on Oct. 1, 1971, and sure enough, "The World's Most Magical Celebration" will kick off on the same date this fall.
To honor the anniversary, icons at each of the Disney theme parks in Orlando will transform into beacons of magic when the sun goes down, radiating a special "Earidescent" glow. These include Cinderella Castle at Magic Kingdom, Spaceship Earth at EPCOT, Animal Kingdom's Tree of Life and The Hollywood Tower Hotel at Hollywood Studios.
In addition to other events soon to be announced, Mickey Mouse and Minnie Mouse will be hosting the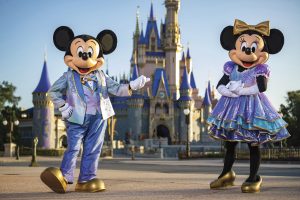 celebration and donning new looks custom made for Disney World's 50th.
Disney's Blizzard Beach is also hitting a significant number, as the water park turns 25 in 2021. After remaining closed all of last year in the midst of the pandemic, it recently started welcoming guests again in March. Other notable reopenings include restaurants like The Crystal Palace at Magic Kingdom and Chef Mickey's at Contemporary Resort.
EPCOT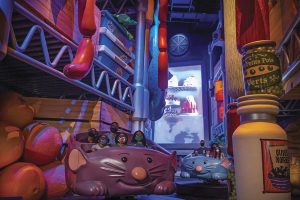 A historic transformation at this xx-year-old park is currently underway and some of the changes are already noticeable—such as the reimagined entrance fountain in front of Spaceship Earth—while others will be by the end of the year. The most anticipated is Remy's Ratatouille Adventure, based on the beloved Pixar film, which is set to open on Oct. 1 as part of the 50th anniversary celebration. Visitors to this family-friendly attraction will feel as if they have shrunk to the size of a rat as they race across Gusteau's kitchen floor with Chef Remy.
Remy's Ratatouille Adventure will be situated in an expanded area of the France pavilion, which will also include a restaurant specializing in crepes and buckwheat galettes called La Creperie de Paris.
Another Pixar character, musician and teacher Joe Gardner from last year's Soul, is the star of a brand-new exhibit that opened in February. The Soul of Jazz: An American Adventure, takes guests on a musical tour to learn more about this wonderful genre of music originated by African Americans.
Finally, The Taste of EPCOT International Flower & Garden Festival features floral sculptures of Disney characters such as Lady and the Tramp and Anna and Elsa, along with 20 different lush gardens throughout the park.
MAGIC KINGDOM
A major part of the fun at Disney World, especially Magic Kingdom, is getting a chance to pose for pictures or hug a favorite character. While that has certainly changed in the time of COVID-19, character interactions remain a crucial piece of the experience—they have just been modified to promote safety.
Several times per day, Rapunzel, Tiana, Snow White and others travel through the streets on floats as part of The Royal Princess Processional. Young fans can also wave and shout hello while watching the Mickey and Friends Cavalcade, and Cinderella's evil stepsisters are known to step onto the balcony at Cinderella Castle to mingle from a distance with visitors—just don't expect them to be on their best behavior.
HOLLYWOOD STUDIOS
Guests continue to flock to the popular Star Wars: Galaxy's Edge attraction, and they are likely to spot leaders of the Resistance like Rey and Chewbacca, who often can be found on platforms above the garage in Black Spire Station. Mr. Incredible and his family of superheroes, along with Buzz Lightyear, Woody and their Toy Story pals, are the stars of the Pixar Pals Motorcade, while Disney Junior standouts like Doc McStuffins and Vampirina cruise down Hollywood Boulevard in convertibles.
ANIMAL KINGDOM
Character interactions here often take place on the water, with prime examples being Donald's Dino Boat Bash or the Discovery River Character Cruise, featuring Timon and Rafiki or Pocahontas and Meeko. Of course, plenty of beautiful animals can also be found throughout the park, such as the new baby white rhinoceros born at Animal Kingdom in October. Nigerian dwarf goats can now be viewed at the warden's outpost near the end of Kilimanjaro Safaris, which is also home to a young Masai giraffe on the savanna.
DISNEY SPRINGS
Go behind the scenes to discover how your favorite animated characters are made with a new show at Disney Springs called Drawn to Life. The first-ever collaboration between Cirque du Soleil, Walt Disney Animation Studios and Walt Disney Imagineering, it combines the drawings of the animator with live acrobatic performances and dazzling choreography.
Satisfy your sweet tooth at Gideon's Bakehouse, which has garnered international acclaim just five years after its founding and recently opened its second location and first at Disney Springs. An interactive chocolate experience is promised at the M&M's Store, while Everglazed Donuts & Cold Brew has all the classic offerings as well as unique takes like Oreo Surprise and Peanut Butter Explosion.
Universal Orlando Resort
The best news to come out of Universal is that work has resumed on Epic Universe, the groundbreaking third theme park for the resort in Orlando. Construction was paused last July as the company coped with the pandemic, but crews are back at it and the pace will slowly amp up until reaching full speed in the next few months. Also featuring an entertainment center, hotels, restaurants and shops, the project will be located on a 750-acre site and will nearly double Universal's footprint in Central Florida.
UNIVERSAL STUDIOS
Halloween Horror Nights will return for its 30th year this fall, and a familiar special guest is back to help mark the milestone. Wisecracking ghost Beetlejuice—who hosted the first event in 1991, when it was called Fright Nights—will be the star of a new haunted house based on Tim Burton's legendary film.
Running on select nights from Sept. 3 through Oct. 31, Halloween Horror Nights will also feature nine other terrifying haunted houses, five scare zones and two live shows.
ISLANDS OF ADVENTURE
The first roller coaster based on the blockbuster Jurassic World franchise is set to debut this summer. Jurassic World VelociCoaster will hit speeds of 70 miles per hour, reach heights of 155 feet and feature an original story including stars of the film Chris Pratt, Bryce Dallas Howard and B.D. Wong. One of the highlights is a one-of-a-kind, 360-degree barrel roll over the Islands of Adventure lagoon.
CITYWALK
New safety guidelines have allowed a host of favorite restaurants to reopen for full-service dining, including Jimmy Buffet's Margaritaville, Bubba Gump Shrimp Co. and Bigfire, which debuted last year. Several shops and entertainment venues such as Hollywood Drive-In Golf are also welcoming guests.
Additional Adventures
LEGOLAND FLORIDA
Legoland is turning 10 in 2021 and throwing a year-long party to mark the big birthday. One of the exciting additions is Brickbeard's Watersports Stunt Show, featuring Brickbeard and his buccaneer recruits, a new female pirate character, gravity-defying water stunts and original music. A new stage show in Lego City, new shade structures and models are also part of the festivities.
Legoland Florida has also announced that construction has begun on the world's first Peppa Pig Theme Park. Slated to open in 2022, this standalone park will have rides, interactive attractions, water play areas and more.
I-DRIVE
Exciting developments on the entertainment and dining fronts continue to transform the I-Drive Resort Area. These include the addition of an indoor arcade and go-kart track at Dezerland Action Park and the opening of Afrotainment TV, a 30,000-square-foot television studio featuring a 220-seat auditorium, a 180-degree cyclorama, a music recording studio and an event hall. Both came on the scene in December.
PAC Pizzeria, with Brazilian influences, offers traditional and gourmet pies and started serving local diners in October. Cheddar's Scratch Kitchen debuted a month later, specializing in affordable comfort food made from scratch. The Hampton Social serves everything from seafood to pizza to brunch in the space formerly occupied by Tommy Bahama's at Pointe Orlando, while KAVAS Tacos +Tequila is slated to open this fall.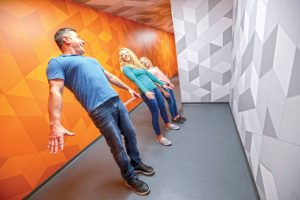 ICON PARK
The pandemic has not slowed down the incredible growth happening at this easily accessible entertainment complex, which is introducing several eagerly awaited attractions in 2021. Starting this summer, guests will be able to test their bravery on the ICON Park Slingshot, the tallest of its kind in the world at 300 feet. Riders shoot out of an exploding volcano 450 feet into the air at speeds of 100 miles per hour.
At 430 feet, the Drop Tower is another thrilling adventure that requires a lot of courage. It starts off peacefully with gorgeous views of the rest of the park and I-Drive, but then the vehicle tilts forward 30 degrees and plummets to the ground at 75 miles per hour. It will also debut this summer.
While those rides are geared toward thrill-seekers, In The Game is a family-friendly attraction to be embraced by visitors of all ages. A 7,000-square-foot space inside The Wheelhouse, it contains an interactive mirror maze, themed escape room, virtual reality, a Bob's Space Racer Game and the 7D Park Ride Adventure.
MUSEUM OF ILLUSIONS
Also found this year at ICON Park is this educational and enjoyable museum, which can be found in 20 cities around the world and recently opened in Orlando. Offering interactive, immersive and fun experiences for the whole family, it has more than 50 exhibits that will trick your senses and teach you about vision, perception, the human brain and science. Some of the exhibits are global favorites while others are exclusive to this location and have never been seen before.
GATORLAND
Marshall the Kookaburra is the latest addition to Gatorland's animal family. Native to Australia, kookaburras are the largest members of the kingfisher bird family. Marshall is 2 years old and came to the alligator capital of the world via a loving home in South Florida. He has taken up residence near the park's Australian saltwater crocodile exhibits.
SEAWORLD
A multi-directional steel roller coaster known as Ice Breaker will be wowing the crowds at SeaWorld starting this spring after getting pushed back from its original debut because of the pandemic. It reaches a maximum height of 93 feet and speeds of 52 miles per hour. Aquatica, the water park at SeaWorld, also has a fun new ride called Riptide Race, which consists of dueling water slides and a 68-foot tower.
MCKEE BOTANICAL GARDEN
Located less than two hours from Orlando, McKee Botanical Garden is home to 10,000 native and tropical plants and one of the largest waterlily collections in the state. Current highlights include an award-winning Lego exhibition from Sean Kenney featuring 13 sculptures made with over 800,000 toy bricks, and a magnificent sculpture made of transformed willow saplings from internationally renowned sculptor Patrick Dougherty and his son Sam. Upcoming events to keep an eye on are Community Appreciation Day on May 15, with $1 admission, and the 16th Annual Waterlily Celebration on June 19.
WILD FLORIDA
A massive expansion has added 185 acres to Wild Florida, making it the largest family-owned adventure park in the area and allowing guests to see more exotic wildlife than ever before. Bordering the Drive-thru Safari Park, phase one will be completed by summer and will allow Wild Florida to introduce many more rescued and relocated animals to add to the 150 already on the property.
OLD TOWN
This walkable entertainment complex filled with shops, restaurants and attractions is happy to welcome in Sugars Gallery, specializing in cakes and sweets for special events or just a nice dessert. Work off the calories at the Xtreme Ninja Challenge, an obstacle course inspired by the hit show American Ninja Warrior that challenges guests physical and mental strength.
HISTORY OF DIVING MUSEUM
Located in the Florida Keys, this unique museum celebrates the role that Florida has played in the exploration of life under the sea. It has family-friendly activities for guests of all ages, including a new exhibit this year examining representations of diving in popular culture, including film, television and music.
CEDAR LAKES WOODS AND GARDENS
The stresses of the last year can be relieved by reconnecting with nature, and where better to do that than with a trip to Cedar Lakes Woods and Garden? This beautiful botanical garden nestled inside an old lime rock quarry has views that will take your breath away, cascading waterfalls, more than 50 garden displays, koi ponds and more. Your Instagram page will look better than ever.
TWO TAILS RANCH
Founded in 1984, Two Tails Ranch is the only privately owned elephant facility of its kind and gives visitors a chance to get a closer look at these magnificent animals and learn more about the dangers they face.