A Day at Stanley Pond Adventure Farm
If you're looking for an exciting outing that the whole family can enjoy and won't break the bank, consider spending a day at Stanley Pond Adventure Farm. Located halfway between Lake Harris and Lake Apopka, near the small town of Astatula, the farm is less than an hour away from Orlando's theme parks but feels light years away from the long lines, high prices, and crazy crowds.
Bob Denis and his wife Suzi started the 20-acre homestead as a daylily farm and a way to enjoy the charms of country life and escape the demands of Bob's high stress job in the insurance industry. Stanley Pond is also a working ligustrum tree farm and groves of these popular evergreen trees line the farm's driveway, while grey herons and snowy egrets test their fishing skills alongside guests who come to fish the stocked catfish pond. It's a breath of fresh air and a slice of old world Florida scenery that make this family destination worth a visit.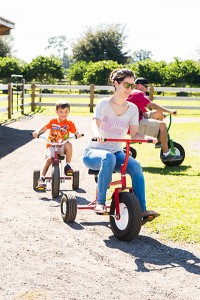 In 2007, Bob's daughter Tricia Merrill became involved in the operations and began hosting garden and flower enthusiasts clubs which came to enjoy tea in the open air pavilion and share gardening ideas. The concept grew to include a variety of groups and activities and, today, Stanley Pond Farms is a place cherished for a wide variety of outdoor adventures ─ from rubber duck races and air cannons, to riding horses, or visiting the honey bee observatory.
Plan Your Visit
The farm takes reservations for group visits year-round, and will be open to the public on Saturdays and Sundays starting October 3rd. On weekends in October, the farm will host a fall festival where families can choose a pumpkin from the pumpkin patch, visit with miniature horses, enjoy story time in the general store, and engage in friendly battles of "pumpkin chunkin" to see who can launch pumpkins (and other projectiles) the farthest, using the farm's unique launcher on the edge of the pond. Hamburgers and hot dogs will be available for purchase, along with cool slushy drinks made from fresh Florida oranges and limes.
At the end of November, Santa Claus will stop in from the North Pole, and all ages can "sled" down the 60-foot slide. Who knows? It might even snow! And you can even shop for unique stocking stuffers at Stanley's General Store.
The adventure farm is a popular birthday party venue and kids of all ages can jump their hearts out on Uncle Jack's jumping pillow, dash up sand mountain, and race around the tricycle track. Party packages include a rental space for refreshments, and activities can be customized to suit the wishes of the birthday child. "You can add on horse rides, the cow train, or airboat rides," said Merrill. Party hosts can bring in their own food or have pizza delivered for a hassle-free event. Parents, grandparents, and chaperones are free, and the best part is that you don't have to clean up afterwards!
Stanley Pond also facilitates school field trips, groups, and educational tours throughout the year for any interested parties. For example, the farm has hosted students with physical handicaps and a group from a nursing home who spent the day fishing. "I say it's fun for ages one to 95," said Merrill. "We have had grandparents out here that love it. That's the whole goal… to get families to interact with each other."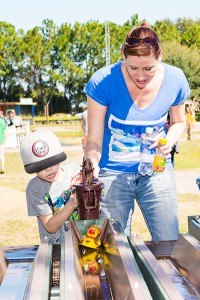 Field trips offer an educational component, such as an excursion to the honey bee observation area, where kids can play "bee trivia" and watch a short movie about the lifecycle of the honey bee. In the fall, the farm will debut a sunflower maze, which will include a story time and facts about sunflowers. Fire prevention, anti-bullying, and water safety are a few other topics that are often incorporated into interactive field trip activities. And there's an air-conditioned theater where groups can gather for programs and informative films.
Personal perspective? After several fun-filled hours of fishing, jumping, sliding, and firing the air cannon, it was hard to get my nine- and eleven-year-old sons to leave. My older one proclaimed it to be a day of "good old fashioned fun," and the younger one wanted to know when we could come back. That's a successful family outing in my book. Ready for your adventure? Stanley Pond Adventure Farm is located at 15426 County Road 48 in Astatula. Tickets are $9.95 when purchased online at StanleyPondFarm.com. Call (352) 742-8180 for hours of operation and more information.