A Ray of Hope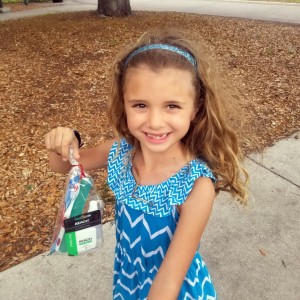 At just 8 years old, Lucy Dicocco is already making a huge impact with her initiative to help Orlando's homeless population.
Lucy DiCocco, like most 8-year-olds, is constantly on the lookout for candy or other sweet treats.
What makes her different from other third-graders, however, is that the chocolate bars or brownies she finds are not for herself. They are actually for a group of people she has come to know well over the last two and a half years— the homeless men and women of downtown Orlando.
Spark Hope, the initiative Lucy started with her family to help bring food, water and other necessities to the homeless, has taken off in a way they never could have imagined. Now the DiCoccos can be found strolling through Lake Eola once a month with their red wagon full of razors, toothbrushes, sandwiches and whatever treat Lucy has chosen for that trip to brighten up someone's day.
"It's definitely not anything that we expected when we went down for the first time," says Bonnie DiCocco, Lucy's mother. "Once we had done it for the first time, it was just such a great feeling for her and the whole family. We knew we were going to keep doing it, but we didn't necessarily know it was going to grow to this magnitude and allow us to do it on the scale that we are now."
Lucy was just 6 in November 2017 when she was shopping with her mom at PetSmart. Upon checking out, they were asked to donate a stuffed animal to a child in need. Bonnie did and, like most people would, walked out of the store without giving it another thought.
By the time they got to their car, Lucy had a million questions for her mom about people in need, and soon the conversation had both of them in tears.
"At that point, to make her feel better I said, 'Let's do something good, and you can pick it. We can do something for the community or for somebody we know,'" Bonnie recalls. "She said, 'I know what I want to do—I want to help the homeless.' So that's how it started.
"It wasn't something we planned on doing or had given a lot of thought to previous to that moment. But from there it has really taken off. She has gotten so much support from the community, our friends, our family and everybody in Winter Garden."
Spark Hope was born just a few weeks after the visit to PetSmart, in time for that Christmas. At first, Lucy would put care packages or goodie bags together and hand them out in Lake Eola. Now she and her helpers—including her mom, her dad Ryan and her sisters Abby, Sophie and Charlie—load up the wagon with different bins.
People in need are given a bag and can fill it up with as much or as little as they choose.
"We give them razors, shaving cream, toothbrushes, toothpaste, deodorant and wipes," Lucy says. "We make peanut butter and jelly sandwiches and pass them out. We also bring peanut butter crackers and cheese crackers.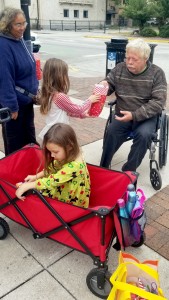 "They say, 'God bless you,' 'Thank you,' and 'You're my little angel.' It makes me feel really happy that I get to help them."
The DiCoccos have learned through the team at Matthew's Hope, another charitable organization in Winter Garden that serves the homeless, that bug spray and sunscreen are in demand during the summer months. Lucy also likes to bring dog food and toys for those who have pets.
Spark Hope has benefitted from an outpouring of donations from the community, and people looking to help can mail checks or drop off toiletries at Driftwood Market, the home décor and gift shop in College Park that Bonnie runs with her mother.
Lucy also makes and sells homemade earrings and dog treats at the store and other events around Winter Garden during the holidays to raise funds. She is grateful for the support she has received at Keene's Crossing Elementary School as well.
"My school has really supported me," she says. "A bunch of my classmates have given me donations and my teacher sent [information] out to the rest of the school. When the principal heard, I got to go in front of the whole school during the morning announcements so the rest of the school could also give me donations. My friends thank me for helping the homeless and they also say I'm a bright light."
Some of those friends, along with her grandparents and aunts, have started to join Lucy and her immediate family on their monthly visits to Lake Eola. Lucy is often greeted by familiar faces each time and is developing relationships with the people she helps.
"You wouldn't believe how incredibly thankful they are when we go down there," Bonnie says. "They'll say things to my husband and I like, 'Thank you for letting the kids see us. Most people shelter their kids from seeing us.' … They will introduce themselves to Lucy by name so she knows the names of the people she is helping. It's really neat. My husband and I have to wear our sunglasses when we go down there because we are tearing up the whole time."
Having already impacted so many at a young age, Lucy is eager to continue sparking hope in her community for years to come.
"Her goal is to help as many people as we can and to grow it as feasibly as we can," Bonnie says. "We want to help her build this legacy that she can take forward for as long as she'd like to. Her three sisters help her get all the donations and sort through everything, and we think it's really neat they can all build this thing together that could potentially last forever or go on a long time."
This article originally appeared in Orlando Family Magazine's August 2019 issue.