A Seat at the Table
Dining out in the pandemic is certainly different, but most locals are finding it to be a welcome respite.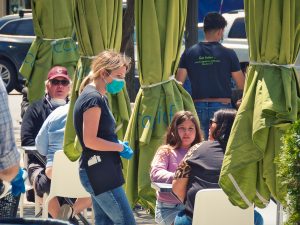 Since the onset of the COVID-19 pandemic, one of the hardest hit areas has been the restaurant industry. Already a challenging business, without diners filling seats regularly, it was only right for owners, chefs, servers and more to worry about their futures. Slowly, as restrictions began to be rolled back, some folks were thrilled to make their way back to their favorite eateries, while other would-be diners weren't comfortable sitting down to a meal in public just yet.
Then news came in late September that Gov. Ron DeSantis was lifting all coronavirus restrictions, paving the way for restaurants (and bars) to go back to 100 percent capacity levels should they choose.
While it remains to be seen if restaurants will be packed anytime soon, Central Floridians have certainly been making the most of the situation when dining out. Allyson Gregg captures her latest foodie endeavors around the Orlando area on her Instagram page and has been taking advantage of all the local culinary scene has to offer, whether ordering takeout or dining al fresco. But she is doing so with a cautious approach.
"At the end of the day, if you catch the virus, you catch the virus. But if you want to prevent it, do all of the things they're telling you to do: wash your hands, wear a mask, keep your distance. That's really all you need to do," she says.
But just because things have shifted in recent weeks, Gregg feels that those clamoring for the way things were pre-pandemic need to fully appreciate the nuanced situation.
"You can't pretend like it was before, because I don't think it will be that way for a while," says Gregg. "People keep wanting to go back to normal, but this is the new normal. This is how it's going to be for a while and I think people are having a hard time dealing with that. It will take some growing pains."
Paul Johnsen knows the local restaurant and bar scene quite well. He's a former bartender who now works as an on-premise representative for spirits company William Grant & Sons. Prior to the pandemic, he and his wife—also a bartender—spent a lot of time dining out or grabbing drinks. But since the virus hit, they've been leery of the situation, especially with an infant at home.
"We have a new child who's only [7] months old. We used to go out a decent amount," says Johnsen. "We had him right before [the pandemic] and we even used to take him out. Now we're at the point where we don't want to take him anywhere. If he gets sick, how do you fix that?"
While those fears are more than justifiable, Orange County Mayor Jerry Demings says there are plenty of reasons to be hopeful, but stresses that it will take patience from all involved.
"Life will most likely not be the same as it was pre-pandemic for a long time, but we must continue to build consumer confidence in making a full recovery," he says.
Demings says he and his wife (U.S. Rep. Val Demings) have been patronizing their favorite restaurants on Sand Lake Road's Restaurant Row and they've been impressed by the safety measures put into place.
"My wife and I have seen the precautions taken by the restaurants and appreciate the care they are taking to keep both their employees and customers safe. Several times we have dined-in at restaurants and have felt safe and enjoyed delicious food," says Demings.
Savanna Chrostowski, of Orlando, agrees with that sentiment as she has been dining out two-to-three times a week during the pandemic. Preferring to sit mainly indoors, she acknowledges the noticeable changes like spaced tables and digital menus, but says for the most part things are as normal as they can be.
"I love eating out in general and it brings a sense of normalcy, but supporting local places is always a plus and the overall experience has honestly been great," Chrostowski says, adding she's always felt safe when visiting a restaurant.
"You are putting yourself at risk anytime you go anywhere, not just restaurants, but I feel they are doing a good job keeping up with the cleanliness," she says.
Another Orlando resident, Patrick Jardim, has been dining out even more. Thanks to his busy schedule, cooking isn't always a reality, so he's been eating at restaurants as much as five times per week. Aside from the obvious changes in atmosphere, he's noticed little else that's altered his typical dining encounters.
"Restaurants are doing the best they can during this time and I've never really had a bad experience," Jardim says. "The only real difference is that we wear masks now and are socially distanced from others. Servers are still pretty attentive and I also feel well-treated at grab-and-go places."
As Central Florida's restaurant scene continues to rebound, it's become clear that residents are eager to help keep the momentum going. And while it needs to be done in a safe manner, that shared interest is helping lift spirits up and keep hope alive.
"The pandemic has affected every aspect of how we do business not only in Orange County, but around the nation and it has cost our community billions of dollars," says Demings. "I cannot thank our business owners enough for being resilient and trying to stay safe, while finding creative and alternative ways to stay open and make a living. … Things will get better, but it will just take time. I have been pleased by this community's response and sense of togetherness in combatting the spread of this virus."
This article originally appeared in Orlando Family Magazine's October 2020 issue.