A Winter Waterland For Family Wonders
Central Floridians can add mermaids to their visions of sugar plum fairies this holiday season, thanks to the annual Winter Waterland Show at Weeki Wachee Springs State Park. This unique seasonal performance spreads holiday cheer through underwater choreography synchronized to an eclectic mix of modern and traditional holiday tunes. The environment may be a bit different from the North Pole, but even Santa Claus will make time during his busiest season to dip into the wonders of this Winter Waterland!
The festivities will create a memorable splash on December 8th – 9th from 6 pm to 10 pm, as the state park is transformed into a Winter Waterland with a holiday-themed mermaid show, plus a special wildlife performance, AK Dance Away show, kid's games and, of course, a visit from the Big Guy dressed in his red suit. Your family can enjoy all that this Winter Waterland has to offer with an admission of $8 for adults, $4 for kids ages 6-12, and free for kids five and under.
"The Winter Waterland mermaid show is reminiscent of the style of the famous Rockettes in New York City. We just deliver our energetic ballet performance by swimming underwater," said Marcy Terry, a Weeki Wachee Springs mermaid since 1997. Marcy and her fellow mermaid dancers say they are most excited about donning the seasonal costumes, experimenting with (waterproof) make-up, and igniting holiday delight among guests of all ages. "We get to play dress-up and make magical characters come to life for children and their families. It's an incredible feeling to see joy sparkle through a child's eyes thanks to the entertainment of our enchanted mermaids. We are so fortunate to have this show here in Florida and we hope families enjoy this holiday performance, as well as our other shows throughout the year."
Weeki Wachee Springs State Park will also host a beautiful Holiday Lights spectacular on December 14th-15th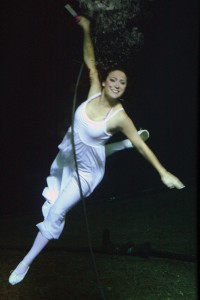 (with admission of $2 for adults/children & free for kids under five), sponsored by the Friends of Weeki Wachee Springs State Park. Scheduled entertainment includes holiday-themed dance performances, light displays, kids' activities, and a second visit from Santa Claus. This event will conclude with a Christmas parade on December 15th at 7 pm, comprised of holiday decorated motor vehicles from local businesses.
Nationally known as the City of Live Mermaids and located about an hour north of Tampa, Weeki Wachee Springs State Park is the only spring of its kind in the world. It is one of Florida's oldest and most unique roadside attractions. Even the mayor is a former mermaid! Now open for more than 60 years, visitors can indulge their imagination and explore the mythical lore of mermaids as they float alongside manatees, turtles, and beautiful bubbles within the Mermaid Theater, an elaborate structure built 16 feet below the surface. Each day, more than 117 million gallons of fresh, 72-degree water flows out of subterranean caverns to form a spring so deep that the bottom is nowhere to be found. The mermaids' waterland is 16 to 20 feet below the surface with a strong five-mile an hour current, making it quite an accomplishment for these talented performers to execute their dance sequences.
The mermaids are certainly the prettiest attraction at Weeki Wachee, but they are not the only one. Visitors can swim in Buccaneer Bay, take in the 'Misunderstood Creatures' animal show, or explore Old Florida's rich and natural beauty while drifting down the Weeki Wachee River on a riverboat. A family of colorful peacocks roams the grounds; and fresh water creatures such as turtles, fish, manatees, otters, and even alligators can be spotted swimming among the mermaids in the chilly spring. Don't forget to capture a magical moment with a mermaid and take the portrait home as a keepsake as irrefutable proof of the existence of these glamorous sea goddesses. Visit  www.weekiwachee.com to experience the wonders of Weeki Wachee!
Mermaid Mail
In an effort to impact families beyond just entertainment, the Weeki Wachee mermaids are supporting literacy efforts. Children are welcome to write letters and practice their penmanship. The mermaids (turned pen-pals) promise to answer all letters from students (under the age of 17). Encourage your children to handwrite a note to their favorite mermaid (or Prince) and ask about anything and everything mermaid-related. Feel free to include your child's sea-inspired artwork. Children will in-turn receive an autographed picture of their favorite mermaid and can also view a videotaped message on the Weeki Wachee Springs State Park Facebook fan page, Twitter page or YouTube channel.
All letters can be sent (with your child's name, age & phone number) to:
Weeki Wachee Springs State Park
Attn: "Tail Mail"
6131 Commercial Way
Weeki Wachee, FL 34606