Around the Neighborhood
A look at what's new around the area and what local leaders of some of Greater Orlando's most favored communities say is needed to move forward from the coronavirus pandemic.
The COVID-19 pandemic poses a challenge for Central Florida's cities and localities. For one thing, public officials must balance the health and safety of residents with the need to keep the local economy going. Add to that, the contradiction of trying to foster community while also keeping people apart.
Winter Park Mayor Steve Leary says uniformity across the region is needed for reopening businesses and adopting new guidelines for communities.
"I think the challenge for the city is really trying to work with federal, state, local and other municipalities to figure out how best to get back to normalcy so that we're all trying to be as close to the same page as we can," he says.
Allowing room for social distancing is something Winter Park has been experimenting with. To give people more room to spread out, the city recently held its farmers market at West Meadow Central Park instead of at its usual spot in the old train depot. The city also closed Park Avenue during Mother's Day weekend so restaurants could space out tables.
Winter Garden Mayor John Rees says the city's commissioners have talked about walling off Plant Street to cars but ultimately didn't pull the trigger because they were concerned about inadvertently creating a party-like atmosphere. But Winter Garden's famed farmers market has continued throughout the pandemic with some caveats: only vendors selling produce could attend, mask wearing was encouraged, and there was limited entry.
Rees says he is concerned about the survival of the many small businesses lining Winter Garden's streets.
"I don't want to differentiate between chains and our mom-and-pop restaurants, but certainly a lot of the chains probably have a little bit more stability to weather the storm than some of the small businesses," he says.
With many businesses having closed down during the onset of the pandemic, city budgets will take some hit in sales tax revenue. Rees believes the Winter Garden government was in a good place financially when the pandemic started, but he says a drop in tax revenue will have an effect on the city budget.
Ocoee Mayor Rusty Johnson says his government is concerned about the impact of lower sales tax revenue too but city officials have been proactive in reserving funds for such an unexpected event.
"I personally feel like we are well prepared to handle the financial impacts, which will continue to be an issue moving forward," he says.
Johnson says people may have to get used to life being different for quite a while.
"We need to prepare our minds for the fact that we are still a way off from a mass-produced, FDA approved treatment and vaccine," he says.
As Orange County begins the phased reopening of businesses, Mayor Jerry Demings is concerned that residents may relax too quickly on procedures that have been put in place to stop the spread of COVID-19.
"One of the biggest hurdles is citizen fatigue as it relates to willingly adhering to CDC guidelines for social distancing and reopening businesses, without regard for sanitary measures," he says.
Orange County's economy is heavily reliant on tourism. Unfortunately, the coronavirus has decimated the industry and, if using previous recessions as a guide, it could be a while before tourism regains the ground it's lost.
Demings says Orange County needs to attract other industries to make its economy more resilient in the long run.
"Orange County must continue regional efforts to further diversify its economy with higher-wage jobs," he says. "This should include a focus on the recruitment of workers in the STEM, financial services, health care, sports and higher education sectors."
Orlando Mayor Buddy Dyer says during this time when businesses are reopening and people are going back to work it's imperative that every resident puts public health and safety first.
"I continue to be so proud of our Orlando community," he says. "One of our greatest strengths is our compassion and concern for our neighbors. By wearing a face covering when leaving the home and being diligent in practicing physical distancing and good hygiene, we'll keep slowing the spread of COVID-19."
The Real Estate Market
The coronavirus began shutting down operations in Central Florida in the middle of March. By April, measures to stem the spread of the virus were in full force.
Now, in a recently released report by the Orlando Regional Realtor Association (ORRA), it can be seen how much of an effect that shutdown had on activity in the local housing market.
The ORRA's report, which only includes Lake, Orange, Osceola and Seminole counties, found that home sales dropped 25% in April compared to the previous month and 28% from where they were at this time last year. The drop was expected, says ORRA President Reese Stewart.
Meanwhile, the median price of single-family homes did not decrease and, in fact, rose 4% compared to March. Stewart says this is likely due to the ongoing housing shortage in Orlando.
"Sellers aren't really dropping their prices," he says.
The report also found that pending sales in April were down 17% compared to the previous month, indicating that sales for May may dip even lower.
In the short run, only time will tell how much the local housing market will be affected by the pandemic. However, for Stewart, the long run is a different story.
"We're confident in the long-term strength of Orlando's housing market," he says.
HOME SWEET HOME
A look at the hottest zip codes around Central Florida.
ALAFAYA
This census-designated area makes up most of East Orlando and encompasses the University of Central Florida, the well-trodden Alafaya trail and two of the area's most coveted neighborhoods, Waterford Lakes and Avalon Park. With large housing subdivisions and bustling throughways, Alafaya offers residents space to sprawl out but also the convenience of being a short drive to the beach or Downtown Orlando.
What's new: In March, Avalon Park Group broke ground for the Avalon Innovation Center, a four-story, mixed-use office and retail building located in the heart of Avalon Park. It will be home to a shared work space for entrepreneurs and possibly a restaurant on the bottom floor. And over in Waterford Lakes, more senior housing is on the way with a vacant property between Discovery Middle School and Waterford Elementary School set to be developed to meet the needs of the growing elderly population.
BALDWIN PARK
New urbanism is the defining feature of Orlando's Baldwin Park, which sits on a former military training base. With a strong retail and dining core set on Lake Baldwin, this neighborhood is home to many families and yearly special events that attract people from all over the city.
What's new: The nearby Fashion Square Mall is on its way to being turned into what Unicorp National Developments calls "a multi-level experiential outdoor lifestyle center." Besides retail, the company's proposed concept includes a number of apartments.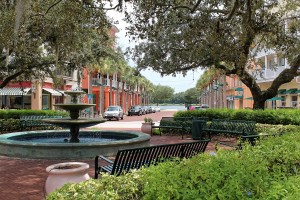 CELEBRATION
This census-designated place and master-planned community in Osceola County continues to be a quiet refuge from the business of the surrounding tourist attractions. With a quaint main street and family-friendly atmosphere, Celebration is still recognized as ultimately Walt Disney's vision of community.
What's new: The final housing development for Celebration, Island Village, is planning to open in fall of this year. The expansion is being built out by Mattamy Homes and is purported to have about 1,000 homes, along with retail, green space and recreational centers.
COLLEGE PARK
One of Orlando's oldest neighborhoods, College Park is highly sought after for its small-town feel. Besides its schools and proximity to Downtown Orlando, this district has a strong main street that includes many small mom-and-pop businesses.
What's new: Portions of the planned Packing District are sprouting up right on the edge of College Park, bringing new dining, housing and retail to the area. Some recent announcements include the addition of a craft brewery next to the already-in-the-works food hall.
DR. PHILLIPS
This census-designated area of Orange County continues to be a desirable place to live with Restaurant Row providing entertainment and shopping and a great number of upmarket subdivisions offering single-family homes. Of course, Dr. Phillips is right next to I-Drive and Universal Orlando, so residents can easily enjoy the thrills of Orlando's tourist district.
What's new: Construction has begun on a new high school that is set to relieve the overcrowded Dr. Phillips High School, as well as Freedom High School. The new school is scheduled to be completed in 2022. A new housing development called Carmel located near the intersection of Masters Boulevard and Hubbard Place is underway, with lakefront lots already selling for about $2 million.
LAKE NONA
Known as Medical City, Lake Nona has grown by leaps and bounds in recent years. While this Orlando neighborhood is a biomedical and educational hub, it's also becoming a destination being home to the U.S. Tennis Association National Campus and attractions such as Nona Adventure Park.
What's new: Orange County Public Schools is planning to build a new elementary school off of   Lake Nona Gateway Road to relieve Eagle Creek and Laureate Park elementary schools. And, always on the edge of technology, Lake Nona, through a partnership between telecommunication company Verizon and Tavistock, has recently created a 5G "living lab," where Verizon will be experimenting with developing new wireless technology.
MAITLAND
One of Orlando's oldest suburbs, Maitland is known for its cultural institutions, such as the independent movie theater the Enzian. In recent years, growth has become a major topic of discussion for this city's residents as development has brought more people and traffic to the area.
What's new: Residents of Maitland District 2 elected a new councilman, Vance Guthrie, into office after Councilwoman Bev Reponen hit her term limit. Guthrie is a member of the Maitland Planning and Zoning Commission and previously served on the city's Lakes Advisory Board. Meanwhile, Sydgan Corp. is in the process of planning a mixed-use district to sit on the edge of Lake Gem. The proposal includes 431 apartments and 180,000 square-feet of commercial space, along with bike paths, a boat ramp and several docks.
OCOEE
Bordering Lake Apopka, Ocoee has long been a more affordable West Orange city to reside but one that still boasts amenities and easy access to the city of Orlando. Currently, city officials are looking to secure an even brighter future for the area by creating a vibrant downtown core.
What's new: A new medical center is being planned for a location next to Orlando Health's 171-bed Ocoee hospital. Ocoee is also revamping its City Hall and recently approved a design for the building. The 12-million project is a part of the city's downtown redevelopment plan.
SODO
Main street district SoDo anchors a number of Orlando's historic neighborhoods including Delany Park and Lake Cherokee. With new commercial development, this city neighborhood is an emerging market that is attracting plenty of new residents.
What's new: The reconstruction of Orange Avenue began in February and is the start of a bigger reimagining of the area that will include new crosswalks and improved landscaping and sidewalks. Soon to come as well is a Florida Department of Transportation-built bike trail to go along Division Avenue that will connect to the Orlando Health SunRail Station.
WINDERMERE/LAKE BUTLER
Located amongst the Butler Chain of Lakes, the town of Windermere is most known for its quaintness and small town charm. Surrounding Windermere is Lake Butler, a census-designated place that contains desirable neighborhoods like Isleworth and plenty of lakefront property.
What's new: A new high school is under construction in nearby Horizon West and is set up to give some relief to Windermere and West Orange high schools. Meanwhile, homebuilder Toll Brothers is in the early stages of creating a new luxury home community on 80 acres just north of the town of Windermere.
WINTER GARDEN

Winter Garden is known to have some of the best amenities including the West Orange Trail and its brick-paved historic downtown. But what many residents say they like the most about living here is the strong sense of community to be found among neighbors.
What's new: In the March election, Winter Garden commissioner Lisa Bennett held onto her District 1 seat after defeating challenger Joseph Richardson. Residents also approved a number of charter amendments including making term limits for the commission four years instead of three and allowing commissioners to vote on emergency measures by telephone and other audio-visual methods. Winter Garden is bringing in new businesses too and will soon be home to the North American headquarters for a laser scanning technology company called Riegl.
WINTER PARK
Winter Park has branded itself as "the city of arts and culture," a fitting vision for a community that has one of the largest annual art festivals in the area and such institutions as the Charles Hosmer Morse Museum of American Art and the Albin Polasek Museum & Sculpture Gardens. Considered one of Central Florida's most cosmopolitan burbs, Winter Park is home to many families but also attracts lots of visitors.
What's new: In the March election, Winter Park had two city commissioner seats up for grabs. Seat 2 went to Sheila DeCiccio, an attorney who's lived in Winter Park for 37 years; and Marty Sullivan, a retired engineer who first moved to Winter Park in 1982, nabbed Seat 1. Residents approved a number of charter amendments as well including establishing a minimum annual base salary of $12,600 for city commissioners. The city is also upping its hotel capacity to accommodate more visitors with a possible three-story hotel in the works for W. Morse Boulevard.
This article originally appeared in Orlando Family Magazine's June 2020 issue.