A Beloved Neighbor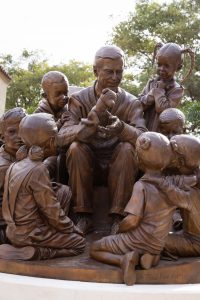 Rollins College recently unveiled a new sculpture in honor of adored alumnus Fred McFeely Rogers, better known as Mister Rogers. As creator and host of Mister Rogers' Neighborhood, Rogers connected with viewers of all ages, sharing messages of kindness, empathy and acceptance. The critically acclaimed program ran from 1968-2001. 
Rogers' connection to Rollins College dates back to 1948 when he transferred from Dartmouth College. It was while attending the school that he met his wife, Joanne. In 1951, Rogers graduated with a bachelor's degree in music. Throughout the years, Rogers visited the campus and kept in contact with staff. Sharon Carnahan, executive director of the Rollins College Child Development and Student Research Center, recalls Rogers visiting many times and providing guidance on the programs offered.
After his passing in 2003, Carnahan says, "Joanne continued to share his message and helped us develop our curriculum and grow our program, which emphasizes social and emotional development in children, all of which comes directly out of Mister Rogers' ethos of caring. Many people don't realize how closely he worked with child development professionals, even going over the show's scripts weekly with them. His work is soaked in child development research."
Several years ago, Paul Day, a British artist renowned for his public monuments, was commissioned to create a sculpture to honor Rogers' legacy. Prior to the project, Day says he was unfamiliar with Rogers. "In some ways, I think it was an advantage that I came to know of Mister Rogers as an adult because by researching him and watching the program, he brought out the child in me and reawakened that natural spirit of curiosity and joy." 
While the original concept for the sculpture was of Fred Rogers alone, that began to change as Day learned more about who Mister Rogers truly was. "Understanding Mister Rogers made me realize that he would best be represented communicating and interacting with children, that children are the essential ingredient here." Day says he learned a great deal about Mister Rogers through meeting and speaking with Joanne, who passed away this earlier this year.
The bronze sculpture, entitled "A Beautiful Day for a Neighbor," is a 360-degree outdoor masterpiece and can be seen in the courtyard between the Annie Russell Theatre and Knowles Memorial Chapel. Standing over 7 feet tall and weighing more than 3,000 pounds, the sculpture depicts a seated Mister Rogers in his iconic sweater and sneakers surrounded by children. Daniel Tiger and other hand puppets from the program adorn the back of the statue along with lyrics from the show's theme song.
Fred and Joanne's son John Rogers was on hand for the unveiling. "It's quite an honor to see it here," he says of the sculpture. "Rollins College meant so much to my parents." Rogers says the sculpture accurately captures the messages his dad often shared with others. "He always conveyed kindness, acceptance, fairness and the importance of taking care of one another. Also, pride; he was always proud of me and would constantly tell me that, which always made me feel good."
Sharon Carnahan adds, "Mister Rogers' central message was, 'It's you I like,' which means you are unique with a unique contribution to make to the world and the world would be a lesser place without you in it. This sculpture gives us a focal point, a talking piece and a memorial not just to the man but to his ideas."