Beat the Summer Heat in Volusia County
West Volusia: Debary, Deland, Deltona, and Orange City
It's conveniently located along I-4 between the beaches and theme parks, yet Greater West Volusia is worlds apart with authentic Florida communities radiating with historical, cultural, and natural charm. Bordered on the west by the majestic St. Johns, Florida's only American Heritage River, the area is a popular getaway for folks who want to experience outdoor excitement in the midst of some of the state's most pristine surroundings. Sound right for your family? A collection of national state and county parks, local marinas, houseboat rentals, and narrated river tours make it easy for families to navigate the waterways in a quest for adventure and discovery of the area's wildlife and historical and cultural treasures.
Just inside DeLeon Springs State Park, the Old Spanish Sugar Mill & Griddle House provides a unique setting and rare opportunity for hungry visitors to fix their own tableside breakfast. Open 9 am – 5 pm weekdays and 8 am – 5 pm weekends, guests can cook pancakes using homemade batter and customize their own creations with a wide choice of toppings. Plan on working off the hearty meal by hiking local nature trails, swimming in the crystal clear springs, or renting canoes, kayaks, and paddleboats. Open 8 am to sundown (365 days per year). Admission to the park is $6 per car.
During colder months, Blue Spring State Park in Orange City becomes host to hundreds of manatees. Adult, adolescent, and baby manatees all join together to stay warm in the spring run area to the delight of onlookers perched atop viewing platforms. In summer months, however, the spring boil is a popular spot for folks looking to cool off, and a leisurely float down the run in an inner tube is a pleasant pastime. For overnight stays, the park is ideal for camping and offers a number of vacation cabins and RV sites. Nature trails meandering through unspoiled surroundings provide the opportunity to view a variety of wildlife. Admission into the park, which is open 8:00am – sundown 365 days per year, is $8 per car.
For a guided, up-close look at wildlife, families can enjoy scenic, narrated cruises along the St. Johns River. Each offering two daily sail times, St. Johns River Cruises at Blue Spring State Park, Blue Heron River Tours at Hontoon Landing Resort & Marina, and St. John's River Eco Tours at Highbanks Marina all provide 2-hour excursions that reveal interesting tales of the river's history and ecology.
Early pioneer heritage is celebrated at the Pioneer Settlement for the Creative Arts, a living historical village museum in Barberville, a small town established in 1763 as a trading post on the east side of the river. The village contains 17 historical buildings and over 10,000 artifacts on display illustrating life in rural Florida during the pioneer days. Demonstrations of pioneer arts & crafts, historical displays, farm animals, and a country store are part of the self or guided tours. Open Monday ─ Saturday, 9 am ─ 4 pm. Admission is $6 for adults, $4 for children (6-12), and free for kids under 5.
The Lyonia Preserve in Deltona has been restored and maintained as Florida's scrub habitat and is home to many rare plants and animals found nowhere else on earth. Hiking trails offer avenues of exploration with the opportunity to encounter Lyonia's most precious resident: the endangered Florida scrub jay. These outgoing birds are naturally curious and likely to land on your head or shoulder! Adjacent to the preserve is the Environmental Center offering a unique insight into the region's fragile ecosystems. Through interactive displays, visitors can learn about the charismatic scrub jay, see how sinkholes are formed, learn how gopher tortoises stay cool, and hear the sounds of a manatee. Free admission; open 9 am – 5:30 pm Monday – Thursday, 9 am – 5 pm Friday/Saturday, and 1 – 5 pm Sunday.
You'll want a great place to stay to enjoy all this play! The Greater West Volusia County region delivers with an eclectic mix of lodging options for visiting families, including affordable choices that offer free breakfast and sparkling pools, such as: Clarion and Comfort Inn in DeLand, Holiday Inn Express and Quality Inn in Orange City, Travelodge in Deltona, and Hampton Inn in DeBary. Riverfront resorts with breathtaking views include the Riviera and Hontoon Landing. The Alling House Bed & Breakfast in Orange City offers charming, pet-friendly cottages complete with toys and games for the kids and complimentary snacks and beverages. They even provide marshmallows for roasting over the fire pit in the yard! Learn more at VisitWestVolusia.com.
Southeast Volusia: New Smyrna Beach & Surroundings
Greater New Smyrna Beach is overflowing with family-friendly options during the summertime (and all year long). Festivals are plentiful, outdoor activities are in abundance, and the area's beaches are clean, safe, wide, and uncrowded ─ perfect for swimming, bicycling, surfing, fishing, and building sandcastles. Through the 4th of July weekend, Beach Weeks is a must-do, popular series of events celebrating the coastal heritage and healthy lifestyle of New Smyrna Beach and Southeast Volusia County, with plenty of exciting occasions that your family won't want to miss.
First, mark your calendar for a high-flying weekend of colorful fun, June 7th through 8th, at the New Smyrna Beach Kite Festival. Located directly on the beach, just south of Flagler Avenue, this event is sure to provide real "fun-in-the-sun" with scores of tethered kites, demonstrations, and competitions hosted by kite clubs from throughout Florida, plus free lessons for first-timers. The festival's kids' zone offers free kites to the first 400 children each festival day and a decorating station for kite personalization! Attendees are encouraged to bring their own kites as well. Admission is free, but registration on a walk-up basis on the day of the event is required.
The New Smyrna Beach Sand Art Festival, to be held on June 14th, promises a fun day of sandy shenanigans! Amateur teams can consist of families, friends, co-workers, and community groups. All competitors will create their own sand sculptures in 10′ X 10′ plots of cordoned beach, with prizes awarded for individual adult, child, and team categories. Sand art professionals will also impress with magnificent sculpture creatures, to show off one of the area's most valued natural resources! This is a free event; however, spaces are limited and pre-registration via BeachWeeks.com is recommended, but day-of walk-up registration may also be available until spaces are filled. Keep the summer fun going on June 19th at the 26th Annual Seaside Fiesta! This community block party, 5─9pm on Flagler Avenue, will feature live bands, food vendors, craft & art stands, surfing displays, surf pro meet-n-greets, a kids' zone, and tween zone. This event kicks off several days of amateur surfing and paddle board competitions to keep the block party bash going!
Join fellow runners and walkers on June 29th at the 5K Sundae Beach Run that will take place on the beautiful, hard-packed beaches of New Smyrna Beach. This race is appropriate for runners of all skill levels and ages, with medals slated for 84 categories and 2 overall plaques. Need convincing to run? How about free t-shirts, a social, and post-race sundae bar ─ because who doesn't want ice cream for breakfast after a run?  Then, prepare to challenge yourself the way our nation's finest do! Beach Boot Camp Obstacle Course, hosted by the Florida National Guard on June 29th, will let you experience what it's like to "get fit" the armed forces way. Participants will be tasked with a variety of individual fitness challenges, such as a shuttle run, pull ups, low crawl, tires, pushups, and sit ups ─ an obstacle course based on the US Army PT test. Run for fun, or compete in select age/gender divisions; t-shirts will be awarded to all competitors and prizes to the top finishers. The Florida National Guardsmen will be standing by for "extra motivation," plus armored vehicle displays, and Health & Wellness screenings with free blood pressure checks. Free registration will be on a walk-up basis on the day of the event.
Continue the excitement, in between beachside relaxation breaks, with kayaking, stand-up paddle boarding, and kite boarding on the intracoastal with available professional instruction. Take a hike in one of Southeast Volusia's many nature preserves to spot some native wild life. Or ride go-karts, play miniature golf, or catch a race at the New Smyrna Speedway on Saturday night. Take a step back in time and stop by the many historical sites throughout the Greater New Smyrna Beach area, or learn something new with the hands-on Marine Discovery Center eco tours.
Accommodations range from charming hotels to quaint bed & breakfast inns, to a variety of oceanfront homes and vacation rentals. Condominiums may be an ideal choice for your family to experience an extended stay. Explore information at NSBfla.com or call (800) 541-9621.
North Volusia: Daytona Beach, Ormond Beach, & Ponce Inlet 
It's time for some sea, salt, and sand between the toes! Head east for a short drive to what's dubbed the "World's Most Famous" beach! Daytona Beach may already be your go-to for fast cars and motorcycle rallies, but it's also a great summer destination for families. Choose to access 23 miles of hard-packed sand by foot or bicycle for free; or drive on another 14 miles of designated beach for just $5 per day. Then, stroll over to the nostalgic Boardwalk & Pier, recently updated with a 50 mph roller coaster, plus an oceanfront Ferris wheel, arcade and, of course, the pier itself – great for fishing or lunching at Joe's Crab Shack. Keep reading to learn about the area's hotspots!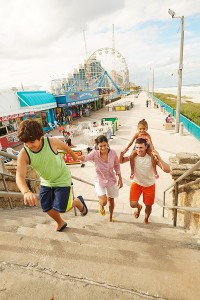 It's baseball season at "The Jack," the historic 4,200-seat ballpark named after Baseball Hall of Famer Jackie Robinson, and it runs for five exciting months (through August). Cheer on the home team, Daytona Cubs, as they defend their 6th straight Florida State League Championship. Enjoy the fireworks (14 seasonal shows) and discover what fans have been raving about: all-you-can-eat hamburgers, hot dogs, pizza, and popcorn on Belly Buster Mondays, and $1 beverages on Thirsty Thursdays.
For a cultural night out, follow the locals to Daytona Beach's only art-house cinema, the Cinematique Theater of Daytona. Savor food, beer, and wine while viewing "hard-to-find" foreign and/or independent films.
Newly opened, Dunn's Attic & Auction House offers 12,000 square feet of one-of-a-kind finds featuring everything from furniture and jewelry to handmade gifts and collectibles. Inside, Rosie's Café brims with breakfast and lunch items and mimosas (on Saturdays) for only $1.
Cracker Creek is an environmental and historical treasure in Port Orange (just south of Daytona Beach).  Located on the western side of scenic Spruce Creek, this 20-acre sanctuary is a natural home for a variety of endangered plants and animals. Tour the creek on several boat tours and sunset cruises, or rent a hydro bike, canoe, or kayak.
Florida's oldest farmer's market? Quite possibly…The Daytona Beach Downtown Farmers' Market has been offering fresh and organic fruits and vegetables, baked goods, and seafood since 1978. Visit vendors each Saturday from 7 am─1 pm next to historic Jackie Robinson Ballpark, just across the Halifax River from scenic Beach Street. With a number of hotels and rental properties offering in-room kitchens and kitchenettes, stock up on fresh foods to enjoy during your stay.
The latest local options for gastronomes are more adult-oriented, but who doesn't need a parent's night out even when on vacation? Located in Ormond Beach, just a quick 10-minute drive north via AIA from Daytona Beach's core tourism area, relish Grind Gastropub and Kona Tiki Bar – a public house featuring high-quality foods like their "Hand Helds," "Best Quality Bigs," and "Wood Fired Pizzas." Sip on "Bombs Away" beers at the outdoor Tiki bar and patio where live music and good times roll nightly. Venture right next door to Fusion 43, the area's newest restaurant and home to seasonal fusion cuisine of Cali-ribbean (who hasn't heard of California Caribbean?). Try craft cocktails from their new speakeasy-themed upstairs bar. If artisan drafts are your style, look no further than the Ormond Brewing Company offering a variety of delicious brews and tours. The company's Tap Room is open 4─10 pm on Thursdays & Fridays, and 1─10 pm on Saturdays. BYOF (bring your own food) or order from local eateries for delivery direct to the Tap Room.
Cruise down A1A further south, pass the sign for the last bridge to the mainland until you see Ponce de Leon Inlet Lighthouse, the tallest in Florida. Completed in 1887, this majestic facility stretches 175 feet into the sky. Climb all 203 steps to the top and experience your amazing surroundings – Ponce Inlet, the Atlantic Ocean, Intracoastal Waterway, and incredible marine life. Visit the historical and nautical museum, an impressive Fresnel Lens exhibit, and gift shop. And be on the lookout for friendly "Nelly," the Lighthouse cat! Plus, majestic red-tailed and red-shouldered hawks await your arrival to their outdoor aviary exhibit at the Marine Science Center, an up-close marine life experience. On the inside of the conservation center, you can expand your knowledge of the area's diverse wildlife, explore conservation themes, and witness current rehabilitation efforts for sea turtles and seabirds. Experience the "Stingray Touch Pool," explore fascinating mangrove and whale exhibits, and meet the residents of an artificial reef aquarium.
Dig your feet in the sand at the Daytona Beach area's only AAA Four Diamond resort, Shores Resort & Spa, now offering summer deals to Florida residents. Gather the family around the oceanside fire pits to enjoy their signature amenity, S'mores at the Shores. Everyone receives a personal kit at check-in for the ultimate combination of salty sea breezes, crunchy graham crackers, toasty marshmallows, and warm, gooey chocolate. Delish!
Looking for deals? Named as one of Trip advisor®'s Top 10 Sweetest Attractions in the US, Angell & Phelps, crafters of fine chocolates since 1925, are located in the heart of the Riverfront Shops of Daytona Beach on Beach Street. They offer free samples and a free, 20-minute tour through the chocolate-making process. Bring a beach chair (or rent one) and listen to the live Free Summer Concert under the stars every Saturday night at the Daytona Beach Oceanfront Bandshell, a one-of-a-kind oceanside amphitheater. Concerts begin at 7 pm and feature tribute bands followed by free fireworks shows at 9:45 pm. Still not convinced? Trip Advisor® named Daytona Beach a 2012 Top 10 Beach Destination in the US, and the famed sand was chosen as Best Florida Attraction in the Top 10 Best Readers' Choice travel award contest sponsored by USA TODAY.  Head over to the newly-launched DaytonaBeach.com to access Daytona Beach's happenings with the Calendar of Events, plan your visit with the new Trip Builder tool, and check the weather for last-minute adventures using the Weather Widget.
Content for this article was supplied by Halifax Area Advertising Authority, Southeast Volusia Advertising Authority, and the West Volusia Tourism Advertising Authority.