Best of the Best 2019
Each year, we like to take inventory of some of Orlando's BESTS. From the best food to the best shops to the best places for pampering yourself to the best activities for family fun. After a number of years of packing our Best of the Best list with all this goodness, you'd think we'd have run out of recommendations by now? But as always, compiling this feature reminds us that there is always more to see and do in Central Florida. So, read on. Maybe you'll be in agreement on some of our selections or maybe not, but hopefully you'll discover something new to check out in the City Beautiful.
FOOD AND DRINK
BBQ EMPANADAS
Ethos Vegan Kitchen, Winter Park
Made with a chicken substitute, the empanadas at this vegan eatery, which prides itself on its ethical fare, are a crowd favorite. Served hot from the oven, the flaky pastries are filled with slow-cooked barbecue pulled "chicken" and caramelized onions and served with a creamy horseradish sauce.
BURGERS
Graffiti Junktion, multiple locations
The juicy patties here are so full of flavor, you could eat them without the toppings, but where's the fun in that? Instead, feast on your choice of ingredients that range from fried eggs and Canadian bacon to balsamic glazed mushrooms and blue cheese. Even the cheeseburger is anything but run of the mill.
BUTTER CHICKEN CURRY
Forever Naan, Curry Ford West
A newcomer to Curry Ford West, Forever Naan is spicing up the corridor with its Thali-style eats. In particular, we love the butter chicken curry, made up of grilled boneless chicken covered in a creamy, spiced tomato sauce. Perfect for takeout, this dish comes with turmeric rice and naan.
CAFÉ CON LECHE
Zaza New Cuban Diner, multiple locations
This warm, creamy cafecito is made with Cuban espresso and scalded milk. With bold flavors of dark chocolate and smoky hints of tobacco, the espresso in this beverage is ZaZa's own specialty blend of beans that is roasted locally and delivered to the diner's three locations at least once a week.
CHICKEN AND BISCUITS
Chef Art Smith's Homecomin', Disney Springs
Oprah Winfrey's former personal chef cooks up something so delightfully simple yet satisfying with this addictive starter. Three buttery soft biscuits are filled with Smith's signature fried chicken thighs, bread and butter pickles, and finished with a little hot honey for a truly remarkable bite. Take our advice, double up your order; these things will fly off the table.
CHICKEN TACOS
Black Rooster Taqueria, Mills50
The folks at Black Rooster are committed to working with local purveyors and farmers, which means every item on the menu is created using only the freshest ingredients. We're partial to the Chicken Tinga tacos, made with a pulled roasted chicken that is tender, flavorful, perfectly seasoned and topped with a piquant chile-chipotle tomato sauce and touches of crema fresca.
CRAB CAKE
The Boathouse, Disney Springs
You won't find a lot of filler in these crab cakes. In fact, the jumbo lump crab meat is the star of the show in this dish from one of Disney Spring's best waterfront dining establishments. Served with coleslaw and tartar sauce, the cake is crisp on the outside with delicate crab meat adding softness and mild sweetness.
CRAFT COCKTAILS
Luke's Kitchen & Bar, Longwood
With a rotating seasonal cocktail menu, the selections at this bar are always fresh and inventive from twists on classic libations to original creations. Be sure to ask your bartender about the inspiration to your drink as the creations here are crafted to invoke a certain scene or sensation.
CROISSANTS
Buttermilk Bakery, Winter Park
The classic pastry comes many ways at this bakery including with chocolate, ham and gruyere, or almond incorporated into the mix. But our absolute favorite is the seasonal matcha croissant that is filled with a powdered green tea frangipane (an almond pastry cream). It's double baked to keep the outside crisp and the inside moist, with the green tea adding a sweet and earthy flavor.
DOUGHNUTS
DG Doughnuts, Winter Garden
The flavors at this small-batch doughnut shop change weekly, so be sure to check the business' Facebook to see what's in, but generally you can expect to find decadence like peanut butter bacon or lemon coconut meringue. The donuts here are yeast-raised and fried and then decorated by hand.
BLT BENEDICT
First Watch, multiple locations
This is the version of eggs Benedict you never knew you wanted, until now. Poached eggs and a silky hollandaise pair wonderfully with strips of crisped bacon, lemon-dressed arugula, tomato and avocado atop a lightly toasted slice of ciabatta. It's the best of both worlds and there's certainly nothing wrong with that.
FOOD HALL/MARKET
Boxi Park, Lake Nona
A lively beer and wine garden, a variety of polished street food options, live entertainment and plenty of seating make this 30,000-square-foot open-air hub created out of old shipping containers the place to be. Where else can you grab a bite, sip a cocktail, catch a band on stage and also work on your beach volleyball game?
FUDGE
Kilwins, Winter Park
The recipes used to make the sinfully sweet fudge at Kilwins date back to 1948 when founders Don and Katy Kilwin first started their own handcrafted batches. In 2019, Kilwins remains the pinnacle of fudge making with a series of options to choose from, but the delightfully creamy chocolate has stood the test of time for a reason, so don't overlook it.
GARLIC KNOTS
Pizza Bruno, Conway
The stuff of legend, these fan favorites are only made in small batches, which means you'll have to put in a little effort (especially since there's no phone to order ahead and they don't take reservations) to snag a plate of these piping hot, oversized pieces of aerated dough that are absolutely smothered with fresh garlic, cheese and herbs.
GERMAN CHOCOLATE CAKE
Sister Honey's, SoDo
Everything that Evette Rahman creates at her award-winning bakery is from scratch and done in small batches to ensure that it comes out just right. While all the pies and cakes here are delicious, we are devout fans of the German chocolate cake that is moist and rich. You can buy it by the slice in the store, but be careful if you're sharing with another—you'll want a piece all to yourself.
GYRO
Avalon Pockets, Avalon Park
Since 2013, this family-owned and -operated spot has been serving up Lebanese and Mediterranean cuisine to the hungry patrons of East Orlando. When we're here we can never pass up the chance to order the gyro, which has slices of seasoned beef and lamb cooked to perfection then topped with tomatoes, onions and homemade tzatziki sauce and served on a pita.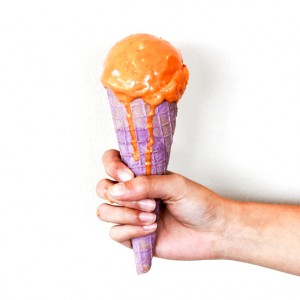 ICE CREAM SHOP
The Greenery Creamery, Thornton Park
The ice cream cones at this boutique are not only stellar but they're also incredibly Instagram-able as proven to us by all the Orlandoans' we've seen snapping photos of the sweet treats for their social media feeds. Come here for some uncommon ice cream tastes: like black-ash cones and ube-flavored ice creams. If dairy upsets your stomach, no worries, there's vegan friendly ice cream here too.
JAMBALAYA
Tibby's New Orleans Kitchen, Winter Park
One whiff of the aroma coming off the plate of this tantalizing dish instantly transports us to the heart of the Crescent City. The smokiness of the sausage coupled with the seasoned rice and sautéed vegetables creates a beautiful Cajun medley, resulting in a dish that is both rich in taste as well as tradition.
KOREAN BBQ
Izziban Sushi & BBQ, multiple locations
Izziban has a lot of things going for it, a large dining room, a varied menu and a festive atmosphere. But one of the things that this hot spot really excels at is its all-you-can-eat Korean barbecue. With a handy table grill, you can roast everything from marinated pork to beef brisket to ribeye, and eat it as soon as it's done sizzling.
LATTES
OK But First Coffee, Dr. Phillips
The fun name of this coffee shop was what caught our attention at first but the gourmet lattes, which are made with espresso from Brazilian beans, is what kept us coming back. The shops flavored lattes include Almond Joyful, Mexican Mocha, Candy Bar and French toast. Be sure to grab one of the café's cakes, such as the Brazilian Honey Bread, to enjoy along with your cup of joe.
MILKSHAKES
5 & Diner, Avalon Park
There's something about 5 and Diner's retro '50s decor that makes saddling up to the counter and ordering a milkshake so much fun. But, this place isn't just for show; the thick and creamy shakes served up in a classic fountain shop glass are the real deal. There's more than a dozen to choose from, but we highly recommend the staple black and white.
MILK TEA
Krungthep Tea Time, Winter Park
Milk tea is one of those things that you may not be overly familiar with, but once you've tried it, there's no looking back and this authentic Thai spot is the perfect place to become initiated. Choose from the standard black tea with cream and sugar or a more adventurous variety made with hand-brewed matcha.
OLD FASHIONED
Bull & Bear, Waldorf Astoria Orlando
The Old Fashioned cocktail is a classic for a reason because it has a standard recipe that is just ripe for experimentation. This take on the cocktail uses Rhum Barbancourt Reserve Speciale aged 8 years, vanilla pepper syrup, and creole bitters for a sweet, spicy and complex tasting beverage. Cheers!
POWER BOWL
Too Much Sauce, SoDo
This power bowl's strength lies with its mixture of topnotch (not to mention healthy) ingredients. Tricolor quinoa and kale are incorporated with sweet golden raisins, carrots and purple cabbage along with cucumbers, grape tomatoes and chunks of roasted chicken. The finishing touches of sliced red onion and sunflower seeds add further texture while a beet-based dressing brings everything together.
POPCORN
Popcorn Junkie, Downtown
Addicting to eat and incredibly versatile, the ultimate snack is a bag of popcorn. And the flavors at this shop run the gamut from sweet versions like pink cotton candy to savory like parmesan garlic. But our favorite is the combo sweet-and-salty PJ mix that pairs crispy caramel flakes with cheesy soft ones. With its location near the Orlando City Stadium, this shop is where to stop before you head to the stadium for an Orlando City soccer match.
POPSICLES
Paleteria Original, Winter Garden
These handcrafted "paletas" or ice pops are a far cry from those of your childhood. Instead think more mature, if not exotic flavors like pineapple with mint or strawberry cheesecake. And you won't want to miss the chance to indulge in one of the stuffed offerings like a banana popsicle filled with Nutella or passion fruit with condensed milk.
PORK SANDWICH
Bad As's Sandwiches, Milk District
What this tiny shop lacks in space, it more than makes up for with show-stopping sandwiches that prove the finer points of the culinary arts aren't exclusive to white tablecloth restaurants. One shining example is The Porkalypse—succulent and tender pulled adobo pork stuffed inside a long roll and topped with bacon, creamy gouda, a slathering of tamarind-spiced barbecue sauce, crispy onions and homemade pickles.
SAUSAGE SANDWICHES
Sausage Shack, Winter Park
The guys at this roadside sausage purveyor are not afraid to put a fun twist on your typical hot dog sandwich. For example, the shop's Donut Dog takes a smoked Polish kielbasa and wedges it into a hot dog bun that is glazed with butter and hand-tossed in sugar. Not everything here is a calorie bomb, though. You can also enjoy a simple British Banger, Chorizo or more on a roll of your choice with a number of different toppings.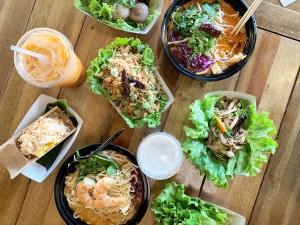 STREET FOOD
Sticky Rice Lao Street Food, Mills50
Specializing in Lao street food, this quick-service restaurant has become the best place to go to eat with your hands. The crux of it all is the eatery's sticky rice, a Laotian creation that is exactly what it sounds like, glutinous rice that is perfect for tearing apart and dipping in one the shops signature sauces.
SOURDOUGH BREAD
Pane D'Or, Winter Garden
At this bakery, making and baking bread is a true art form. Taking things back to Old World methods, the sourdough here is hand-shaped and made using a natural culture. The result is a deep brown crust and a chewy inside that is rich in taste.
SUSHI BOWLS
Sus Hi Eatstation, multiple locations
This eatery puts you in charge as you select from an array of ingredients to ultimately create a deconstructed version of your favorite sushi roll. Start with a base of white or brown rice or perhaps mixed greens and then pile high you choice of one to three proteins and enhance the bowl with a mix of vegetables, cheese and other accompaniments.
TIKI DRINKS
Traders Sam's Grog Grotto, Disney's Polynesian Village Resort
The tropical cocktails at Trader Sam's play nicely off its quirky theme, but don't be fooled; these drinks may look harmless but they pack one serious punch. For example, the Shrunken Zombie Head is a mix of three different kinds of rum, tropical juices, Caribbean liqueur and cinnamon while the HippopotoMai-Tai blends dark and white rum with orange liqueur, sweet syrup made from almonds, agave nectar and fresh lime juice.
WAFFLE
Se7en Bites Bake Shop, Milk District
No one does Southern breakfast better than this brunch spot favorite. On Saturdays and Sundays, come for the expanded offerings that include everything from the normal menu plus some made-from-scratch specials. Often that includes one of Chef Trina Gregory-Propst's waffle dishes, which are presented with a wide range of different flavors, but we're partial to the Bacon Cornbread Waffles for that salty and sweet combo.
RETAIL
ANTIQUES
Golden Phoenix, North Orange
Finds you won't see anywhere else are on display at this corner store of rarities. With delicate china, vintage furniture, stunning jewelry, collectables and more, this shop is ideal for finding a gift or just an afternoon of treasure hunting.
BIKE SHOP
David's Cycles, multiple locations
With quality brands like Trek and Electra, this shop has bikes for every type of rider, no matter if you prefer hitting the trails or just cruising through the neighborhood. And whether you're searching for parts and accessories or need a repair, the knowledgeable staff is always ready to lend a hand to help you make the best decision.
BOHO WOMEN'S FASHION
Beaux Studios, Ivanhoe Village
If you're looking for flowy and chic with a bohemian flare, you won't be disappointed with a trip to this boutique. From timeless linen dresses to lacy tops, the clothes at this shop are meticulously curated by owner Cherrah Johnson. No outfit is complete without the proper accessories, so be sure to also check out the shop's jewelry that is designed and created by Johnson.
CRAFT BEER SHOP
GB's Bottle Shop & Tasting Bar, Ivanhoe
As soon as you walk through the door you know immediately that this place takes its beer seriously. A finely curated selection that showcases various styles from highly sought-after breweries—both near and far—along with a small bar that features up to 20 taps running at any given time (complete with a growler station) means there's no shortage of ways to quench your thirst.
CUSTOM JEWELERY
Okidanokh Goldcraft, Ivanhoe Village
The artful pieces found at this store are beautifully handcrafted by the shop's master goldsmiths and designers. Specializing in rare gemstones, gold and platinum, this is where to go for a timeless piece that you'll love to wear for years to come.
DIAMOND RINGS
Victoria Jewelers, Baldwin Park
A diamond isn't only a girl's best friend, it's a big investment. So to help you find true value in while also taking the stress out of the decision, the experts here will go out of their way to make you comfortable before buying your bling. That means getting to know their customers on a more personal level while also educating them on everything they need to know to make an informed purchase.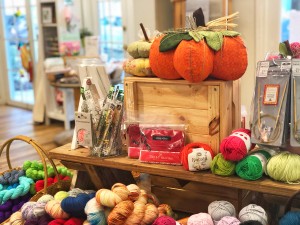 FABRIC & THREAD
Little Thimble Craft, Celebration
Whether you're into embroidery, cross stitch, knitting or more, this sewing store holds a wealth of beautiful fabrics and threads perfect for all kinds of projects. More than just a place to pick up your craft supplies, Little Thimble is also a studio where people of all ages can learn a new thing or two.
FLOWER ARRANGEMENTS
Bay Hill Florist, Dr. Phillips
This floral shop knows that each occasion requires a certain attention to detail and element of artistry, so being on the receiving end of one of their arrangements feels all the more special. And when you simply can't choose from the wide assortment of flowers available, you can confidently put yourself in the hands of the pros that have a knack for always coming up roses.
FRAMING
Eco-Art Custom Framing, Dr. Phillips
Whether it's a piece of fine art, sports memorabilia or perhaps your child's college diploma, this shop caters each job to make the finished product something you are proud to hang on your wall. With nearly three decades of experience and a background in photography, owner Denise Crotty has a keen eye for finding the right frame or matting to make your picture pop.
GUITARS
George's Music, International Drive
It's easy to feel like a bona fide rock star when you step into George's and peruse the wide selection of both acoustic and electric guitars. Numerous models—including some not regularly seen—from trusted names like Fender, Paul Reed Smith and Gibson adorn the walls and they'll even give you private lessons if your playing isn't quite ready for the public.

LEATHER GOODS
Old Town Leather, Old Town
This store perfectly encapsulates all that is Old Town's charm, from the kitschy wares to the vintage vibe. It's also the place to find well-made leather goods, from unique belts and other clothing items to super soft bags that will age nicely over time.
MENS SUITS
Balani Custom Clothiers, Winter Park
The clothes make the man and this bespoke clothier knows this all too well which is why they hand make all of their suits to individual specifications. This means they can offer you everything from pick stitching on your lapel to personalized jacket lining as well as further details that portray sartorial excellence. But most importantly, you'll finally have a suit that contours to your body instead of those boxy, baggy threads currently in your closet.
PLANT NURSERY
Apenberry's, College Park
Green thumb or not, you'll want to take a tour of this plant nursery that stocks flowers, ferns, shrubbery, trees and more. Not sure if one plant or another is right for your garden? Be sure to ask one the staff members who can help you pick the perfect plant for your plot.
RUNNER'S GEAR
Tri & Run of West Orange, Winter Garden
If you're serious about running, then you know getting fit for the proper shoe is a must and the experienced athletes at this store can help you with that and more. Locally owned and operated, this retailer is located just at the edge of the West Orange Trail, so you can take your new sneakers for a test run as soon as you leave.
SPECIALTY FOOD RETAILER
Bulk Nation, Colonialtown
A baker's dream, this shop stocks all sorts of flour, nuts, seeds, rice and other dried food items that are great for baking or cooking. Besides a diverse selection, the store is also notable for eschewing traditional packaging. Instead, most of the foodstuffs are held in bins that customers can scoop from, allowing you to buy as little or as much as you want.
SPORTS EQUIPMENT
Ski World of Orlando, Ivanhoe Village
Since 1976, this local store has been hawking sports equipment for the water and for the snow. Of course, Orlando is perfect for the paddleboards, fishing boats and jetskis sold here but for that annual trip to the slopes, you can get your thermal underwear, socks, ski boots, skis and snow boards here too.
VINTAGE WOMEN'S CLOTHING
Orlando Vintage Clothing & Costume, Fairview Shores
Classics never go out of style and that's why the vintage pieces sold here may just have a place in your wardrobe today. From name-brand items that are in mint condition to pieces that you will certainly not find anywhere else, this store has it. And, if you need an outfit your next costume party, this shop has a huge selection of beautifully detailed costumes from'20s flapper dresses to '50s poodle skirts to funky '80s outfits.
VINYL
Park Ave CDs, Winter Park
An extensive mix of new and used records makes this a must-visit for any discerning audiophile. Wherever your musical tastes lie, you'll find racks upon racks of vinyl representing all genres from jazz and hip-hop to punk and prog-rock and the stock is constantly being updated so there's always something new waiting to be discovered.
WINE & LIQUOR SHOP
Vines Wine & Spirits, Dr. Phillips
We love running into this boutique liquor store to grab a bottle of red on our way to a nearby BYOB or perhaps even a bottle of bourbon if it's been one of those days at the office. The wine bar and cocktail lounge connected to the back end of the shop make it even more alluring.
WOMEN'S CONTEMPORARY CLOTHING BOUTIQUE
Violet Clover, Winter Park
The selections available at this locally owned clothing retailer show that the owner really knows what Florida women need: cute outfits that breathe so you can withstand the Sunshine State's heat index. Along with trendy tops, rompers, shorts and dresses, you'll also find plenty of accessories to complete your whole look.
HEALTH & BEAUTY

AERIAL SILKS
Orlando Aerial Arts, Orlando
Defying gravity is what this fitness studio's instructors can help you do, along with gaining increased flexibility, stamina and core strength. And classes are open to all levels, from novice to professional, with specific classes offered for children.
BARBERSHOP
Melo's Barber Shop, South Orlando
Melo's provides the modern gentleman with the best parts of the old-school barbershop experience. The skillful barbers—including the man himself—know there's an art to a proper haircut (not to mention a straight razor shave) and that personable approach is not something you'll ever find in the chain salons.
COLORING
Kendall + Kendall Hair Color Studio, Winter Park
The creation of a mother-daughter beauty team, this hair salon's focus is on giving clients gorgeous locks. Now solely owned by the daughter, Kendall, this studio is where to go for highlights, low lights or, if you're feeling daring, a completely new hair color.
DAY SPA
The Ritz-Carlton Spa, Grande Lakes
This 40,000-square-foot tranquil retreat boasts an impressive 40 treatment rooms so you can get pampered any which way you choose. Signature massages, customized facials, body wraps and beauty enhancements will leave you feeling relaxed and re-energized as you head out to lounge poolside or make your way to the on-site café before leaving this slice of paradise behind and heading back out into the real world.
EYEBROW THREADING
Venus Eyebrow Threading & Skin Care, Alafaya
Taming those wild brows is easy with an appointment at this salon specializing in eyebrow threading, a practice that is often less painful than waxing or tweezing and more gentle on the delicate skin that surrounds your eyes. A quick procedure to boot, the eyebrow shaping here will give you the face framing brows you've been wishing for.
FACIAL
4.22 Organics, College Park
The founder of this skin care studio want to help you smooth out your stressed-out skin. With a number of available facial treatments, like the Green Tea Rosacea Facial, that will purify, balance and enlighten your skin, or the Vita C Plex Brightening Facial for hydrating your sun damaged skin, you'll find a facial that is appropriate for your skin here.
HAIR STYLING
Atelier Salon, Lake Eola
The stylists at Atelier know exactly how to elevate your look with techniques and treatments that help you keep up with the latest trends while staying true to your personal style. And in those instances when you want to do something a little bolder that will make everyone take notice—whether that's on your wedding day or just an ordinary weekday—there's no place more capable of making it happen.
KICKBOXING
iLoveKickboxing, Winter Park
A workout here is intense, but the results are undeniable. You'll kick and punch (and sweat) your way into a slimmer frame while also reaping the benefits of high-intensity cardiovascular exercise. And just when you think you've reached your limits, the instructors will push you harder so you realize your full potential.
LASH EXTENSIONS
The Pearl Spa, Hunters Creek
Long, lush lashes without applying gobs of mascara? The Pearl Spa makes that dream possible with its lash extensions procedure. Whether you're looking for dramatic or natural looking eyelashes, extensions add glamor to your look and, with upkeep, last longer than traditional false eyelashes.
MANICURE
Image Nails & Spa, Dr. Phillips
If you need a manicure that not only lasts, but is pleasing to the eye, look no further. These technicians take pride in their work and will help you find the right color from countless options, shape your nails to your liking and add on all the accents you desire. We wouldn't blame you if you spent the next few hours staring at the job well done.
MASSAGE
Lotus Blossom Massage, South Orlando
The need for a deep tissue massage first introduced us to Lotus Blossom, but since then we've come to grow fond of their other services as well. From traditional offerings like Swedish and hot stone massages to more specialized treatments that promote pain relief and overall body wellness, we always come away feeling rejuvenated.
NAIL SALON
Nail Lounge at Millennia, Dr. Phillips
In between a shopping spree at the Mall at Millennia, we like to stop here to get truly artistic talons. Services offered include acrylic fill-in and removal, classic manicure, polish change, French tips, gels and more.
PILATES
Shaan Saar, Southwest Orlando
You'll never feel like just another face in the crowd here because they believe in establishing a direct connection between instructor and client. With private sessions and classes limited to small groups, the focus will be on the training and achieving your fitness goals.
ROCK CLIMBING
Aiguille Rock Climbing Center, Longwood
Reach new heights at this rock climbing center. Open to people of all abilities, this gym hosts classes in top roping, bouldering, lead climbing and more. It's also an ideal spot for letting your kids explore in a safe environment, with birthday parties and youth camps offered as well.
WAXING
European Wax Center, multiple locations
Whether it's your eyebrows, bikini line, underarm, legs or more, this waxing center will keep it smooth. The treatments offered here will remove all your unwanted hair, but they'll also exfoliate your skin and last much longer than a shave.
YOGA STUDIO
Elevate Yoga Center, SoDo
Hot yoga, chair yoga, aerial yoga; you name the type of class and Elevate offers a way for you stay fit, healthy and decompress. The demanding classes, amenable instructors and convenient all-day schedules are just some of the reasons why it's not a stretch to say this place is the best.
LIFESTYLE
ART GALLERY
Snap!, Downtown Orlando
Snap! is all about shining a light on emerging photographers and multimedia artists by providing a space for their works to be introduced and admired. And its commitment to furthering the arts and culture scene includes special exhibits, guest lectures, competitions and several youth programs all designed to keep Orlando's creative juices flowing.
BALLROOM DANCING
Fred Astaire Ballroom Dance Studio, Dr. Phillips
Choreography champions and judges on the Fred Astaire Dance Board are constantly studying curriculum to keep this studio on the cutting edge of the dancing world. Whether it's a private lesson for your wedding day or a group outing with some friends, you'll soon be flashing your fancy footwork as you glide across the floor with confidence.
CHILDREN'S ACTIVITY CENTER
Orlando Science Center, Loch Haven Park
This museum combines learning and fun with a series of hands-on exhibits and experiences that pique your child's curiosity and encourage a love for the science world. Rotating installations ensure that there's always something new to discover and theater screenings and live stage shows bring things to life.
COMEDY
SAK Comedy Lab, Downtown Orlando
The laughs come fast and furious at this improv club that specializes in classes and themed showcases where performers challenge each other to win the audience's affection with ad-libbed routines. Long before Wayne Brady became a household name in the world of improv, he was perfecting his craft on this very stage.
COOKING CLASSES
Publix Aprons Cooking School, multiple locations
Publix is already Central Florida's beloved and most well-known grocer, so it's not surprising that they also offer excellent cooking classes. With a wide variety of options, including couples' classes in Spanish tapas to kids' classes that teach easy but nutritious recipes, this cooking school will give you a whole new roster of techniques and recipes to draw on.
ESCAPE ROOM
Escapology, International Drive
Challenge yourself in one of this escape room's many imaginative games including one where you are a French detective onboard the famous trans-European Budapest Express and you must solve a murder or another where you are a member of a team of scientists that are investigating an abandoned laboratory in search of an antidote to a deadly virus.
ICE SKATING RINK
RDV Sportsplex Ice Den, Maitland
Ice skating is the perfect activity to do with the kids on those days that Central Florida's temperature hits the high 90s and we like to lace up our skates at this rink that is open to the public seven days a week. This sportsplex also offers ice skating classes, hockey and figure skating lessons.
KARAOKE
Rising Star, Universal CityWalk
Sing your heart out at the only bar in Orlando where you can fulfill your rock star dreams with backup singers and a live band. There is a cover charge but no charge to sing. Be sure to check out the bar's ever rotating list of available songs that span the oldies to today's hits.
LOCAL TOUR
Winter Park Scenic Boat Tours
This hour-long guided journey is a leisurely way to reconnect to the area as you float past picturesque waterfront homes, native wildlife and more. Making the ride even further enjoyable are the captains who engage the passengers without being overly rehearsed so you never feel like a tourist in your own town.
MINIATURE GOLF
Pirates Cove Adventure Golf, International Drive
The entire family will enjoy navigating this course full of obstacles and props that just may leave you saying "Arr!" as you narrowly miss sinking that hole-in-one. You could even encounter a pirate or two along the way, but thankfully no one will have to walk the plank when the round is over.
MOVIE THEATER
Aloma Cinema Grill, Winter Park
Dinner and a movie all-in-one, this movie theater is great for family viewings of new movie releases or just for a fun date night. With dining options not found at many theaters, including items like Mahi Mahi and Artichoke Spinach Dip, this theater has set itself apart from the crowd.
MUSEUM
Mennello Museum of American Art, Loch Haven Park
This museum houses the largest collection of works by Earl Cunningham, an American landscape artist who was regarded for being a self taught painter that constructed compositions largely from his own memory. Visitors will also find several other remarkable pieces from the private collection of founder Michael Mennello.
PAINTING STUDIO
Crealde School of Art, Winter Park
Whether you are skilled in oil painting but looking to try out watercolors or you're new to painting completely, this studio is for budding Picassos. The nonprofit that runs the center offers instructions in all sorts of mediums but its painting classes are really topnotch, with specific classes for young children and adults.
POTTERY STUDIO
City of Orlando Pottery Studio, Downtown Orlando
Established in 1968, this city-owned pottery studio has been giving residents the chance to shape clay for many years. Offering classes for school children as well as adults, this studio often hosts family nights where everyone can create a unique creation of his their own.