Florida's Most Unique Accommodations
Want to create long-lasting vacation memories? Make your family's next trip unforgettable by staying at one of these unique rental properties!
Island Retreat
Rent your own private island off Marathon in the Florida Keys! Situated on Pretty Joe Rock, officially named Sea Shell Key, sits a two bedroom, two bathroom, air-conditioned conch house with bamboo and rattan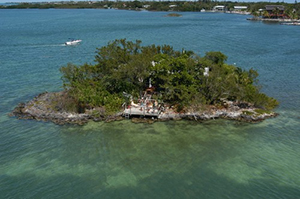 furniture, cathedral ceilings with exposed beams, and wood and tile flooring. The master suite boasts a sunken Jacuzzi tub and walk-in double shower with ocean views. French doors lead from the great room to a screened porch and covered deck ─ ideal for watching the sunrise or sunset.
This remote tropical experience offers modern conveniences with a full kitchen, electricity, water, fish cleaning station, and docking slip for the included 17-foot center console motorboat. The house is surrounded by landscaped boardwalks and an ancient exposed reef of native vegetation, such as black mangroves, sea grapes, and pitch apples, which attract a variety of migrating birds. Your family may be greeted by the dolphins, manatees, and fish that swim in the surrounding crystal clear, warm waters.
Book a weeklong stay on Pretty Joe Rock for $3,995. Or explore other private island properties off Marathon, ranging from $2,995 to $13,800 for two to three bedroom homes, at RentMyIsland.com.
Luxurious Lighthouse 
Built as a replica in 1983 of the famous Thomas Point Lighthouse on the Chesapeake Bay, "Katie's Light" is a distinctive three bedroom, oceanfront rental on Amelia Island with a deck that extends over the beach and
wraps 360-degrees around the house. With a love for sailing and nautical culture, property owners David and Susan Caples named their unique home after their eldest daughter whom they raised at the lighthouse.
The whimsical structure features a large kitchen, dining room, and entertainment area on the first level. Take the spiral staircase up to the second floor bedchambers and, back on the first floor, find an additional slumber space (to sleep 1 adult or 2 children) in the Captain's Quarter (a handcrafted reproduction of a Captain's bed).
Includes complimentary Wi-Fi, beach chairs, and traditional upscale amenities. Price: $500 per night or $3,330 per week (March 1 ─ September 2); $400 per night or $2,664 per week (September 3 ─ February 28); and monthly rates available upon request. Visit KatiesLight.com.
Swamp Bungalow
Located in the heart of the Everglades, Big Cypress Gallery is the nature sanctuary, art gallery, and home to photographer Clyde Butcher (known as the Ansel Adams of the Everglades) and his wife. Visitors seeking a
change of pace can find shelter at two onsite houses ─ the swamp cottage and bungalow ─ nestled on thirteen lush subtropical acres.
The spacious two-bedroom cottage overlooks a large pond. The master bedroom has a king bed and private bath, while the second bedroom has a queen bed with a hall bathroom. The one-bedroom bungalow contains a king bed and full bathroom. Amenities for both houses include an additional sleeper sofa, screened-in veranda, full kitchen, and great views. Summer rates range $225-$295 per night.
While you're there, take a 1.5 hour exploration walking tour led by a knowledgeable guide through the Big Cypress National Preserve. Warning: You will get wet (and the kids will love it)… depending on the water level, you might end up waist to chest deep in the swamp so bring a change of clothes! Weekend tours are $50 per adult and $35 per child under 16. Visit ClydeButchersBigCypressGallery.com.
Treehouse Turf
A yurt ─ an indigenous Mongolian dwelling comparable to an Indian teepee ─ sits on the edge of a deep quarry along the Santa Fe River, located northwest of Gainesville. Arrive to the treehouse ─ built in 2004 by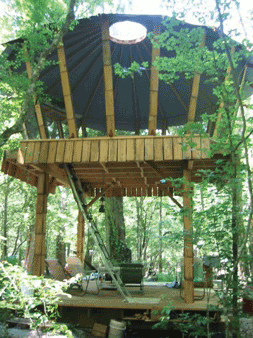 Patrick McKann, a biologist and carpenter ─ via car, hiking trail, or river vessel (boat, canoe, hydrobike, or kayak).
The downstairs 16×16 platform holds a propane stove, cooking gear, chairs, table, cooler, fresh water, sun shower, and outhouse with composting toilet. Campfire, using dead wood from the grounds, is permitted. Climb the stairs to find 14-ft. floor-to-ceiling screens and umbrella top that protect adventurists from insects and rain, while granting a tranquil space outfitted with a queen mattress, four foam sleeping mats, and blankets. A translucent dome covering the circular rooftop emits moonlight and shadows of the owls or hawks flying above.
Enjoy the wildlife refuge as you watch deer dash, turkey scurry, and gopher tortoises dig. Roam paths along the river to the Sunshine Spring or the Black Pool. Rental includes two complimentary hydrobikes (bicycle straddling kayak-like pontoons) and two wide-tire bikes. Be sure to pack traditional camp gear, such as bug spray, groceries, ice, and lanterns.
Rental is ideal for families comprised of two adults and up to four children or four adults. Price: $115 minimum (2 campers) for single night stay; or $37.50 per adult and $25 per child per night. Visit ClubFLA.org/TreeHouse.aspx.
Undersea Lodge
Located in the tropical mangrove habitat of Emerald Lagoon at Key Largo Undersea Park, Jules' Undesea Lodge is the world's only underwater hotel! To enter the Lodge, one must scuba dive 21 feet beneath the
surface of the sea. Soak up the amenities of this cottage-sized building complete with cozy beds beside windows to a sea of ocean life, plus a stocked kitchen and more.
Jules' actually began as La Chalupa research laboratory, a habitat used to explore the continental shelf off the coast of Puerto Rico. Today, tropical angelfish, parrotfish, barracuda, and snappers swim by the see-through walls to the delight of underworld vacationers.
Jules' requires diver certification, so either bring proof or take the Discover Scuba Diving course onsite for $95 (not a full certification; must be 10 years old). Overnight stays options: Jules' Undersea Luxury For Two package is $800 and includes a pizza dinner, breakfast, and dive gear; group economy packages are $300-$350 per person. Want to day trip instead? Enjoy a three hour visit to Jules' with a pizza lunch for $150 per person or explore the Lagoon only: snorkel for $15 per person, dive for $35 per person, or night dive for $40 per person. Visit Jul.com.
Water Shacks
Picture brilliantly hued homes hovering over the water near Key Biscayne! Accessible only by boat, these seven wooden stilt structures are just a few miles off downtown Miami but light-years from the city's hustle
and bustle. "Stiltsville" dates back to the 1930s when "Crawfish Eddie Walker" built the first shack to sell bait and beverages. The water colony grew to 27 houses by 1959 but, overtime, devastating hurricanes and ownership disputes threatened to sink Stiltsville.
Today, a nonprofit called the Stiltsville Trust preserves these historic properties with the National Park Service and grants access for weekend to weeklong rentals. Your water-lovin' family can lounge on the veranda to watch the current carry bonefish across the flats, take a dip off the porch, or snorkel the nearby pristine coral reefs. Finish the day by grilling your fresh catch and watching the Miami lights flicker beyond the sunset.
Arrange for your own boat transportation and complete a rental application at StiltsvilleTrust.org.
Photo credits: Katie's Lighthouse images courtesy of Jumping Rocks; Stiltsville images courtesy of Brian F. Call Photography (BrianCallPhotography.com).