Islamorada is Key for Family Fishing
Just 90 minutes south of Miami, Islamorada is an island paradise best explored both by land and by sea. An ideal road trip for Central Florida families, the Florida Keys has 1,700 islands, though only 42 are connected by bridges; six of which comprise the village of Islamorada, including Plantation Key, Windley Key, Upper Matecumbe Key, Lower Matecumbe Key, and the offshore islands of Indian Key and Lignumvitae Key.
Islamorada is known as the "Sportfishing Capital of the World." To find out why, I connected with Captain Rick Rodriguez, an expert fisherman specializing in the catch of Sailfish and Mahi-mahi (also called Dolphin), the two "premier fish of Islamorada." As owner of Seahorse Charters, Capt. Rick has docked his 39 ft., 3-tiered boat at Whale Harbor Marina, located at mile marker 83.5, since 2001. I booked with Capt. Rick because of his great prices, focus on maximizing the experience for children (he's a father of two and first mate Jeremy Macauley is dad to four) and, most importantly, his genuine, kind interest in educating me on offshore fishing. As any novice angler (I dabble in flats fishing on the Intercoastal Waterways), I requested to "catch a huge Mahi!" And Capt. Rick delivered (10-fold), along with plenty of laughs and friendly banter over our many similarities and shared experiences.
"Fishing is great in Islamorada because of the close proximity to deep water, area reefs, an uneven bottom offshore with two humps (known as "mountains under water"), and Gulf of Mexico tides going in and out from the bridges to the Atlantic Ocean. The Gulf is important to the process because it brings bait fish onto the reef, causing the fish to gather nearby and ocean life to thrive," Capt. Rick explained. "The offshore Gulf Stream comes close to Islamorada bringing a variety of squids, plankton, and more up to the surface, which the flying fish eat and so starts the circle… Blue Marlin, Wahoo, Tuna, Barracudas, Amber Jacks, Queen Snappers, etc."
Shortly after watching the sun rise aboard the Seahorse, Jeremy cast lines using conventional rods with Penn 50-wide reels off the back deck (1st tier) over the ridge humps (300-700 ft. deep), as Capt. Rick steered from the bridge (2nd tier). Suddenly, the line was spinning and I hopped into the "fighting chair." With (a lot of) help (per my request), the approximate 25-lb. Almaco Jack was our first keeper! Next, a family member fought a big Amber Jack but, to our surprise, only the fish head made it aboard – apparently, we treated a shark to breakfast! The moment you pause to catch your breath mid-reel, a shark will feast on your hooked fish… Lesson learned on reel speed!
We headed further offshore and Jeremy grabbed binoculars to scan for birds. "It's common to look at the behavior of birds. If birds are circling and flying low, they are usually following flying fish which are being chased by the predator fish," he explained. Meanwhile, Capt. Rick, ready to "sight cast" from the tower (top tier), hunted for bright pops of neon green. Then, the excitement (and organized chaos) began… the two worked in perfect unison to spot a school of Mahi, cast the bait, and sink the hook. One by one, thanks to the precision of our fishing experts, each member of my family was reeling in "a huge Mahi." It was beyond exhilarating!
"Dolphin are sometimes difficult to find and each school can react differently. The trick is to hook 3 or 4 and keep them 15 feet from the boat to encourage the school to swim along the hooked fish. This maximizes our chance of catching the entire school," Capt. Rick explained. Though the Seahorse has caught more Blue Marlin off Islamorada than any other charter boat for the past four years, including one presumed to be 700+ lbs., my family added Wahoo and Tuna to our bounty of Jacks and Mahi-mahi.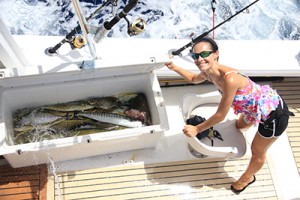 Exhausted from an arm workout like no other, we soaked up the sun and sea breeze before returning to the dock to enjoy frozen drinks from Wahoo Bar & Grill, which literally piers over the marina, sent down on a homemade wooden drink caddy by rope!
Offshore fishing excursions are fun for the entire family, regardless of skill (or lack thereof). In fact, Capt. Rick explained that customers are typically first time anglers and, thanks to on-board instruction, gain confidence that often translates into repeat outings. I personally can't wait to hit the water aboard the Seahorse again! Seahorse Charters operates year-round with half- and full-day sportfishing options (1-6 people) – specialty swordfish or shark trips and evening outings are available – and sunset cruises. Prices, provided on FloridaKeysFishing-Charters.com or (305) 664-5020, includes fishing licenses, gear, bait, and fileting and bagging of your fish. Bring sunscreen, a cooler for beverages and lunch, and a second cooler to transport your fresh catch back home to your grill!
You can cherish your memorable catch forever because Seahorse Charters also offers trophy mounting. Enjoy the thrill of the catch, then savor the flavor and, finally, preserve the beauty with a fiberglass replica.