Northeast Florida's Amelia Island
A peaceful, relaxed destination for family fun. Easy to get to, hard to forget
Summertime means lazy days and family vacations, a time to regroup with those you love most. Family experts agree that both children and parents need that reconnection only a family vacation provides and the memories are something that will never go out of style or be forgotten.
There's no need to spend half your vacation traveling to and from your getaway – after all, we do live in paradise! Amelia Island, Florida is the perfect place for an adventurous beach vacation, far enough from home to think you've gone around the world, but close enough to be a quick morning drive. This bustling small town is perfect for outdoor activities that incorporate nature, good eats made from locally grown food, sunny days frolicking in the ocean, and amazing hotels to rest and regroup.
Happenin' Hotels
Beachside resorts understand that summer means show time and Amelia Island gets rave reviews for its show stopping amenities.
The 1,350-acre Omni Amelia Island Plantation caters to the wannabe royalty or swashbuckler in your life with their Pirates and Princess Package, now through Sept. 3. The adventure begins at check-in with pirate patches or tiaras, and a beach gear fun pack waiting in your room. The 3-night getaway for a family of four includes a private in-room movie with popcorn, a romantic parents-only dinner at The Verandah while the kiddies enjoy a "Just for Kids" themed dinner, and a beachside fire with Southern-style barbeque and s'mores. For rates and reservations, call 1-800-The-Omni or visit omniameliaislandplantation.com.
The Ritz-Carlton, Amelia Island, located on 13 miles of beachfront property, just completed a total coastal-influenced room redesign to immerse guests in casual elegance. The resort is overflowing with kid-friendly amenities, including its fully supervised The Ritz Kids program, geared to showing children ages 5-12 the wonders of nature through themed days, such as Terrific Tidal Tuesdays where kids learn about ocean tides, build an ecosystem diorama, and make sandcastles. Kids can also be treated to a bedtime story and in-room milk and cookies with Pirate Luis Aury, Princess Amelia, and the resort's mascot, a blue and gold macaw named Amelia's Treasure. Families can spend time together on a rainy day inside Our Space, a decked-out game room filled with the latest in gaming systems and timeless favorites like air hockey. To book your stay, call 904-277-1100 or visit  www.ritzcarton.com.
For a more local feel, consider the Amelia Hotel at the Beach, where you can walk across the street and put your toes in the sand. With a microwave and mini-refrigerator in every room and laundry services on the premises, this locally-owned and operated hotel
is perfect for families. Consider the Get Out Special, which includes a daily "hot and healthy" breakfast buffet, complementary parking and the choice of either bike rentals for a family of four, putt putt golf, or Amelia Island Museum of History entry. This package also includes a cooler bag filled with goodies for the whole family to enjoy and a $25 gift certificate to Fantastic Fudge in historic downtown Fernandina Beach, where they make fudge-to-die-for right in front of you! On a rainy day, kids enjoy finding the hidden animals and names inside an enormous hand painted mural in the lobby. For more information, call 904-206-5200 or visit www.ameliahotel.com.
Activities for the Active
Amelia Island takes the outdoors seriously, offering a plethora of activities geared toward enticing families outside. Kayaking, boat tours, surfing, surfside horseback riding and even geocaching – a scavenger hunt for the techno-savvy – are all available here.
Children as young as five can enjoy kayaking with Fresh Spirit Adventures, a family-owned and operated business that also offers kids' tours complete with stories and pirate fun. Owner Shari Riepe shares adventurous, non-scary pirate stories as you paddle your way to a cove accessible only during high tide. Kids receive pirate bracelets and bandanas to finish their look while pointing out jumping fish, nesting birds, and the occasionally alligator! The kids tour is by reservation only, at least one week in advance. For more information, call 904.404.6758 or visit  https://freshspiritadventures.web.officelive.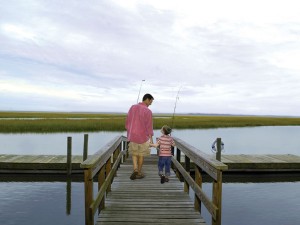 Happy Trails Walking Horses gets families with kids as young as six on horseback and enjoying a ride on the beach. The one hour minimum tour is as instructional and educational as it is breathtaking. Owner Stan Potter will only take one youngster too short to reach the stirrups per tour as he leads them down the beach, however he encourages beginners to experts to experience horseback riding on the beach. For a bit of authenticity, the horses are the original plantation horse breed– the Tennessee Walking horse – perfect for an area with historic plantations. To book a tour, call 904-557-3126 or visit  www.happytrailswalkers.com.
For an activity outside the norm, try geocaching. You only need a Smartphone with GPS capabilities before your family is off on its own treasure hunt. Amelia Island Visitors Center is sponsoring the Amelia Island Geocaching Challenge now through Dec. 31, complete with the chance to win a three-night stay at the Fairbanks House, a bed-and-breakfast mansion and cottages. To join in, visitors just need to stay in a participating lodging partner (all of the hotels above qualify) and pick up the official geocaching form at the front desk. Using the coordinates listed, find the hidden geocache, often stashed in brush or a tree, and locate the unique code for each treasure. You may even find prizes and coupons inside! Once you find all of the codes, turn in your form to the Visitors Center, 102 Centre Street, to be entered in the giveaway. Visit  www.geocacheamelia.com for more information.
Kids of all ages will enjoy The Omni's Nature Center, open to the public. Not only can you rent bikes, Segways, and kayaks to explore on your own, but several tours are designed specifically for children. Take the Beach Bounty tour where guests explore the beach with
an experienced naturalist and learn the best times and places to find souvenirs such as shells and shark teeth. Children can also make a necklace or bracelet out of the teeth they find while learning about the predator of the sea. The Nature at Night tour, part of the Amelia Nightlife Series, takes children as young as four on a moonrise beach walk to find turtles, crabs, and glow-in-the-dark critters! For additional information, call 904-261-6161 or visit  www.omnihotels.com and search for Amelia Island.
Don't let a little rain slow down the fun. Visit the Amelia Island Museum of History, which is offering an exhibit called "Architecture for Children" from July to September where local kids draw renderings of historical houses and plantations in the area to be displayed in the museum. For the older kids, families can book a ghost tour, offered every Friday, beginning in the cemetery behind St. Peters Episcopal Church. Call 904-261-7378 or visit  www.ameliamuseum for more information.
Extraordinary Eateries
Worked up an appetite with all those activities? Well, you won't go hungry with Amelia Island's favorites-of-the-locals restaurants, with live music, good food, and great company.
Take T-Ray's Burger Station, known for running out of its most popular breakfast dishes by 9:30 a.m. A local haunt for natives, the restaurant, run by a father-and-son team, is more delicious than its outward appearance would have you believe: it's located inside an old gas station. It gets packed, the chairs are mismatched, and you may have to squeeze past a person or two, but the burger and fried shrimp are definite must-haves and the breakfast is worth the wait. You'll feel like a regular on your first trip. There isn't a sign, so look for the Exxon station on the corner of 8th and Beech Streets. Call 904-261-6310 for more information.
Dads (and maybe moms too) will enjoy checking out Amelia Island's only brewery, located at Café Karbo. Dog friendly, with a large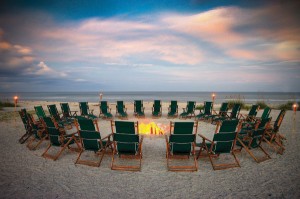 patio filled with outdoor seating and shaded by large, overgrown oaks, this local favorite has live music, homebrewed beer and a killer dessert menu. Known for their shrimp grits, families with even the pickiest eater will find something for everyone's palate on the menu. A date night without the kiddies, if you can manage, can be had at the attached Karibrew, the brewery extension. The meals are a bit adventurous (think curry, chicken tacos) but locals swear by the sweet potato fries. Visit  www.cafekaribo.com or call 904-277-5269.
29 South Eats only takes reservations, and isn't great for young kids, but it's worth checking out if you're interested in culinary Southern-style-with-a-twist masterpieces created with organic, natural, and free-range ingredients. The chefs here are meticulous about knowing where your meal came from, going as far as cultivating an on-site garden providing fresh veggies and herbs. The food is made using the harvests and meats from local farmers, a list of which can be found on the restaurant's website or sometime in the description of the dish. Open for brunch and dinner only, don't miss out on the coffee and doughnuts dessert – coffee ice cream served on warm doughnut bread pudding – and the fried green tomatoes; they'll make you come back a second time. For reservations, call 904-277-7919 or visit https://29southrestaurant.com.
Suitcase packed yet? OK…last one in the car is a rotten egg!