Parent-Friendly Getaways
Vacations packed with built-in mom and dad time
Family getaways are such fun… until they're not. Let's face it, everyone needs little breaks from each other here and there, especially mom and dad who definitely deserve some adult-alone time together. So, next time you're choosing your family getaway destination, think about these Florida resorts ─ all of which pack options for guilt-free "us time."
Loews Miami Beach: Located in the heart of South Beach, this oceanfront resort is one of the area's only true family-friendly options, thanks to the Loews Loves Kids program. Families get access to lending libraries full of games, sumptuous kids' menus, and a "Kids Closet," filled with everything from night-lights and strollers to toys and movies.
Perks for parents? Twosomes looking to enjoy some relaxing spa time or dreaming of sneaking away for a quiet dinner at one of the five onsite restaurants and lounges can sign the kiddos up for the SoBe Kids Camp's full day, half-day, or evening program (weekends only) where they'll be delightfully diverted for hours with arts, crafts, sandcastle making, scavenger hunts, and more. In addition, your tweens and teens can access a lending library of Xbox 360 players and games, DVD players, and board games. Or, best of all, tweens and teens can watch dive-in movies at the pool! Learn more at LoewsHotels.com/Miami-Beach.
Hawks Cay Resort and Villas: It takes about five hours (not including the inevitable snack stops and potty breaks) to get to Hawks Cay Resort from Orlando but, once you're there, you can stay put and enjoy the plethora of
onsite amenities and activities, enough to easily keep your brood busy for up to a week. From dolphin encounters to paddleboarding in the saltwater lagoon, the resort's multiple pools and play areas can be relished from dawn to dusk. Your family will also appreciate the townhome-style accommodations, which come with multiple bedrooms and a full kitchen to create a comfortable home away from home feeling.
Perks for parents? Spa treatments or solo bike rides can grant mom and dad some much-needed alone time, while kids (5-12 yrs.) take part in the half or full-day Island Adventure Camp. Besides noshing healthy lunches, campers can dive into snorkeling, make tie-dye t-shirts, paint coconut shells, and play sports. In the evening, both the Teen Night Out (13+ yrs.) and the Kids Night Out program (5-12 yrs.) offer a few hours of parenting reprieve. Hawks Cay Resort (HawksCay.com) creates a social schedule that the whole family can enjoy.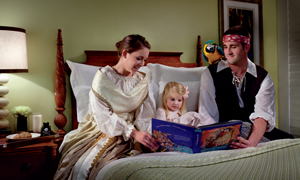 Ritz-Carlton Amelia Island: Perched on 13 miles of sandy coastline, this sprawling 446-room beach town resort is a favorite amongst families who love its picturesque locale, family treasure hunts, spectacular restaurants, and delightful chimineas and beach bonfires ─ perfect for ooey, gooey starlit s'mores sandwiches.
Perks for parents? Head to the amazing, coastal-inspired spa or onto the 18-hole private championship golf course while the kids (5-12 yrs.) take part in the Ritz Kids. Packed with hands-on adventures, educational games, and crafty activities, these full and half-day programs are offered daily, with hours adjusting per season. Each Friday and Saturday evening, the resort offers Kids Night Out, which means parents can enjoy a romantic date-night feast onsite at Salt, one of the only restaurants in Florida with a chef's table physically inside the kitchen. The resort also boasts Our Space, a recreational room designed for kids of all ages, complete with all the latest video games, a movie theater, and foosball table. Explore additional onsite amenities at RitzCarlton.com/en/Properties/AmeliaIsland.
The Resort at Longboat Key Club: Sugar white sand and sprawling vistas of the turquoise waters of the Gulf of Mexico make the 410-acre Longboat Key Club a favorite amongst vacationers, but especially for families who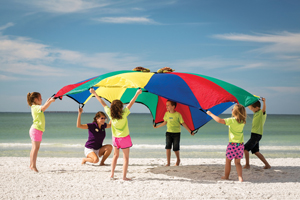 will adore the resort's two-bedroom suites, pristine beach, huge swimming pool, and eight restaurants and lounges. Onsite art classes, tennis courts, as well as beach rafts, kayaks, and boogie boards provide an endless array of fun in the sun options.
Perks for parents? Massages, yoga classes, and 45 holes of premier golf play await moms and dads by day, with kids (5-12 yrs.) heading to Camp Loggerhead for a slew of fully supervised water and land diversions offered in morning, afternoon, or full-day sessions. Every Friday night, from 6-9 pm, the resort features "TGIF," a parent-free evening program focused on games, crafts, and on-property excursions with dinner and dessert included. The resort also caters to specific interests with options that include Arts & Crafts Camps, Junior Tennis Camps, and Junior Sports Camps (during the summer months). Book this parent-friendly getaway at LongBoatKeyClub.com.
Do you have a favorite parent-friendly destination? Share with us on Facebook and Twitter!