Pirate Paradise: Walk the Florida Planks
Ahoy, mateys! Pirate talk is hard to resist and, in Florida, swashbucklers are a family draw, whether at the theme parks or aboard an authentic pirate ship in the ocean. The Sunshine State is full of tales of pirates plundering for booty, and many sites off our coast boast shipwrecks that only add to the mystery of a time when peg legs and eye patches were commonplace. Central Florida families don't have to go far to experience pirate adventures.
Children's Gasparilla Extravaganza, Tampa
Take a day trip to Tampa on January 18 for the Children's Gasparilla Extravaganza, a day-long event dedicated to the youngest buccaneers at the decades-old Gasparilla Pirate Festival, held annually in the coastal city. The event features a Bicycle and Pedestrian Safety Rodeo, the Preschool's Stroll, the Children's Gasparilla Parade, and the "Piratechnic" Extravaganza (an annual reenactment of the imaginary sea battle between the pirates of Ye Mystic Krewe of Gasparilla and the city of Tampa).
"The event is alcohol free, so it's very family friendly," said Maiken Stefany, director of operations for the Children's Gasparilla Parade. "It's great for all ages, but we see a heavy concentration of children under the age of 18, and as young as toddlers." Families really get in the spirit, not only parading in costume but decorating their child's stroller or wagon.
Stefany credits children's fascination with pirates to the silly language and over-the-top personalities of such characters. "I think pirates are just fun to kids. In the eyes of a young child, their costumes are so colorful and decorative and the pirates themselves are great with children. It must feel like a real life storybook in those moments," Stefany concluded. "Children simply light up over conversation and attention from a pirate. They love to shout back "arrrggghhh" and participate in the activities." Visit GasparillaParadeFest.com.
Pieces of Eight, Fort Myers
Set sail on the high seas of the Gulf of Mexico from the shores of Ft. Myers aboard Pieces of Eight, featuring a 90-minute swashbuckling pirate show aboard a 65-foot replica Spanish galleon. Seafarers of all ages will be drawn into this "extremely interactive" show, proclaims Robin Maglio, manager of the Pirates Store where the ship docks.
Targeted to children ages 2 to 12, all passengers aboard Pieces of Eight will be encouraged to participate, but the pirates take a special interest in engaging children with face painting, games of Simon Says, limbo, sing-alongs, and historical tales of pirates from the area. "They grab and entertain from the moment they hit the dock to when they return from the sea," Maglio said. "It's not scary at all. It's very friendly and the pirates do a good job of getting everyone involved." Book at FloridaPirateCruise.com or (800) 763-7769.
Black Raven, St, Augustine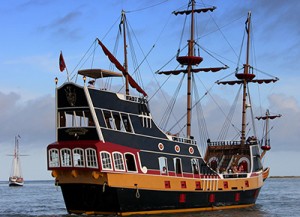 On the other coast, in St. Augustine, landlubbers can gain their sea legs aboard the Black Raven, as they help pirates secure a treasure from Davy Jones before he drags the mighty ship to his locker below the waves. Children on this family-friendly adventure share in Jones' treasure if they can protect it from the legendary pirate. Passengers can also cruise with Blackbeard as he and his crew ward off an attack from the Queen Anne's Revenge, complete with cannon fire, broadsiding, and sword fights. The show is geared toward children ages 3 to 12, with participants of all ages encouraged to get involved. The ship sails every weekend afternoon. Visit BlackRavenAdventures.com.
Walt Disney World, Kissimmee
Walt Disney World has the pirate market cornered a little closer to home! Visitors can enjoy the swagger of the scallywags, thanks to Jack Sparrow and the Pirates of the Caribbean, Jake and the Never Land Pirates and, of
course, Peter Pan's Captain Hook and Mr. Smee. Kids can be transformed into some of these characters, including Captain Jack and Jake, or even a mermaid thanks to the Pirate League in Adventureland inside of the Magic Kingdom. Children must be at least 3 years old to participate. Once the makeup is on and the pirate oath sworn, the children can take part in the daily Adventureland Pirate Parade.
Also in Magic Kingdom, near the Pirates of the Caribbean ride, is Captain Jack Sparrow's Pirate Tutorial, an outdoor, interactive show where the captain himself chooses four children to learn the ways of pirate life. Children learn to "distract and flee" as part of their training as young scallywags. Additionally, families can stay in Pirates of the Caribbean-themed rooms at Disney's Caribbean Beach Resort, complete with wood floors, ship-shaped beds, Jolly Roger curtains, and wooden keg nightstands. Explore at Disneyworld.Disney.Go.com.
Orlando Pirate's Dinner Adventure, Orlando
Pirate's Dinner Adventure in Orlando is an interactive show set aboard an authentically replicated 18th century Spanish galleon, which is anchored in a 300,000 gallon indoor lagoon. The audience sits in six additional ships that surround the galleon and get their own pirate mascot as they watch the fast-paced adventure which includes cannon blasts, pyrotechnics, and comedy. Get your helping of pirate fun at PiratesDinnerAdventure.com!