Push The Pedal To The Metal And Experience A Nascar Thrill of a Lifetime …For The Entire Family!
For more than a decade, Richard Petty Driving Experience, located just outside the Magic Kingdom, has offered adults the stimulation of roaring around the track at speeds of up to 120 MPH. Kiddos were left to cheer from the grandstands or pit road while their parents pushed fun into high gear. Well there's no more 'putting the brakes' on broods!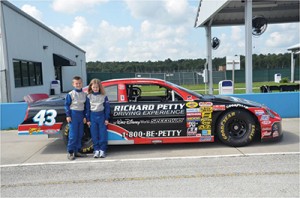 Richard Petty Driving Experience is now offering junior NASCAR enthusiasts the opportunity to experience the same adrenaline rush. Children between the ages of 6 and 13 (minimum height of 48 in.) can now feel the centrifugal rush as they ride shotgun with a professional driver for three high-speed laps around a one-mile tri-oval track. "We're thrilled to be able to make RPDE even more family friendly and can't wait to see the ear-to-ear smiles on kid's faces after experiencing the excitement of NASCAR first-hand," says Bill Scott, General Manager of Richard Petty Driving Experience at Walt Disney World® Speedway.
The Joie of Seating, owned and operated by two-time NASCAR Nationwide series champion Randy LaJoie, partnered with RPDE to build custom racing seats specifically designed to ensure the safety and security of smaller bodies. Similar to those of NASCAR drivers, these seats are fully equipped with built-in shoulder and head protection, along with a five-point safety harness. "For 10 years, we've specialized in designing custom racing seats that provide the safest in-car experience," says LaJoie. "Our extensive experience in the industry makes us confident that your child will enjoy a safe and fun ride-along."
Before preparing for a riding adventure, kids are invited to visit a special area to view and learn about exotic cars, including the Ferrari 458 Italia & F430, Lamborghini Gallardo LP570-4 & LP560-4, Aston Martin Virage, Porsche 997 S, Audi R8, and Nissan GT-R.  After the drools are all mopped up from the showroom floor, the team is sent over to be fitted into flame retardant driving suits and special helmets equipped with a safety neck brace. Then, little race drivers are finally ready to climb through the window of their cars, peel off the pavement, and earn the checkered flag.
Lauren Kelso, an Orlando teen, had the privilege of experiencing the thrill of racing around the track firsthand. "I was a little nervous at first, but once I had all my equipment on, I knew I was completely safe," explained Lauren. "Overall, it was an exhilarating, once in a lifetime experience that I can surely check off my bucket-list. I had a blast speeding around the racetrack, feeling the adrenaline that a real racecar driver would feel, while being completely safe in the process. I can't wait to get out there and do it again!"
The whole family can now enjoy the excitement of high-speed acceleration. Generally, ride-alongs are offered
between 9 am and 4 pm.  Although no reservations are required, it's best to call ahead of time to confirm dates and times. Junior Ride-Alongs with Richard Petty Driving Experience at Walt Disney World® Speedway are $59 plus tax.
For more information, visit www.DrivePetty.com or call 1-800-237-3889.