Sandwich Supremacy
It's no secret that our region is full of expert sandwich makers, folks who understand that everything from the quality of the bread to ingredients used inside are of the utmost importance when constructing a memorable handheld. And so now that it's been a few years since our last expedition to find the best sandwiches in the area, we decided it was a fine time to once again to reveal some of our current favorites and the result is a great mix of cold and hot sandwiches that show culinary creativity comes in many forms. 
The Holy Crap at Yellow Dog Eats
You'll definitely exclaim with joy after you bite into this tasty offering made with honey-mesquite roasted turkey, avocado, pecan-smoked bacon, goat cheese, red onions and basil mayo. All combined and neatly pressed in between slices of multigrain bread.
The Pearl at George's Café
A fresh-baked baguette is the perfect vessel for this amalgamation of smoked ham, capicola, peppery salami and smoked provolone. Finishing touches of balsamic vinaigrette and an olive tapenade add further dimensions of flavor in this crown jewel of a sandwich.
Mama Ling Ling's Thanksgiving at Pom Pom Teahouse and Sandwicheria
It doesn't have to be November for you to be able to chow down on this turkey sandwich with all the fixings. In addition to the turkey, this bad boy is filled with stuffing, a ginger cranberry chutney, mashed potatoes, Gouda and cream cheese. Don't forget the side of gravy.
Django at Bad As's Sandwich
There's really not a bad choice anywhere on Chef John Collazo's mouthwatering menu, but our current go-to is this standout which consists of ribeye that's been roasted in house along with smoked pimento cheese, sweet caramelized onions and slabs of honey horseradish.
Mike's Meatloaf at 903 Mills Market
You know that meatloaf your mom used to make that you swore was the best? Well, it has nothing on this tender, succulent version that's slid into a Cuban roll, dressed with mayonnaise, topped with coleslaw and then pressed.
Devil Wears Ciabatta at Grilled Cheezus
A grown-up grilled cheese if we ever saw one, this sophisticated spin on the childhood classic starts with creamy, melty mozzarella and provolone that is enhanced by the additions of salty prosciutto, a pesto aioli and a rich balsamic glaze.
Chicken Salad at Hinckley Meats
Far from the run-of-the-mill chicken salads you see behind most deli counters, this adaptation features oversized chunks of white meat piled high into a toasted Olde Hearth onion roll with preserved lemon, diced celery, fresh greens and hits of a lemon vinaigrette.
Banh Mi at Pig Floyds Urban Barbokoa
This tantalizing take on the beloved Vietnamese handheld consists of your choice of pulled pork, grilled chicken thighs or deep-fried pork belly and is outfitted with Pig Floyd's own "lucky dragon" sauce, pickled veggies, sliced jalapeños and a garlic-ginger aioli.
Cashew Chicken at The Goblin Market Restaurant & Lounge
This tucked-away dining spot is warm and inviting and boasts some of our favorite cocktails and culinary bites. This particular standout is made with cashew-crusted chicken breast that is coated in a béchamel sauce made with creamy brie and topped with a cranberry-apple relish.
Blackened Fish at Artisan's Table
Sometimes, the simple things in life are the most pleasurable and that can certainly be said for this blackened flounder sandwich that is dressed with a homemade tartar sauce and nestled in between a brioche bun with roasted tomatoes.
"Chikira" Pulled Chicken at Streetwise Urban Food
We'd be ready "whenever, wherever" to nosh on this lovely concoction made with pulled chicken, provolone, arugula, tomato, pickled onions, pesto aioli and garlic butter on a long roll. It's a symphony of flavors that is worthy of pop-star status.
Roasted Turkey Club at The Glass Knife
This modern adaptation begins with sliced turkey breast that is layered with aged cheddar and applewood smoked bacon. Vine-ripened tomatoes are added along with arugula and both a peppercorn aioli and honey mustard and then stuffed in between a pretzel roll and served hot.
Thai Stick at Cheba Hut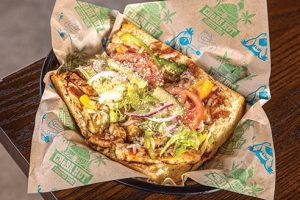 Got the munchies? May we suggest this satisfying sandwich where a proprietary Parisian bread is toasted and filled with grilled teriyaki chicken breast, green peppers, pineapple, LTO and pepper jack cheese. Sprinkles of a parmesan cheese blend and drizzles of oil and vinegar help tie the whole thing together.
Southern Cuban at Se7en Bites
There's a lot to love about this elevated comfort food. Slow roasted pulled pork that melts in your mouth is combined with honey ham, Swiss, fried pickles and a healthy dose of a Southern Carolina-style mustard barbecue sauce.
The Package at Stasio's Deli
Homemade meatballs or hot sausage? Normally a tough choice, but here you get the best of both worlds in this Italian delight where the dynamic duo are cloaked in a vibrant marinara sauce and gobs of melted mozzarella cheese.
Barley Brisket Bacon at The Gnarly Barley
Grab a pint of whatever local craft is on tap and settle in for a sandwich you won't soon forget. Brisket is given the sweet and smoky chipotle treatment and befriended by bacon, cheddar cheese, tomato, red onion and mayo.
Three Little Pigs at Pammie's Sammies
When you're "hangry" enough that you might just huff and puff and blow the house down, make your way here to feast on this medley of shaved ham, pulled pork, bacon and pepper jack cheese that is lathered with barbecue sauce, topped with crispy onions and placed inside rosemary focaccia.
Chiang Mai at Swine and Sons
Nashville hot chicken sandwiches may get all the love, but those of us in the know have been ordering this spicy selection since it was a hidden menu item. The fried chicken is emboldened with a Thai spice rub and lovingly placed inside a buttered bun with pickles and garlic-shallot crisps.
BLT Sammie at Hungry Pants
This vegetarian-friendly interpretation features shiitake "bacon," fresh sliced tomato and arugula with a cilantro aioli on grilled wheat toast. Even the most devout carnivore will appreciate the creativity here, not to mention the dynamite taste.
Bikini de Sobrassada con Manchego y Miel at Jaleo
We've previously waxed poetic about the paella and other amazing authentic Spanish dishes you'll find on celebrated chef Jose Andres' menu here. And while this sandwich—made with soft, spicy sausage and manchego cheese, and pressed before being glazed in honey—may be less complex than other items on the menu, it's every bit as memorable.
Honey Buffalo at It'sa Chicken
If you like a little sweet with your heat, than this sandwich is for you. A sizeable piece of chicken is bathed in an addictive honey buffalo sauce and topped with a homemade coleslaw and seemingly endless squeezes of house-made ranch dressing. Grab some extra napkins.
Signature Angus Brisket at 4 Rivers Smokehouse
Showing total reverence for its star ingredient, the pit masters at 4 Rivers wet-age their brisket for 30 days before they even think about adding their signature rub and smoking it low and slow for 18 hours. Then, and only then, will it be hand-sliced to order for you to quickly snap a photo for your IG before absolutely devouring every last bite.
Muffuletta at Sideward Brewing
We love this tiny brewpub for its well-rounded lineup of beers, but one shouldn't overlook the highly respectable food coming out of its small, but mighty kitchen. This ode to the French Quarter is made with salami, mortadella, capicola and provolone on a focaccia loaf where spreads of an olive tapenade make everything sing.
Portabella Italiano at Cava Bar and Kitchen
A fresh-baked Kaiser roll sets the stage for a marinated portabella cap, sautéed spinach, roasted red peppers and provolone cheese with sprinkles of pecorino Romano for good measure. The meaty mushroom and the silky smooth veggies are a wonderful pairing that melts away in your mouth.
Tempura Fried Snapper at Osphere Neighborhood Grill and Bar
The light and airy tempura batter provides just enough textural balance to perfectly complement the fish housed inside. Lettuce, tomato and onion round things out along with a citrus-based aioli that packs a little heat on the back end.
The Country Club at Art Smith's Homecomin'
Art Smith's unpretentious food has brought happiness to the likes of Oprah, the Obamas and the folks of Orlando. Served on a brioche bun, this delectable delight comprises of a hefty piece of grilled chicken breast with melted white cheddar, strips of pecan-smoked bacon, lettuce and tomato, and a red-jalapeño jelly to further amplify the flavors.
Wicked Waffle at Teak Neighborhood Grill
The good folks at Teak have turned chicken and waffles on their head with this one. Perfectly crisp fried chicken, fiery ghost pepper cheese and bacon comingle with a cinnamon sugar jalapeño spread (that's not a typo) and placed in between two waffles studded with pearl sugar.
Triple J at TooJay's
Some things never go out of style and that's the case with this throwback deli sandwich made with the trio of corned beef, roast beef and turkey, all of which are rolled with Swiss cheese and coleslaw and lumped in between slices of rye bread smeared with Russian dressing.
Southwestern at Chicken Guy!
All the sandwiches at this Guy Fieri outpost start with two signature chicken tenders, but this one pulls out all the stops. We're talking pepper jack cheese with a sinful blend of avocado crema, cumin-lime mojo and "special" sauce. Oh, let's not forget the charred corn, roasted peppers, black beans, lettuce, tomato and crispy tortilla strips.