Tables with a View
Grabbing a seat outdoors at these restaurants makes for an enhanced dining experience.
Central Florida's favorable weather makes outdoor dining a year-round attraction, but the allure of al fresco dining has only grown during the pandemic as area foodies look to support their favorite eateries. Here we spotlight some of Greater Orlando's top spots for enjoying a meal outdoors. No matter if you are looking for a little added ambience or are just interested in soaking up the sun while doing a little people watching, these restaurants are serving up great food with great atmosphere.
PADDLEFISH in Disney Springs
No matter whether your preference is surf or turf, you'll find satisfying options aboard this sprawling riverboat that offers lots of great vantage points overlooking the surrounding entertainment complex. The best is atop the third deck where you can escape the hustle and bustle below while also taking in views of the water.
REYES MEZCALERIA in North Quarter District
This may not be the most spacious outdoor dining area in town, but it's certainly one of the most coveted. Well-appointed with plenty of greenery and lighted pergolas, it's the place to be if you are enjoying a margarita and tacos al pastor during happy hour, duck enchiladas for dinner or one of the best weekend brunches around.
HILLSTONE RESTAURANT in Winter Park
With picturesque views overlooking Lake Killarney, this is one of our favorite spots to soak up the atmosphere while dining on well-executed plates of New American cuisine like pan-fried snapper or the ribeye marinated in a pineapple, soy and ginger blend. You'll be thinking about the meal and that sunset long after you leave.
DRAGONFLY ROBATA GRILL & SUSHI in Dr. Phillips
The climate-controlled covered patio at this izakaya is a stone's throw from the Dellagio's large fountain, which makes for a wonderful backdrop as you nosh on skillfully prepared sushi, grilled meat and fish and other assorted Japanese favorites.
THE OSPREY in Baldwin Park
The street side tables—which are dog friendly, so go ahead and bring Fido with you—are great for people watching but it may be hard to divert your attention away from dishes like the blue crab hush puppies (a must) or the pan-seared scallops with a rosemary polenta.
ARMANDO's in Winter Park
From the food to the atmosphere, a trip to Armando's feels like an escape to Italy where al fresco dining is a big part of the culinary experience. With both ample sidewalk seating and an inviting rear courtyard, this is the perfect place to grab a bottle of vino to pair with any one of the elevated Neapolitan offerings.
DOVECOTE RESTAURANT in Downtown Orlando
The spacious and secluded courtyard at this French brasserie gives guests plenty of room to spread out. Listen to the ambient sounds of the city while sipping one of the handcrafted cocktails like the Dove 75 or dive into a classic French entrée like the croque madame.
GALERIA in Baldwin Park
Although this steakhouse doubles as a gallery space with custom art adorning the walls, you may still be drawn to the outdoor patio with its aesthetically pleasing views of Lake Baldwin. Of course, the artistry extends to the food here with a bevy of picture-perfect small plates, salads and chops.
STK in Disney Springs
We wouldn't blame you if you wanted to dine indoors at this slick, modern steakhouse, but the second-floor perch is our favorite spot to indulge with oysters from the raw bar, a dry-aged tomahawk steak or any number of other polished plates coming out of the kitchen.
CHROMA MODERN BAR + KITCHEN in Lake Nona
Both the covered patio and outdoor lounge are prime spots—not to mention the solarium that overlooks The Beacon—to take in the sights and sounds of the Lake Nona Town Center while sharing small plates like the lobster pad thai and cheeseburger sliders while sipping on the latest in modern mixology.
THE OLD JAILHOUSE in Sanford
The iron bars, crumbling brick walls and kitschy decor of this jailhouse turned restaurant give it a speakeasy vibe that extends to its hidden courtyard. The curbside patio is also available to guests seeking to dine al fresco on menu items like the Fowl Play, a lightly fried chicken thigh with herbed couscous, haricot verts and spiced carrot puree.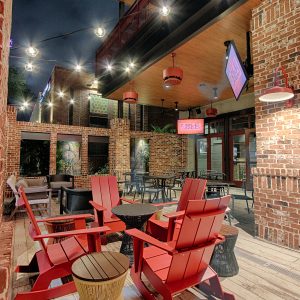 OLE RED in ICON Park
One of the more recent additions to I-Drive's dining scene, this concept from county star Blake Shelton combines casual dining with live music around the clock. Fortunately, you can still enjoy the sounds coming from the stage outdoors, where you can choose from two levels of seating to sink your teeth into one of the piled-high hamburgers or "redneck" nachos.
OSPHERE NEIGHBORHOOD GRILL & BAR in Thornton Park
Breathtaking views of Lake Eola are on the menu at this modern eatery that serves American cuisine and has a commodious patio. Led by chef and owner Oudom Ketsatha, this neighborhood tavern is ideal for an open air lunch or late evening bite.
MARKET TO TABLE in Winter Garden
The seasonally inspired menu at this restaurant allows for only the freshest of ingredients to be used in Chef Ryan Freelove's creations. And you can also enjoy the season's fair weather on Market to Table's covered terrace.
SOCO in Thornton Park
The elevated southern cuisine at this establishment has earned it accolades and a reputation for serving up delicious dishes. Add in a well-appointed patio, which straddles the corner of Summerlin Avenue and Central Boulevard, and you've got more than one reason to make a reservation.
THE STUBBORN MULE in Thornton Park
The exterior patio at this dining location is coveted, especially during Sunday morning brunch. Once you're seated, be sure to indulge in one of the novel Moscow Mules that this barroom is known for.
SANTIAGO'S BODEGA in Ivanhoe Village
This local favorite has a front-facing patio and plenty of umbrellaed tables. You'll want to bring a few friends or family members because the tapas menu here encourages sharing.
LUKE'S KITCHEN AND BAR in Maitland
The seating outside the dining room at Luke's is comfortably heated during the winter and shaded on sunnier days. The kitchen's led by chef Brandon McGlamery and everything is made in-house and sourced locally when possible.
WINE BAR GEORGE in Disney Springs
Led by Master Sommier George Miliotes, this wine bar is popular for its vin but it also has tasty small plates, charcuterie boards and family-style platters. The upstairs balcony is small but offers up a pleasant view of Disney Springs.
CHEF ART SMITH'S HOMECOMIN' in Disney Springs
This extremely popular eatery recently extended its outdoor patio to include more seating and the laid-back vibe matches the downhome cooking perfectly. It's also where you'll find us feasting on the addictive chicken biscuits and washing it down with one of the signature moonshine cocktails.
MAXINE'S ON SHINE in Colonialtown
To adapt to the current COVID-19 climate, this Orlando staple has expanded its outdoor dining area, setting up platforms and cabanas to give diners space and privacy. This inventiveness is also to be found on its menu that's constructed by Executive Chef George Volgerbacher.
CANVAS RESTAURANT & MARKET in Lake Nona
The scenic dockside seating at this Medical City hot spot lends itself well to cocktails like the Nona Sunset. But beyond the beauty of the scenery, you'll find plenty to admire in the perfectly plated seafood dishes including the pan-roasted salmon with vegetables and carrot romesco, and the whole roasted local snapper.
This article originally appeared in Orlando Family Magazine's February 2021 issue.