Taste Test: Golden Fork Awards 2019
We scoured Greater Orlando's fine dining scene and found 20 dynamite dishes you need to order now.
Each year, we take some time to think with our stomachs to bring you the best of Orlando's fine-dining scene. This time around we decided to mix things up a bit by highlighting a main dish from each featured restaurant that fir into one of four categories: meat and poultry, seafood, pasta or vegetables. We ended up with 20 dishes that we think will satisfy any craving you may have, from Italian and Japanese to New American and French. Bon appétit!
MEAT & POULTRY
Filet Wellington
at Kres Chophouse
An indulgent entrée if there ever was one, this dish is as regal as they come. After a quick sear in the pan, the edges of the steak are layered with finely chopped mushrooms and rolled in puff pastry and then baked in the oven to a perfect medium rare temperature and served with a silky shallot port wine sauce.
Pato
at Capa
Influenced by the Basque region of Spain, this slick steakhouse located on the 17th floor of the Four Seasons is much more than just a meat market as evidenced by the sophisticated modern menu. One of our favorites is this duck breast entrée served with a tantalizing almond spaetzle and a playful foie gras emulsion. It's a harmonious display of high-end ingredients prepared with precision and purpose.


Morimoto Spare Ribs
at Morimoto Asia
We absolutely fell in love with these pork ribs that are braised slow (3 ½ hours) and low (250 degrees) before they are lightly coated in cornstarch and fried until golden brown and crispy. Prior to arriving at the table the ribs are tossed in a fragrant hoisin chili sauce to add a signature sweet and salty touch.
Quails
at Cedars Restaurant
If you've never had the pleasure of experiencing the exquisite taste of finely prepared quail, there's no better time than right now to book a reservation here. The slightly gamey bird is lightly kissed on the grill and then sautéed with garlic and cilantro to embolden its flavors along with lemon juice, which wakes everything up with the perfect touch of acidity.
Beef Bourguignon
at Café de France
The attention to detail in French cooking is one of the reasons why it's considered the benchmark for fine dining and at Café de France this traditional stew is a shining example of the fine line between rustic and refined. Beef is braised in red wine until it's tender as baby fat and then enhanced with pearl onions, garlic, button mushrooms, fatty bacon and fresh herbs to produce a full-bodied dish that doesn't disappoint.
Hibachi Chicken
at STK Orlando
This chicken breast has Asian influences with a glaze of honey and gochujang (a spicy red chili paste with Korean origins). It's served with kale, Brussels sprouts, apple kimchi and butternut squash. Although this chophouse is mostly known for its steaks, dishes such as this one shouldn't be dismissed outright.

PASTA
Pappardelle Allo Scoglio
at Adriatico Trattoria Italiana
A medley of shrimp, scallops, clams, mussels and calamari comes together with garlic and grape tomatoes in this fresh pasta dish from a family-run College Park bettola. It's all covered with a light tomato sauce that adds just enough acidity and brightness.
Fiocchi
at Peperoncino
Gourmands longing for authentic Southern Italian food will be pleased by the Calabrese cuisine at this ristorante. Our favorite here is the Fiocchi, little pasta purses stuffed with pear and four cheeses, including grana, Gorgonzola and ricotta, served in a bacon cream sauce.


Portobello Napoleon
at Market to Table
Mozzarella is stacked high with slices of heirloom tomato over a bed of Bekemeyer Farms whole wheat pasta in this fresh, seasonal offering. It's drizzled with a port reduction and garnished with Romanesco broccoli.
Strozzapreti
at The H Cuisine
Strozzapreti means "priest strangler" in Italian and, according to competing legends, this is either an innocuous naming or one with more sinister implications. Either way, the strozzapreti at this Restaurant Row newcomer is stunningly presented: tossed tableside in a heated carved-out Parmesan wheel with mushrooms and bits of ham.
Cappellaccio al Brasato di Manzo con Salsa Cremosa ai Funghi
at BiCE Ristorante
Resembling wide-brimmed hats, the pasta in this dish is made from scratch, stuffed with braised beef short rib and served with fresh mushrooms in a Marsala cream sauce at this restaurant that offers up Northern Italy-style fare on the third floor of Loews Portofino Bay.
SEAFOOD
Pan-Seared Georges Bank Day Boat Scallops
at Narcoossee's
These perfectly sweet and succulent mollusks work in concert with homemade Parisian gnocchi—filled with a choux paste, making them lighter and airier than their potato counterparts— and the earthiness of shiitake mushrooms. The dish is made whole with a brown butter sauce made with a touch of white truffle paste and for added elegance is topped with shaved black truffles.
Lemon Myrtle-Scented Northeastern Salmon
at Urbain 40
A salmon filet is dusted with a unique spice blend and then pan roasted, achieving a desirably crisp exterior while remaining moist and tender inside. Cauliflower proves a worthy companion with multi-colored florets bathing in a rich puree boosted by a touch of nutmeg and brown butter. A light lemon-caper butter sauce adds further vibrancy to a dish that you'll be thinking about long after your visit.
Ponce Inlet Barrelfish
at 1921 Mount Dora
With its proximity to the Modernism Museum, it should come as no surprise to find contemporary culinary touches at this inviting dining room that invokes inspiration at every turn. The locally sourced fish is dense with a distinctive taste—think somewhere in between crab and lobster—and served with seasonally appropriate accompaniments such as a subtle-yet-complex mango curry and Seminole pumpkin.
Mediterranean Seafood Zuppa
at Fig's Prime
A mouthwatering amalgamation of lobster, calamari, clams, scallops and shrimp swims in a bowl of slightly piquant marinara sauce that offers plenty of depth. The layers of flavor in the sauce complement each bite of the fresh fish and toasted crostini make it easy to make quick work of what is left over.
Kanpachi
at Kabooki Sushi
Kanpachi is a revered member of the amberjack family and here the equally revered kitchen shows it proper respect with both skillful preparation and masterful presentation. Served sashimi style, the protein is twirled and stood upright before being plated with a sweet and floral Meyer lemon puree as well as a white soy garlic emulsion and is then finished with tiny rice crackers for textural balance.
VEGGIE
Melanzane Alla Parmigiana
at Rocco's Italian Grille
One of chef Rocco Potami's signature dishes, this main course takes baked eggplant and covers it in savory marinara and soft buffalo mozzarella. Basil is added for a sweet-peppery touch.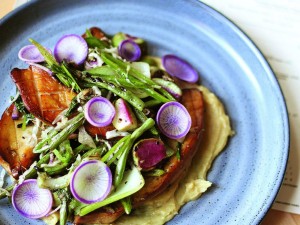 Farmstead
at The Osprey Tavern
Grilling over Florida oak in a Spanish Josper oven brings out the richness in the vegetables of this entrée. Bok choy, king mushroom, snap peas, turnip and radish are plated atop a murasaki sweet potato mash, with a roasted ginger vinaigrette to deliver some zest to each bite.
Grilled Tofu
at Hemingway's
It's not often you find a tofu dish that can stand up as a satisfying entrée all its own, but that's exactly what you get at this Ernest Hemingway-inspired hot spot. Roasted marble potatoes, pea tendrils, shaved zucchini squash and heirloom tomatoes accompany the grilled protein, while a spicy apricot mustard sauce adds tanginess.
Roasted Squash Mole
at Reyes Mezcaleria
An assortment of roasted and grilled squash is placed over a thick, earthy house mole sauce. It's sprinkled with pepitas and warm blue corn tortillas are served on the side, so you can scoop up every last bit—and trust us, you'll want to.
This article originally appeared in Orlando Family Magazine's February 2019 issue.