The Secret's Out
Authentic Italian cuisine and a Prohibition-era atmosphere await at Enzo's Hideaway—that is if you can find it.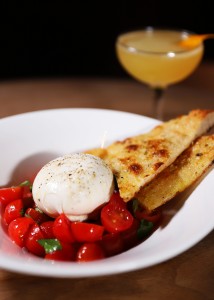 True to its name, Enzo's Hideaway is a restaurant and speakeasy tucked into an underground tunnel at Disney Springs. The fine-dining establishment seizes on Florida's rum-running history with Prohibition-era cocktails and a mix of Roman and Sicilian dishes.
Upon arriving to the bustling retail and dining hub, my friend and I actually had a hard time locating the entrance of Enzo's, adding validity to its name. I highly recommend making a reservation as the host would not seat us without one, however the bar area is first come, first served, which is where we landed. Inside the building was a secret corridor that brought you to the main dining area full of rustic walls, dim lighting and noisy chatter—a real speakeasy vibe. Service was great and the ambience couldn't be beat.
The drink menu was reasonably extensive with all kinds of beer, wine and signature cocktails. I am not a overt fan of scotch but The Peacekeeper ($14) caught my eye with its Monkey Shoulder scotch, pineapple, maraschino liqueur, lemon, angostura bitters and a finishing touch of prosecco. The libation had a delightfully strong finish in every sip and was served in a small martini glass with two dark, sugar-soaked cherries floating on top.
My friend knew right away his liquor of choice—tequila—so the El Passion ($16) was an obvious pick. It was made up of 1800 Silver tequila, Grand Marnier and cranberry with a lime garnish. It was simple, fruity cocktail, especially when compared next to my more biting drink.
Our server brought out complimentary fresh bread, butter, olive oil and balsamic vinegar to the table and for appetizers we ordered Burrata Caprese ($18), one of my favorite snacks to eat at home; it had cherry tomatoes, fior di latte mozzarella, basil and extra virgin olive oil. While the dish does not come with any type of vinegar, I highly advise dipping the rich tomatoes and melt-in-your-mouth cheese into the bitter balsamic already provided with the bread, a delicious twist of sweet and savory. This plate also comes with two cheesy, herb bread triangles.
Another antipasto we chose was the Fontina in Carrozza ($14), fried fontina cheese fritter with a salsa verde spread across the plate along with a spicy marinara. Essentially, fancy, thick cheese sticks topped with shaved parmesan.
By the time we got around to ordering the entrées, I almost had no room left thanks to all that bread and cheese; however, I find raviolis to be scrumptious so the Ravioli Tre Formaggi ($24) was a home run for me. A blend of Parmigiano-reggiano, smoked pecorino and fresh ricotta was stuffed inside the pasta and it was topped with a simple tomato sauce, toasted garlic and almond pesto. It had a lot of zest and spice but was not overpowering as one may think.
My friend sought assistance from a neighbor patron at the bar whom was an Italian native and he recommended what he thought to be the most authentic Sicilian dish in all of Central Florida—Bucatini Bolognese ($25), a dish made with a traditional braised meat sauce, Parmigiano-reggiano and basil. The noodles were dense and flavorful, with the slight thickness allowing the meat sauce to adhere to every tantalizing forkful.
For the finale, we found it difficult to choose dessert as their dolci menu was full of succulent options. We chose a customary Italian sweet, Cannoli ($10) and an all-around favorite, Nocciola Sundae ($14), a hazelnut gelato with a caramel sauce glaze, caramelized hazelnuts, whipped cream and a waffle wedge for good measure. The whipped cream alone was epic and enough reason to go back solely for this dish. Even though we could barely breathe at this point, we finished every bite of the sundae. The cannoli was yummy, too.
If you're looking for well-executed Italian cuisine, Enzo's Hideaway is the hidden gem you are looking for. With standout dishes served in a meticulously crafted 1920s setting, this is certainly one restaurant that is well worth the search.
Enzo's Hideaway
1560 E Buena Vista Dr. | Disney Springs
407-560-3696 | DisneySprings.com/Dining/Enzos-Hideaway
This article originally appeared in Orlando Family Magazine's April 2020 issue.